ELCA Advocacy Office, Washington, D.C.
The Rev. Amy Reumann, director                                                              ELCA.org/advocacy
June 21, PRAY.FAST.ACT.: On Thursday, June 21, we join with The Episcopal Church in our monthly commitment to #PrayFastAct. This month our focus is on disaster preparedness. The United States and its territories are facing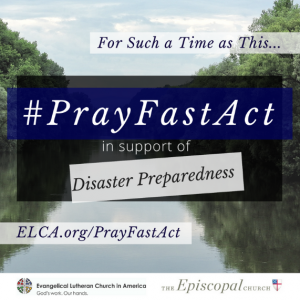 extreme weather patterns more frequently. In the past year, fires, floods and hurricanes have displaced millions of people, destroyed homes and other structures and led to deaths. Puerto Rico and the US Virgin Islands continues to face many challenges in the wake of Hurricane Maria, including infrastructure damage, a plummeting economy, loss of jobs, closure of schools, cuts in peoples' pensions and other factors that have contributed to a mental health crisis. ELCA congregations and organizations are among many groups that work tirelessly to help Americans when disaster strikes, but their efforts are often hampered by bureaucracy, which delays getting valuable assistance to those who most need it. The federal government must work to streamline the process for getting aid to those who need it and invest in disaster preparedness to minimize the effects of emergencies and major disasters.
HUMAN RIGHTS: The House of Representatives has passed the National Defense Authorization Act. The bill includes an amendment that imposes new financial and visa sanctions on Myanmar military officials. The amendment also limits U.S. military-to-military assistance to the Myanmar military until it makes progress on human rights and perpetrators of the current crisis are held accountable.
MIGRATION AND AMMPARO: A Health and Human Services (HHS) official testified that the department does not know the whereabouts of approximately 1,400 children who had been in their custody. The children were released to sponsors and the HHS could not contact them in follow-up calls. HHS has the child-welfare expertise to screen children for trafficking. It is important to provide the department the resources needed to follow up with sponsors. Interested advocates can learn more by reading "Explaining policies separating children and families" on the ELCA Advocacy blog.
CREATION CARE: ELCA Advocacy participated in the international meeting to prepare for the December U.N. Climate Change Conference (COP24). This meeting, held in Bonn, Germany, May 1-May 10 was designed to produce a strong foundation for the development of a robust rulebook for implementation of the Paris Agreement at COP24. An additional meeting to build on this work will be held in September in Bangkok. Critical issues discussed included climate finance and raising the commitments of parties to the Paris Agreement in reducing greenhouse gases to minimize the global temperature increase to less than two degrees Celsius. The first Talanoa Dialogue was successfully held at this meeting. The dialogue is a means of facilitating the negotiations and involves sharing ideas, skills and experiences through storytelling in which participants build trust and advance knowledge through empathy and understanding. Interested advocates can learn more about the Bonn meeting and the Talanoa Dialogue process on the ELCA Advocacy blog.
ELCA Advocacy and The Lutheran World Federation are organizing concurrent Talanoa Dialogue sessions to be held as an affiliate event during the Global Climate Action Summit in September in California. Session 1 covers just transition (transitioning to energy sources derived from renewable energy in a manner that creates resilient communities while leaving no one behind). Session 2 addresses the livelihood of people dealing with disasters caused by the increased intensity and frequency of severe weather patterns and storms. Invited participants include representatives from vulnerable regions in the world that are most endangered by climate change.
FARM BILL: The House of Representatives rejected a version of the 2018 Farm Bill last month on a 198-213 vote. While the proposed bill positively addressed ELCA priorities in international food aid and U.S. agriculture, many faith leaders voiced over concerns over cuts and added work barriers to the SNAP food assistance program. The House has planned another scheduled vote on June 22nd, and Senate Majority Leader Mitch McConnell (R-KY) announced plans to make the Farm Bill a top Senate priority in the later summer. Advocates can take action now on faith priorities in the Farm Bill at the ELCA Action Center.
Lutheran Office for World Community, United Nations, New York, N.Y.
Dennis Frado, director
CHALLENGES FACING MIGRANTS: Marking the start of the May negotiations toward a U.N. Global Compact for Safe, Orderly and Regular Migration, the ELCA and The Lutheran World Federation (LWF) offered an event on May 14, "Grassroots Perspectives on Migrants' Lived Realities in Different Contexts." The presenters discussed the challenges migrants face during their journey, as well as when they return to their home countries.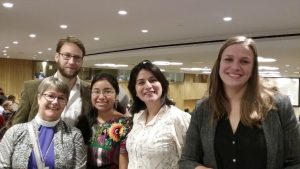 Silvia Raquec Cum (photo, third from right) is program director of Asociación Pop No'j ("weaving knowledge and wisdom" in the Mayan K'iche' language), a non-profit Guatemalan organization. She reported on the causes of migration from Honduras, El Salvador and Guatemala, and the politics of detention and deportation. Asociación Pop No'j works on the return and reintegration of child and adolescent migrants back to their communities of origin.
Katrine Ringhus (far right), advocacy director with LWF–World Service in Colombia, reported on work on the nation's border with Venezuela and on the Pacific coast. LWF offers risk management and human rights assistance to people contending with illegal access routes, inadequate shelter, malnutrition, endemic disease, trafficking, extortion and violence.
Rados Djurović (second from left) is executive director of the Asylum Protection Center in Belgrade, Serbia, a non-profit serving asylum seekers, refugees and migrants. He outlined the legal, psychological and integration and inclusion support offered to migrants while advocating for improving the system and fighting prejudice and xenophobia.
The panel was made possible by a grant from ELCA Global Mission. Also participating were the Rev. Cindy Halmarson (far left), ELCA Global Mission area director for Europe, the Middle East and North Africa;  and Alaide Vilchis Ibarra (second from the right), ELCA Advocacy program director for migration policy, who also provided interpretation. The compact under negotiation is expected to be adopted at a U.N. conference in December.
California
Mark Carlson, Lutheran Office of Public Policy                                                                  loppca.org
LEGISLATIVE UPDATE: May 31 concluded consideration of legislation, and activity has intensified on the 2018-19 state budget, due on Gov. Jerry Brown's desk June 15. The bill process cycles again until final adjournment of the two-year session at the end of August. Faith advocates, who had worked together to support increasing the CalWORKS/Temporary Assistance for Needy Families support to 50 percent of the federal poverty level, part of an effort to tackle child poverty, were amazed to see diverse senators speaking in support with an unexpected final vote of 39-0! Perhaps a more challenging task is continuing work to reach the two-thirds threshold to enact a very small fee on water bills to support safe and affordable water in disadvantaged communities.
STATE UPDATE: California has been blessed with a revenue surplus of about $9 billion, much of that a result of volatile personal income taxes on capital gains. Besides the CalWORKS proposal, Gov. Brown, a fiscal moderate, will be challenged by legislative proposals, supported by LOPP-CA, for income-eligible Medicaid coverage of 19- to 25-year-olds and people 65 and older, regardless of immigration status (#Health4All),  expansion of census outreach efforts, and continued rebuilding of deep cuts to child care during the recessi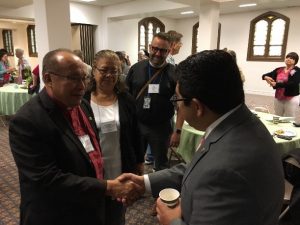 on (#SpringforKids #BillionforBabies).
SYNOD ASSEMBLIES: LOPP-CA Director Mark Carlson participated in the Pacifica Synod Assembly in Palm Desert, and the Sierra Pacific Synod Assembly in Sacramento. Mark was blessed to take Bishop Medardo Gomez and his wife, Abelina, of El Salvador to the Capitol for lunch during the final hectic deadline day, meeting staff, a state senator and the Spanish-speaking advocate for the California Environmental Justice Alliance. They participated in the LOPP-CA synod breakfast with guest speaker Eric Guerra, a Sacramento City Council member brought to the U.S. without documents at preschool-age.
Colorado
Peter Severson, Lutheran Advocacy Ministry–Colorado                                                  lam-co.org
LEGISLATIVE ADJORN: The Colorado General Assembly adjourned on May 9, having acted on 721 bills during the session. Lutheran Advocacy Ministry-Colorado took a "support" position on 12 bills, of which six were passed and sent to the governor. We also took an "oppose" position on three bills, all of which were defeated.
HUNGER: We supported SB 13, which would expand an existing program that subsidizes children on reduced-price lunch from grades K-5. This bill would expand the subsidy through middle school and passed with bipartisan support.
FAMILY-SUSTAINING INCOME AND LABOR: Our flagship bill was HB 1001, to create a paid family and medical leave program in Colorado. It passed the House but failed in the Senate. We also supported a bill to provide federal disability benefit application assistance (failed) and one to support economic resilience in rural areas (passed).
HOUSING: We supported a successful bill, SB 10, to require landlords to provide a lease copy to tenants and receipts for rent paid in cash or money order. We also supported several bills that did not pass: SB 120, to give tenants time to cure unpaid rent, and HB 1432, to prohibit source-of-income discrimination in housing.
HEALTH CARE: We opposed a bill to put up roadblocks to health care access for Medicaid recipients, SB 214. The bill was defeated on a bipartisan vote.
CIVIL RIGHTSWe supported the successful reauthorization of the Colorado Civil Rights Division, as well as a referred measure that would ask voters to abolish an exception to the ban on slavery in the Colorado Constitution.
Minnesota
Tammy Walhof, Lutheran Advocacy–Minnesota                                                tammy@lcppm.org
SYNOD ASSEMBLIES: Kendrick Hall represented Lutheran Advocacy-MN at the Minneapolis Area Synod Assembly. He was also one of three young adult keynote speakers for almost 500 voting members and guests at the Saint Paul Area Synod Assembly. After his keynote, traffic at our display picked up considerably!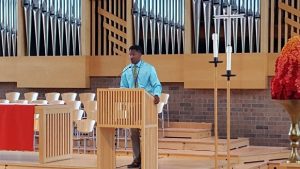 Director Tammy Walhof had the opportunity to speak individually to almost 200 people at the Northeastern Minnesota Synod Assembly and spoke briefly at one of the plenary sessions.
LEGISLATIVE SESSION: Bills presented with little time for consideration made for a chaotic end to the session. "Trust me" from House leaders was met with skepticism, given tricks after negotiations last year.
AFFORDABLE HOUSING: HUGE WIN! With our champion lawmakers, hardworking team a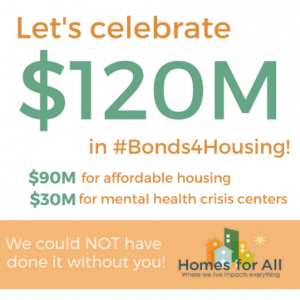 nd advocates like you, Homes for All secured $90 million in affordable housing! Additionally, coalition partners secured $30 million for mental health crisis centers. We could not have done it without you! Thanks for acting on the alerts shared (by the hundreds) at synod assemblies and on Facebook – and for sharing them broadly in your networks!
CLEAN ENERGY: Clean energy policy was largely protected. (See details from partner Fresh Energy: fresh-energy.org/2018legislativeupdate/.)
Improving Minnesota's renewable energy was not passed. Your efforts with us in the Faith & Clean Energy Campaign have helped move the issue forward. The Faith & Clean Energy letter with many of you among 1,200 signers was delivered (with prayer) to the office of Sen. Osmek (Energy chair) the morning after the session ended. That work needs to continue through the fall and into next session, when we intend to win that change!
New Mexico
Ruth Hoffman, Lutheran Advocacy Ministry–New Mexico                                         lutheranadvocacynm.org
2018 LEGISLATIVE INTERIM BEGINS: Since the Legislature meets for relatively sh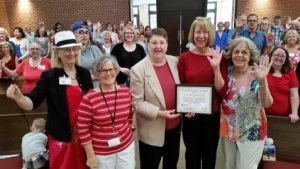 ort sessions, a good deal of legislative work is done during the "interim," which occurs between May and December. At the first meeting of the Legislative Health & Human Services Committee, LAM-NM Director Ruth Hoffman urged the committee to study public-benefit programs to facilitate understanding and alleviate misunderstandings regarding the programs. LAM-NM will be monitoring, attending, and providing testimony to several interim committees that deal with issues relating to the LAM-NM Advocacy Agenda.
Ohio
Nick Bates, Hunger Network Ohio                                                            Nick@HungerNetOhio.com
Faith Leaders across Ohio continue to speak out on the federal farm bill. Pastor Bob Swanson of First Lutheran in Dayton,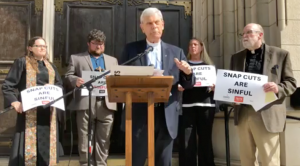 Ohio, spoke at a news conference (see photo at left) on proposed cuts to SNAP. First Lutheran is an inner-city congregation that serves breakfast every Sunday. "But that is one meal. SNAP ensures more than one meal. It ensures sustenance," said Swanson. We were very pleased to work collaboratively with the Ohio Association of Foodbanks, ecumenical partners in the United Church of Christ and United Methodist Church, along with Faith in Public Life.
UPDATED GUIDEBOOKS!: The Hunger Network has ordered additional copies of our Advocacy Guidebook for the faith community. The last guidebooks were distributed during the United Methodist Women's conference held in Columbus in mid-May where the Hunger Network was honored to speak during the advocacy workshop alongside our Texas partner, Texas Impact.
STATEHOUSE UPDATE: As of May 31, the Ohio House of Representatives remains without a speaker and unable to do the work of the people. The former House speaker, Cliff Rosenberger, R-Wilmington, resigned in April as a result of an FBI investigation raising legal and ethical concerns around his behavior and gifts from lobbyists. Legislation on the environment, payday lending and funding bills remains stalled as a result. We pray that ego and hubris may be put aside, and the work of the people may move forward again. We remind the Legislature that they are servants of the community, and the servant must be willing to humble themselves at the feet of their neighbor and wash their feet.
Pennsylvania
Tracey DePasquale, Lutheran Advocacy – Pennsylvania                             lutheranadvocacypa.org
LUTHERAN DAY AT THE CAPITOL More than 120 people attended Lutheran Day at the Capitol on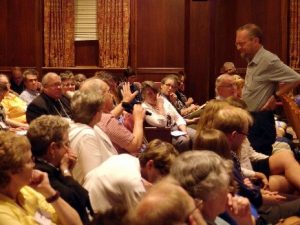 May 21. Highlights included worship, workshops, recognition of Advocacy Honorees from Pennsylvania synods, an inspiring address by keynote speaker Dr. Richard Alley and legislative visits.
CHILD NUTRITION SUMMIT: Several LAMPa advocates joined Tracey DePasquale at the first statewide child nutrition summit, held in State College. In addition to learning about best practices in addressing child hunger, we were able to share the work of ELCA World Hunger and connect Lutheran hunger ministries and school staff – including some Lutheran teachers who are now going to seek hunger grants for  programs they are starting.
SCHOOL BREAKFAST MINI-GRANTS ANNOUNCED: Gov. Tom Wolf recently anno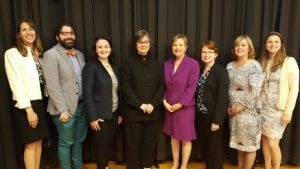 unced $900,000 in grants to help 200 schools make breakfast available to all students and expand options for the children.
Child nutrition advocates joined First Lady Frances Wolf  (fourth from the left in the photo at right) as she announced the awarding of mini-grants to improve school breakfast participation in 200 schools. LAMPa has been working for years to expand school breakfast participation in Pennsylvania. Improving education from preschool through higher education has been a priority for the governor and first lady since day one.
SYNOD ASSEMBLIES: LAMPa provided a display and information at the Southeastern Pennsylvania Synod Assembly, May 4-5. The Rev. Patricia A. Davenport was elected bishop. Davenport is the first African-descent woman to be elected a bishop in the ELCA.
Virginia
Neil Caldwell, Virginia Interfaith Center for Public Policy
The Virginia Interfaith Center for Public Policy's more than four-year struggle to expand health care access finally came to a successful conclusion on May 30 as the General Assembly approved a state budget that includes Medicaid expansion. After much wrangling, the Legislature agreed to accept the federal money available to cover nearly 400,000 low-income Virginians who do not qualify for Medicaid but cannot afford to buy insurance. Congress' failure to repeal and replace the Affordable Care Act, as well as large gains by Democrats in last year's election, helped spur several state Republican lawmakers to change their positions after years of opposition. This has been the Virginia Interfaith Center's top legislative priority since 2014. "I am so proud of the work the faith community has done to support expanding health care in Virginia," said Executive Director Kim Bobo. "Although we recognize the economic benefits, we have focused on the moral dimensions of helping our neighbors." Virginia becomes the 33rd state, plus the District of Columbia, to expand Medicaid. On another key issue that the center has advocated for at least three years, on May 21 Gov. Ralph Northam signed into law an increase in the state's felony threshold level from a national low of $200 to $500. It was the first increase since 1982. While the Virginia Interfaith Center wants the threshold raised to $1,000 or more, it agrees that this is a long overdue first step in that process.
Washington
Paul Benz, Faith Action Network                                                                                             fanwa.org
REGIONAL SPRING SUMMITS: Each year, FAN holds our four regional summits in Sea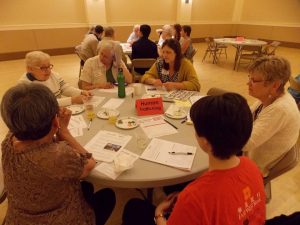 ttle, Spokane, Yakima, and Vancouver, where we gather advocates to hear about the good social-justice work they are doing, share what FAN did this past legislative session and what we're working on in D.C. and for state initiatives. The last summit will be on June 10 in the Seattle area. Click here to download a flyer.
Last year at the Seattle Summit, advocates gathered into issue working groups to discuss priorities and strategize for the legislative session ahead.
STATE INITIATIVES: Advocates have until July 1 to gather the signatures required to put statewide initiatives on the ballot. This year, FAN is supporting:
1631 – which would establish a price on our state's highest emitters of CO2's and a board to implement, monitor, and govern this new and innovative approach to reducing greenhouse gas emissions produced in our state. Click here for more information.
1639 – which involves gun responsibility. It would raise the age to purchase assault-style weapons, enhance background checks, extend wait times for those purchases, and establish a formal and confidential school-safety system. Click here for more information.
1644 – which would amend state law to allow the government to remedy discrimination against historically disadvantaged groups, including military veterans, in the areas of employment, education and contracting. A governor's commission on diversity, equity and inclusion would be established as well.

CONGRESSIONAL ISSUES: FAN is working with the ELCA Washington Office, other D.C. faith groups and our in-state partners on three congressional issues:
The farm bill: specifically trying to move three Republican delegation members to oppose it.
Sentencing reform: FAN is opposing the House First Step Act and supporting the Senate Sentencing Reform and Corrections Act.
Immigration: Deferred Action for Childhood Arrivals (DACA) and immigration reform.

STAFF CHANGES: Sadly, next month FAN will be saying goodbye to our ELCA seminary intern organizer, Sarah Derick, and our wonderful communications and development specialist, Erin Parks. Sarah is going back to Chicago to finish up her Master of Divinity degree, and Erin is going to Vanderbilt Divinity School to work on her master's degree. We are now in the interview process for an ELCA Hunger Fellow and a new administration and development coordinator.
Wisconsin
Cindy Crane, Lutheran Office for Public Policy in Wisconsin                                              loppw.org
SYNOD ASSEMBLIES: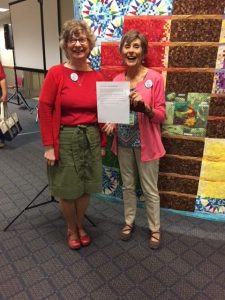 (Photo at left) The Rev. Eleanor Russey and Mary Lou Blomquist of the Northern Great Lakes Synod ELCA World Hunger Committee with a resolution they initiated on the farm bill. Their committee will offer resources with assistance from LOPPW.
Advisory Council Member Deb Martin managed a table in the East Central Synod Assembly. She surprised LOPPW by telling us afterward that she got a resolution passed encouraging people to sign up for LOPPW's and ELCA Advocacy's action alerts and becoming more aware of advocacy.
The director managed a table and led a workshop on the draft of the women and justice social statement at the South-Central Synod Assembly after meeting with the Rev. Viviane Thomas-Breitfeld, who was a co-author of the draft and is now bishop elect.
MORE ON THE FARM BILL: LOPPW sent out two action alerts that mirrored our D.C. office's alerts on the bill. LOPPW was also part of a webinar on the farm bill organized by the Wisconsin Council of Churches.
STRATEGIZING FOR FUTURE LOPPW met with Lutheran Social Services to discuss ways of working together on issues related to children and refugees.
HUNGER FELLOW: The director worked with Nancy Sifuentes on the interview process.
CHURCHWIDE ORGANIZATION: The director was part of a conference call of relators to directors for evangelical mission and is assigned one director to relate to.  The director also was part of a conference call with Lutheran Social Services (LSS) and Lutheran Disaster Relief (LDR) to discuss LOPPW supporting efforts of an LSS representative working with LDR in Wisconsin.