Since Congress has gone home for August recess, the budget for Fiscal Year 2018 remains unclear. It is during these times of uncertainty, that it becomes even more important to remember the most vulnerable around the world. There are various ways that the United States assists those in need in the international community and it is no surprise that securing food—a necessity for all people—is one way to do this. "Food for Peace" is a program that began in the 1950s as a way to provide food assistance to those in need in other countries. After several innovations over the years, including restructuring under the Food for Peace Act (2008), it is now a program that is managed primarily by the United States Agency of International Development (USAID) and the United States Department of Agriculture (USDA). The most important piece of the program is arguably Title II, which provides emergency and development food aid to countries that face difficulty with feeding their people.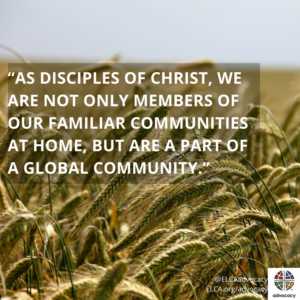 How does Title II work?
The mission of Food for Peace programs is to "combat malnutrition, improve the livelihoods of vulnerable groups and mitigate the impact of disasters which are occurring with greater frequency." Keeping these goals in mind, as well as the proposed budget of the President, USAID and the State Department submit an annual budget to Congress to be approved. When levels of funding are established, international organizations and private organizations submit program proposals and work with USAID to create food aid plans. The USDA plays a part in the process by obtaining agricultural commodities, while USAID facilitates getting the food shipped to the various countries. This process ultimately leads to feeding millions of children, mothers, the elderly, and other vulnerable populations. Approximately 3 billion have benefited from U.S. food assistance to date.
Our priorities as Lutherans
Scripture teaches us that having been justified by faith, one of the ways faith is revealed is through good works: "For just as the body without the spirit is dead, so faith without works is also dead" (James 2:26 NRSV). Food for Peace is an exemplary program and is an essential element in promoting food security in times of natural disaster, famine, and high levels of world poverty. As disciples of Christ, we are not only members of our familiar communities at home, but are a part of a global community. This fact, combined with our strong belief in helping our neighbor, compels us to support communities that are in the most need—no matter their country of origin or circumstances.
Alleviating hunger is one of several ways we can serve all people and contribute to the establishment of peace in our world, an important part of the Lutheran baptismal covenant. Programs like Food for Peace are critical for countries like the Democratic Republic of Congo (DRC) where violent conflicts continue to wreak havoc in various regions of the country.  This is reflected in the 3.8 million who remain internally displaced in the DRC, many of which are unable to feed their families. The struggle of food security in conflict zones that exist within unstable countries like the DRC is prevalent, but this is where food assistance provided from Food for Peace can really make an important difference. Lutherans have long supported the revitalization of foreign humanitarian aid that brings us closer to a peaceful world.
As Lutherans, let us not forget about those who go without the most basic necessities and let us prayerfully use our voices to support programs that help bring peace to the world.