By Ruth Ivory-Moore, Program Director for Environment and Corporate Social Responsibility
The intricacies and diversity of creation are mind-boggling, a reflection and reminder of the power and glory of the Father, Son and Holy Spirit expressed through the created order. The United Nations honors creation on May 22 through the International Day for Biological Diversity. This year's theme is "Our Biodiversity, Our Food, Our Health." Marking the day increases our understanding and awareness of biodiversity issues in God's good creation.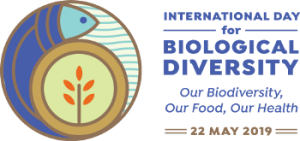 Try to trace the biodiversity story of many things you eat and use every day. From a lunch bag apple to ingredients in your cold medicine, our food and health are dependent on biodiversity. 
Biodiversity is the variety and diversity of various forms of life on earth, and particularly that in a specific region that includes various species of plant and animal life, microorganisms and the ecosystems where they exist. It is essential. Living entities support each other and interact with their non-living environment to provide and enhance healthy life for all of creation. As told in Genesis, from chaos came synchronization where all life is valued and interlinked. "God saw everything that he had made, and indeed, it was very good," (Genesis 1:31).  
Where do we see the essential role of diversity in our food and health? Crop genetic diversity, for example, plays a critical role in creasing and sustaining production levels and nutritional diversity throughout the full range of different agroecological conditions. Diverse organisms contributing to soil diversity perform vital functions that regulate the soil ecosystem, such as decomposition of litter and recycling of nutrients, converting atmospheric nitrogen to an organic form and reconverting this to gaseous nitrogen, and altering soil structure. Ecosystems support soil formation, nutrient cycling, and primary production; provide food, fresh water, fuel, fiber, biochemicals, and genetic resources, and regulate the climate, disease, water, water purification, and pollination.  
Then there are bees! Consider these truly amazing insects. A one-minute video from the Food and Agriculture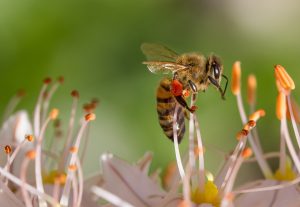 Organization of the United Nations imagines a world without this essential component in the food chain. Threats to biodiversity are threats to us all.  
Havoc imposed on earth and its ecosystems cannot continue unrestrained. While production of basic goods and services are among priorities noted in the ELCA social statement "Caring for Creation: Vision, Hope and Justice," our quest for economic prosperity and other human activity threatens global biodiversity. Disregard for life of a certain species or ecological system will negatively impact all of life.  
"The sabbath and jubilee laws of the Hebrew tradition remind us that we may not press creation relentlessly in an effort to maximize productivity (Exodus 20:8-11; Leviticus 25). The principle of sustainability means providing an acceptable quality of life for present generations without compromising that of future generations. Protection of species and their habitats, preservation of clean land and water, reduction of wastes, care of the land—these are priorities," notes the Caring for Creation statement. 
On this International Day for Biological Diversity, let's lift all of creation in prayer. 
God of wisdom, showing us your love in the rising sun and waning tide, you grace Earth with life in all its variety. Everything has meaning, is blessing; everyone is charged with care for the smallest creature to the ocean's depth. Grant us wisdom to know your ways of love and gentle kindness. Give us the mind to learn what we do not know but long to understand so that we may honor and nurture all that makes us one with you. Amen 
---
Prayer by Diane Lopez Hughes at oikoumene.org  
Additional information: