By Ruth Ivory-Moore
"There is no longer Jew or Greek, there is no longer slave or free, there is no longer male and female; for all of you are one in Christ Jesus."  (Galatians 3:28 NSRV)
Without justification or rationality, we have injected gender bias and inequality into our mode of operation and thinking. This rejects the created goodness and dignity God gives to every human creature and violates the reconciliation accomplished through Jesus Christ. Biases not only prevent those most qualified from working but deny and attack gifts (given by the Holy Spirit) of all on the basis of gender.
Gender inequality is especially prominent in the climate change arena.  Climate change has the greatest impact upon people who are vulnerable, marginalized and the poor. They are often the least equipped to deal with natural hazards, like extreme weather, droughts, floods, and hurricanes, which often result from climate change. For populations that depend on natural resources, like firewood for cooking, the situation can become grave. This plight describes the situation that many women face. Additionally, women often are shut out from participating in decision-making processes and labor markets which compounds inequalities.
But in 2015 the global community took significant steps to address gender disparity by adopting the Climate Action Plan (henceforth Plan) and the 2030 Agenda (henceforth Agenda). The Plan is an outgrowth of the December 2015 Paris Agreement, which embedded gender equality and empowerment of women. The Agenda was adopted at the United Nations Sustainable Development Summit in September 2015. Both were highlighted during the first week of the United Nations (UN) Climate Change Conference in Bonn, which took place from May 8-18.
Gender Climate Action Plan: The Climate Action Plan includes five key areas: capacity building; knowledge sharing and communication; gender balance and participation; coherence within the United Nations Framework Convention on Climate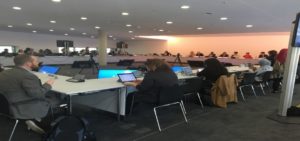 Change (UNFCCC) and other UN agencies; gender-responsive implementation and means of Implementation; and monitoring and reporting. Each are critical to integrating gender into the climate discussion. (Photo right: Intergovernmental Negotiation Process at work on Gender Action Plan)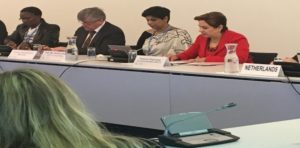 (Photo left: The opening session of the Gender workshop featured encouraging words from Patricia Espinosa (Executive Secretary of the United Nations Framework Convention on Climate Change (UNFCCC)) shown at the far right)
Gender Equality, Nationally Determined Contributions (NDCs) and the 2030 Agenda: The conference also featured a  panel presentation on the 2030 Agenda  which among other things identifies impediments to women's participation in climate change policy development processes. The 2030 Agenda consists of 17 goals that includes zero hunger, no poverty and gender equality. To better understand gender equality the United Nations Development Programme (UNDP) developed an analysis of the status of gender equality in national climate policy in light of the Paris Agreement. In implementing the Paris Agreement countries submit their plans to reduce greenhouse gas emissions. Each country commits to reducing emissions by what is termed their Nationally Determined Contributions (NDCs). The UNDP analysis presents a framework for integrating gender equality into NDC planning and implementation.  Women, because of their responsibilities in many societies have firsthand knowledge of the consequences of greenhouse gas emissions.  Women must be included in all phases of solution development and implementation.
But as identified by the UNDP there are impediments/gaps that limit participation. The gaps include: how to implement developed policies for results; capacity development at all governmental levels; inadequate coordination on gender issues; and processes that promote participation of women.
Besides the need for gender equity, because it is the right thing to do, women are valuable in negotiations. According to the United Nations women's participation at the political level tend to yield greater negotiated results, often increasing cooperation across party and ethnic lines and delivering more sustainable peace.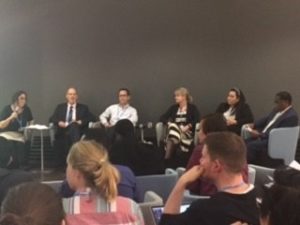 Photo right: Gender Equality in National Climate Action:  Planning for Gender-Responsive Nationally Determined Contributions (NDCs) panel discussion. Pictured from left to right are the panelists:  Barbara Schaefer (German Federal Ministry for the Environment, Nature Conservation, Building and Nuclear Safety); Stephen Gold (Head, Climate Change, UNDP); Fleur Newman (Gender Focal Point, UNFCCC); Felope Osses (Senior Climate Change Negotiator for  the Ministry of  Environment, Government of Chile); Sandee Recabar (Chief, Implementation Oversight Division, Philippines Climate Change Commission; and Stephen King'uyu (Deputy Director Mitigation, Ministry of Environment, Water and Natural Resources of Kenya)
Women are still not equal participants in the processes to address climate change. However, it appears that internationally we are finally moving in the right direction. ELCA Advocacy is playing a role as a member of the ACT Alliance Climate Change Group.  ACT Alliance is a coalition of 144 churches and church-related organizations working together in over 100 countries. ELCA Advocacy will lead an ACT Alliance Climate Change Principles subgroup that will cover gender issues.  This subgroup is tasked with developing concise policy briefings (plus lobby points) well in advance of COP23.  It is important that we all work together to remedy gender disparity while seeking God's guidance.
"Direct us, Lord God, in all our doings with your most gracious favor, and extend to us    your continual help; that in all our works begun, continued, and ended in you, we may glorify your holy name; and finally, by your mercy, bring us to everlasting life; through Jesus Christ, our Savior and Lord. Amen."  (See Evangelical Lutheran Worship.)