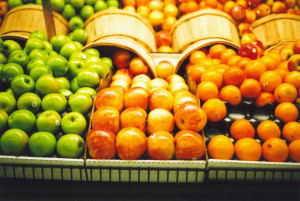 We continue the "Advocating on the Road" series, exploring hunger-free and vibrant communities in Washington state. 

Kurt Tonnemaker is a familiar face at farmers markets around the Seattle area. Each week, Tonnemaker Brothers, Inc. packs and sells produce — peaches, cherries, apples, pears, plums, peppers and more — from Kurt's family's farm in Royal City, Wash., and travels to as many as 18 farmers markets in a single weekend. 
The produce Kurt sells is grown as sustainably as possible on land inherited from Kurt's paternal grandfather, a horticulture extension agent in Eastern Washington. "My grandfather's family moved from Nebraska in 1903. In their move west, they brought produce with them in a wagon. I guess you can say this passion runs in the family," Kurt says. "When he retired from extension work in 1962, my grandfather bought this land from a Korean War veteran, and the farm has been in the family ever since. My brother, Kole, started in 1980 and expanded the varieties of what we grow. I joined in 1992 and helped develop our business from two or three farmers markets to many more."
Kurt's passion for his work shines through to those he meets, as he explains why he values this work. "One of the most important aspects of my job is that I get to help reconnect people to who grows their food. Cherries don't just come out of a bag, you know," Kurt jokes. "One hundred years ago everyone either knew or was a farmer. Now, farmers are less than 2 percent of the population. Naturally, people are far removed from who grows their food, and they don't eat as much fresh food anymore. At the farmers markets, we can help reconnect our customers."
"Farmers markets sometimes get a bad rap because the prices are higher — it does cost more to pack and handle just-picked, ripe foods," Kurt notes. "We do sell certified organic produce, and we try to price our stuff so everyone can buy it. Good, fresh food should not be just for the rich."
Kurt's family's work of growing and selling affordable, quality foods to a diverse customer-base is supported in part by the state's Famers Market Nutrition Program for low-income and senior Washingtonians. The program is an initiative that operates using federal and state funding. It allows seniors and those who receive WIC (Women, Infants and Children) nutrition program benefits to use their benefits for fresh produce at farmers markets, sold by producers like Kurt.
During the 2012 legislative session Kurt joined Lutheran advocates at the state capitol in Olympia to express the importance of these programs to their lawmakers. "We understand that money is tight in the state budget, but we needed to tell them the money for this program is critically important. I helped tell our officials that when money is sent to the Farmers Market Nutrition Programs, it goes back to the farmer and back to our state. By paying the farmers, the WIC and senior customers are getting fresher produce and the money generated vitalizes our local and state economy," Kurt explains.
"The senators and representatives are excited to talk to people who are benefited by these programs. They're also trying to make the program as streamlined as possible, so it's good to talk to farmers to see if where they're spending the money is worth it."