U.N. | California | Colorado | Minnesota | North Carolina | New Mexico | Ohio | Pennsylvania | Southeastern Synod | Virginia | Washington | Wisconsin
---
Lutheran Office for World Community, United Nations, New York, N.Y.
Dennis Frado, director
INTERNATIONAL DAY OF COMMEMORATION OF THE VICTIMS OF THE HOLOCAUST: On January 28th, the United Nations commemorated the Holocaust in the General Assembly Hall.  UN Secretary-General Antonio Guterres and the President of the General Assembly Maria Fernanda Espinosa Garces addressed the international community, especially the Holocaust survivors and veterans of World War II, who attended the ceremony.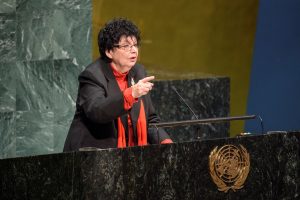 Inge Auerbacher shares her account of being a child survivor of the Teresienstadt concentration camp and ghetto during the Holocaust Remembrance Ceremony on the theme "Demand and Defend Your Human Rights". (UN Photo/Loey Felipe)
They each stressed the necessity to speak out against antisemitism and to stand together with all nations. The victims of the recent Pittsburgh massacre at the synagogue "Tree of Life" were also commemorated.
Chargé d'affaires of the US mission to the UN, Jonathan R. Cohen, reminded the audience of the other genocides which happened and still happen around the world. He called people to action and to defend human rights around the world.
The Youth choir "P22 Chorus" performed the piece "Who am I?" with lyrics written by Inge Auerbacher. As a Holocaust survivor, Ms. Auerbacher stressed in the lyrics and in her testimony that all people are part of the human family. Marian Turski, also a Holocaust survivor, emphasized in his speech that the most important thing in life is compassion and empathy. These values have to come with a willingness to understand other people who differ from us.
During the ceremony Cantor Benny Rogosnitzky recited memorial prayers for those killed during Holocaust.
Sara J. Bloomfield, Director of the United States Holocaust Memorial Museum, was the keynote speaker at the event and warned of the politicization of the Holocaust. "The unthinkable is always possible", she said and asked the audience to think about their role in society.
Sandro de Bernhardin, Chair of the International Holocaust Remembrance Alliance, described the work of that intergovernmental body, which is formally committed to Holocaust remembrance.
Find more information about the Holocaust and the United Nations Outreach Programme here
---
California
Regina Banks, Lutheran Office of Public Policy (LOPP-CA)                                                                              
       loppca.org
LOPP-CA HAS A NEW DIRECTOR: The Policy Council of the Lutheran Office of Public Policy – CA is pleased to announce that Regina Q. Banks, JD has begun as LOPP-CA Director! She succeeds Mark Carlson whose successful tenure as Director sunsets January 31st.
ADVOCATING FOR IMPOVERISHED CHILDREN: LOPP-CA acted with its partners in the Lifting Children and Families Out of Poverty Task Force in participating in the End Child Poverty in California Advocacy Day at the state capitol January 22nd. The event was very well received with over 90 legislator visits and a standing-room-only press conference with democratic state lawmakers.  Over 40 organizations came together for the event to support the final report and recommendations of the task force. Among the recommendations are a welfare grant increase beyond the governor's budget proposal and targeted child tax credit that would also function as a rental subsidy.
LUTHERAN LOBBY DAY PLANNED: LOPP-CA held its first policy council meeting of 2019 on February 2 at the Southwest California Synod offices in Glendale. Many new and exciting initiatives were planned and will be announced soon. But please mark your calendars now for Lutheran Lobby Day: Wednesday, May 29, 2019 in Sacramento. Issues discussed will include policy council issue priorities for 2019: Deep Childhood Poverty, Immigration and Water Justice.
---
Colorado
Peter Severson, Lutheran Advocacy Ministry–Colorado                                                                                             lam-co.org
LEGISLATIVE UPDATE: We have been active on legislation introduced since the start of the session on January 4. Bills we support include:
House Bill 1013, Low Income Child Care Expenses Tax Credit, seeks to make permanent a state tax credit for


Colorado Attorney General Phil Weiser speaks at a press conference on January 31, 2019, to mark the implementation date for Proposition 111, which will cap payday loan interest rates at 36%. In November, Colorado voters approved Prop 111 by a 77-23% margin.

families who make less than $25,000 in annual income. Although the committee inserted an 8-year sunset, we continue to support the bill. It passed Finance 10-1.

House Bill 1025, Limits on Job Applicant Criminal History, would prevent employers from asking if an applicant has a criminal record on an initial job application. Formerly incarcerated persons and advocates shared stories during testimony, and the bill passed Judiciary 8-3.
In addition, we are monitoring bills related to investigating a state health insurance option, exemptions from wage garnishment for medical debt, and rental application fees. Many other bills on which we expect to take positions are yet to be introduced. This year's legislative session will continue through May 3.
DAY AT THE CAPITOL: We invite all Coloradans and people of faith to join us at the State Capitol for Lutheran Day on February 21! Meet your legislators and get the inside scoop on what's going on under the gold dome. Register now at lam-co.org.
CONGREGATIONAL VISITS: Thanks to the good people of Mount Calvary Lutheran Church, Boulder, and Nativity Lutheran Church, Commerce City, for hosting visits from LAM-CO Director Peter Severson in January!
---
Minnesota
Tammy Walhof, Lutheran Advocacy–Minnesota                                                                    www.lutheranadvocacymn.org
HOMES FOR ALL: Lutheran Advocacy-MN (LA-MN) continues to be deeply engaged in the Homes for All
Tammy speaking with Rep. Hausman at H4A Legislative Kickoff
Coalition (H4A), since high housing costs and lack of affordable housing are primary causes of hunger. The coalition includes 215+ endorsing organizations. We are part of smaller group that work on the nuts and bolts of the legislative agenda. Tammy Walhof (LA-MN Director) meets 1-3x/week with the H4A Policy Team to discuss strategy, while Amy Shebeck (our Communication/Administration Coordinator) meets regularly with the H4A Communications Team and manages coalition social media.
On January 17, H4A held a Legislative Kickoff which included awards for House and Senate Housing Champions. H4A presented our ambitious agenda to the Housing Finance & Policy Division, chaired by Rep. Alice Hausman, and held a press conference with Rep. Hausmann (DFL) and Sen. Carla Nelson (R). Check our website for links to the H4A agenda, 1-pagers, & updates, as well as our LA-MN sample letter to legislators.
 CREATION CARE: Check out Green Tips on our Facebook page every Friday! (Thanks for providing that great information Laura Raedeke, Nisswa). At the legislature, the Energy & Climate Division (committee) have been holding hearings 2x/week to lay the groundwork and educate for upcoming legislation. We're working closely with partners and legislators on various clean energy ideas – Your action will be needed soon!
Upcoming events that LA-MN helps sponsor:
Feb. 7 – Day on the Hill with JRLC (Joint Religious Legislative Coalition)
March 13 – Clean Energy & Climate Action Day at the Capitol
Please watch Facebook & our website for action & updates!
---
North Carolina
GeoRene Jones, North Carolina Synod Social Justice & Advocacy Ministries (SJAM)
Lutherans will gather on March 26 to at the NC Legislative Building in Raleigh to advocate with elected officials for affordable housing.
LUTHERANS AT THE LEGISLATURE, MARCH 26, 2019: Beginning with a Prayer Breakfast hosted by Rev. Dr. Timothy M. Smith, Bishop of the NC Synod, ELCA Lutherans will spend a day engaged in advocacy efforts with legislators. The event will focus on affordable housing, an issue magnified by the recent hurricanes along North Carolina's coast last fall. After Hurricane Florence, FEMA identified this state's absence of affordable housing as a major impediment to long-term recovery after disaster.
Members of our Social Justice & Advocacy Team are engaged with several agencies to develop education and talking points for attendees at the education session at Holy Trinity (Raleigh) during the morning. Good Shepherd (Raleigh) will provide multi-passenger vehicle transport from Holy Trinity to the Legislative Building for afternoon visits with legislators and their staffers. Educational partners include the North Carolina Housing Coalition, the North Carolina Coalition for Homelessness.
Participants will return to Holy Trinity for debriefing and collaboration about what's next.  Plans include participation in North Carolina's annual conference for providers of services to the homeless, May 21-22.  This year's theme is, Bringing It Home: Ending Homelessness in 2019.
---
New Mexico
Ruth Hoffman, Lutheran Advocacy Ministry- New Mexico (LAM-NM)                                        lutheranadvocacynm.org
2019 LEGISLATIVE SESSION: The 2019 session of the New Mexico legislature convened on January 15 at noon
LAM-NM Director, Ruth Hoffman, with Rep. Abbas Akhil
in Santa Fe.  LAM-NM is hard at work in support of the issues on our 2019 Advocacy Agenda. Legislation enacting an increase in the state minimum wage to $12, improving the state TANF program, and providing significant funding increases for early childhood education have already passed their first committees. LAM-NM continues to focus its work on issues related to poverty and hunger.
The NM House of Representatives membership of seventy includes twenty freshman, including the first ever Muslim-American representative, Abbas Akhil, from Albuquerque. Currently, the majority of the New Mexico House are people of color.
Bill sponsors listen to advocates' testimony, including LAM-NM Director Ruth Hoffman, in support of significant funding increases for early childhood education.
Workers from Somos un Pueblo Unido and El Centro appear with HB31 sponsors, Rep. Joanne Ferrary and Rep. Miguel Garcia, in support of increasing the state minimum wage.
---
Southeastern Synod
Hilton Austin, Director
4TH ANNUAL SOUTHEASTERN SYNOD ADVOCACY GATHERING: While watching three legislatures during the month and communicating to our advocates, we have been preparing for our Annual Advocacy Gathering at St John's Atlanta on Fegruary 2, Super Bowl weekend; and it is in Atlanta; and there is no room at the inn. We have managed to find host families for the people traveling from other states.
Our theme this year is 'Walking Wet'
Walking Wet is all about whom God has called us to be as He claims us in the waters of baptism. Walking Wet means we know where we belong and to whom we belong.
Walking Wet is to know without a doubt that through the waters of baptism, God promises to always love us, to forgive us, to support us, and to always be by our side.
Walking Wet is about confidence and trust.
Walking Wet implies we are part of a large group, brothers and sisters in Christ.
Walking Wet gives us a new perspective from which to love and serve our neighbor.
Four years ago, five of us, including Bishop Gordy, met to talk about creating a Georgia Public Policy Office in Atlanta. We had a call; and we had a vision.
Looking back, I guess you might say, we had a small vision.
God was doing a new thing and His Vision was much grander than we could perceive.
Over the past four years, thanks to you, our advocacy partners, and God's ever present guidance, we have changed the lives of many people in Georgia by advocating for value-based Public Policies in Criminal Justice Reform, Human Trafficking laws. We successfully opposed anti-refugee legislation. We've marched to protest Stewart County Detention Center and we've marched at the Nation's Capital. We have been present numerous times at the Tennessee Capital. Some have even been arrested. We've called more attention to Care for Creation. Last year, we had the most success with 9 out of 10 bills passed and 1 successfully opposed. At the same time, we began to organize our advocacy in Alabama and Mississippi.
God is good!
---
Ohio
Nick Bates, The Hunger Network  Ohio (HNO)                                                                                 www.hungernetohio.com
WE ARE NOT BARGAINING CHIPS:  The Hunger Network was pleased to join with our friends at the United Methodist Church for all People in Columbus to participate in a 'Shutdown Townhall'. With coverage by local media, members of the community share stories about the role SNAP, housing assistance, treatment programs, and other public services play in their lives. Director Nick Bates framed the stories for legislators and the media with an overview of the policy details of what is going on. SNAP benefits were released early, and local food pantries remain concerned that the changes will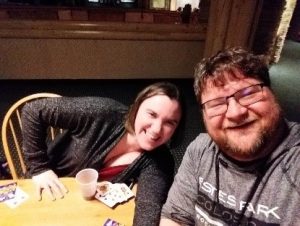 disrupt household budgets and increase the strain on pantries.
TRI-SYNOD LEADERS RETREAT: HNO was excited to attend the tri-Synod Professional Leaders retreat at Sawmill Resort in Huron, Ohio. We appreciate the number of people who stopped by our table to say hi, take an advocacy guidebook, or sign a postcard! If you didn't get a chance to stop by our table or connect with YOUR state public policy office, send us an email at Nick@hungernetohio.com .
THE BUDGET IS COMING! THE BUDGET IS COMING!: Be on the lookout for opportunities to learn and engage on Ohio's next budget, because our state budget is a moral document. From school funding, investments in children, drug treatment and much more will be topics of conversation. Our legislators will have an opportunity to invest in Ohio's future and strengthen our state. As people of faith, we have an opportunity to support smart investments that will build a stronger Ohio for families.
---
Pennsylvania
Tracey DePasquale, Lutheran Advocacy – Pennsylvania (LAMPa)                                               lutheranadvocacypa.org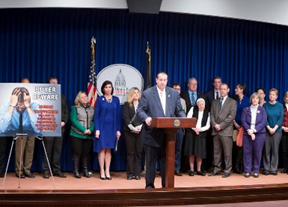 LAMPA HELPS LAUNCH ANTI-TRAFFFICKING BILLS: LAMPa staff  joined Rep. Seth Grove, R-York, and Sen. Kristin Phillips-Hill, R-York, as they announced their intent to introduce legislation to increase fines and prison sentences for criminals convicted of human trafficking. Read more.
LEGISLATORS LEARN ABOUT HUNGER: Alongside PA Hunger Free Coalition colleagues, LAMPa staff participated in a Legislative Lunch and Learn at the State Capitol on February 4. More than 100 legislators and staff participated in the interactive educational hunger stations and enjoyed a lunch as is served in the child nutrition summer feeding program.
LIVING LUTHERAN FEATURES ANTI-TRAFFICKING ARTICLE:  The work of Pennsylvania Lutheran advocates to secure legislation to protect child sex trafficking victims was featured in the February issue of Living Lutheran.  The passage of "Safe Harbor" in the fall of 2018 was a huge victory for victims and advocates who worked on this bill for many years.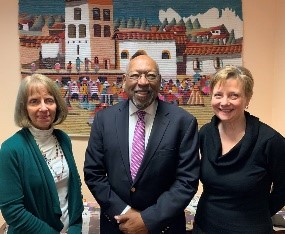 STAFF MEETS WITH INTERIM SEMINARY PRESIDENT: Tracey and Lynn recently met with United Lutheran Seminary Interim President Dr. Richard Green. They discussed additional ways LAMPa and the seminary community can continue to grow in relationship.
LUTHERAN DAYS IN THE CAPITAL FEATURE INTERFAITH ACTIVITIES: On May 20, LAMPa's Lutheran Day of Advocacy focuses on the theme "Set A Welcome Table." Featured speaker is ELCA Executive for Ecumenical and Inter-Religious Relations Kathryn Lohre. LAMPa joins interfaith partners, May 19 for service and learning, including a blessing of waters, service projects, arts performances and a community meal, concluding with teaching and preparation for advocacy on climate change.
---
Virginia
Kim Bobo, Virginia Interfaith Center for Public Policy (VICPP)                                              virginiainterfaithcenter.org
January was a busy month for the Virginia Interfaith Center for Public Policy because Virginia's state General Assembly began on January 9th!  VICPP is working on over 30 pieces of legislation this year.  These bills include:
removing the Jim Crow language from Virginia's Minimum Wage Act


Lt. Gov. Justin Fairfax addresses VICPP advocates during the Day for All People

removing the exemption for piece work from the minimum wage
cover all workers under the minimum wage, regardless of the size of the business
providing paystubs to all workers
protecting workers against retaliation for filing a wage complaint
let workers take their wage complaints to court
create a driver's privilege card for immigrants
establish in-state tuition for all Virginian students, regardless of immigration status
codifying the Governor's Advisory Council on Environmental Justice
safe closure of coal ash ponds
increase access to clean solar energy for homes, congregations, and communities
end the suspension of driver's licenses for nonpayment of fines and fees
raise the minimum wage


constituents meeting with Sen. Glen Sturtevant (R- Richmond City) at VICPP's Day for All People

decriminalize disorderly conduct in schools
reducing evictions
making Virginia's Earned Income Credit refundable, like it is at the federal level
Hopefully, when the session ends on February 23, 2019, at least a handful of those bills will pass the legislature and will be sent to the Governor's desk to be signed into law.
VICPP also hosted our annual Day for All People Lobby Day on January 22nd.  Over 250 people came to Richmond to learn about VICPP's priority issues, meet with their legislators, and hear from Lt. Gov. Justin Fairfax.  You can see more pictures here.
---
Washington
Paul Benz, Faith Action Network (FAN)                                                                                                                      fanwa.org
LEGISLATIVE SESSION BEGINS: Our 2019 Washington State Legislative Session officially began on January 14! Close to 30 new legislators were sworn in. They represent the greatest diversity we've had at the state level, including two new firsts: Rep. Debra Lekanoff, the first Native American woman in the House; and Rep. My-Linh Thai, the first refugee state legislator. After just the first week, the legislature introduced 408 bills in the House and 461 bills in the Senate! This has kept us very busy keeping up with bills. If you are interested in where the bills on our legislative agenda are in the legislature, check out the bill tracker on our website that we update regularl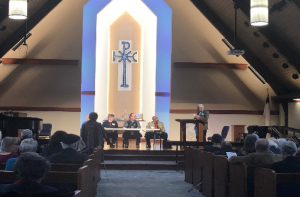 y.
INTERFAITH ADVOCACY DAYS: We are in the midst of our three yearly Interfaith Advocacy Days. These opportunities allow us to share with our elected leaders our voices of compassion and justice. These events include workshops on FAN's 2019 Legislative Agenda, advocacy tools, and planning meetings with legislative districts. In Olympia, at our State Capitol Campus, attendees also meet with legislators. We are looking forward to our Advocacy Day in Yakima on February 9, and our Olympia Advocacy Day on February 14.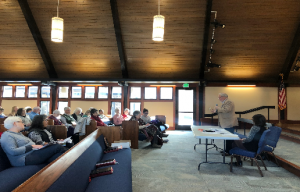 On January 26 we held our Eastern Washington Legislative Advocacy Day in Spokane. Over 120 advocates joined us from the eastern side of the state to learn and work together. There were times of worship and prayer, sharing meals together, learning about ways to get involved, and workshops on legislative priorities. Paul led a workshop on Health Care and Nutrition priorities, and other workshops included bills on tax reform, the environment, affordable housing, gun safety, and immigration. Pictured is a panel of faith leaders and Paul discussing FAN's legislative priorities.
As we are busy preparing for our other advocacy days, Paul also attended the Statewide Ecumenical Executives Annual Meeting in Houston in early January.
---
Wisconsin
Cindy Crane, Lutheran Office for Public Policy in Wisconsin (LOPPW)                                                                  loppw.org
ANTI-SEX TRAFFICKING RALLY: We held a rally on a freezing cold day in between a major snowstorm and polar vortex.  We are thankful to Bishop Jim Arends of the La Crosse Area Synod; Jan Miyazaki, JD, of Project Respect in Madison, Morgan Meadows, M.Ed., survivor and educator of Door County, Representative Jodi Emerson of Eau Claire, and Bishop Viviane Thomas-Breitfeld of the South-Central Synod for their words of wisdom and inspiration.  The Safe Harbor bill has gone from being on the back burner to being passed out of committee in both houses.  We want to make a final push to pass it this legislative session.  We were covered in an article in the Cap Times.   
Hunger Fellow Kelsey Johnson took major leadership in co-organizing the rally and arranged all of the legislative visits.  As a result of her contacts, she was invited to meet with a legislative staff on a separate day.  One of the several highlights was that a participant from the Green Bay area influenced her representative, the Republican majority leader, to co-sponsor the bill.
CARE FOR GOD'S CREATION: LOPPW staff participated in a day long Wisconsin Climate Table meeting, where we heard from the new Lieutenant Governor Mandela Barnes about the governor's agenda related to climate change.  LOPPW staff suggested forming a committee to explore actions the new governor can take with executive orders to protect the environment.
---