U.N. | Colorado | Minnesota | Pennsylvania | Washington | Wisconsin
Following are updates shared from submissions of the Lutheran Office for World Community and state public policy offices.
Lutheran Office for World Community, United Nations, New York, N.Y.
Dennis Frado, director
U.S.-IRAN CRISIS: On January 9, Presiding Bishop Elizabeth Eaton offered a pastoral message to ELCA members about the crisis between the United States and Iran. Calling it "worrisome," she said "Our country and Iran need urgently to find ways to resolve our differences through a de-escalation of the current crisis, using diplomacy and other peaceful means." She concluded, "We should appeal now to our elected officials to pursue the path of dialogue and diplomacy with Iran — for our sake, for the sake of the people of Iran and for the sake of the world God so loves."
ADMINISTRATION'S "PEACE TO PROSPERITY" PLAN: Presiding Bishop Eaton said on January 28, she was "very dismayed and disturbed by President Trump's announcement" of his new "Peace to Prosperity" plan, expressing her "fear, [that it] will bring greater insecurity for Israelis and Palestinians instead of peace." She lamented that it "involved only one party," noting, "A plan made for a people without consulting that people will not bring peace." She observed, "Rather than drawing together Israelis and Palestinians to reach a peace accord, the effect of this plan will be further alienation and, I am afraid, more tension" and concluded by calling "upon President Trump to develop a different plan that would involve all parties, and to pursue efforts that would adhere to international law and human rights conventions. This plan should ensure the protection and preservation of internationally recognized human rights and realize, for Palestinians and for Israelis, two viable, secure states living side by side in peace."
ADDRESSING HATE SPEECH AND PREVENTING INCITEMENT: The United Nations Office on Genocide Prevention and the Responsibility to Protect as well as the Permanent Missions of Bangladesh, Italy and Morocco sponsored a panel discussion held February 4, "Addressing Hate Speech and Preventing Incitement to Discrimination, Hostility and Violence: Synergies within the United Nations system". In addition to the respective ambassadors of sponsoring missions, Mr. Adama Dieng, United Nations Under-Secretary-General and Special Adviser on the Prevention of Genocide, stressed the importance of existing UN initiatives such as the "Fez Plan of Action for religious leaders and actors to prevent incitement to violence that could lead to atrocity crimes" (July 2017).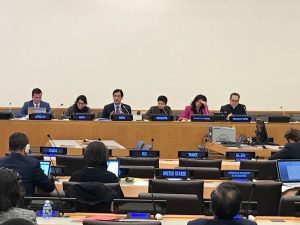 A number of the other panel members, representing entities such as the World Council of Churches, the UN Alliance of Civilizations and the Office of the UN High Commissioner for Human Rights (OHCHR), noted the urgency of combating hate speech on online platforms and social media. Of particular interest also to churches and other religious organizations are the "Rabat Plan of Action on the prohibition of advocacy of national, racial or religious hatred that constitutes incitement to discrimination, hostility or violence" and the Beirut Declaration and 18 Commitments on "Faith for Rights". A useful new tool is OHCHR's Faith4Rights toolkit with peer-to-peer learning modules, exploring the relationship between religions, beliefs and human rights.
---
Colorado
Peter Severson, Lutheran Advocacy Ministry-Colorado www.lam-co.org
LEGISLATIVE SESSION BEGINS: The Colorado General Assembly convened on January 8 and will adjourn May 6. We have already begun advocating in earnest on several important issues from our policy agenda. These include:
SB 20-100, Repeal the Death Penalty. The bill has moved out of the Senate and on to the House. We support this measure to repeal Colorado's outdated, expensive and unjustly administered death penalty.
SB 20-029, Basic Cash Assistance Increase. This bill would increase the baseline amount for Colorado Works, our state version of cash assistance from TANF (Temporary Assistance for Needy Families). The first hearing takes place on February 11.
FAITHFUL THURSDAYS: People of faith, including ELCA Lutherans, are once again convening a fortnightly gathering at the State Capitol. We are gathered around the themes of equity, a moral economy and ending racism. Learn more at FaithfulThursdays.org and join us in February on the 6th and the 20th at noon!
LUTHERAN DAY AT THE LEGISLATURE: Join us on Thursday, February 27, for Colorado Lutherans and other people of faith to gather at the State Capitol and learn about the process of our government, as well as how to advocate faithfully on specific issues. Registration is open now at https://www.rmselca.org/legislature_day_2020.
---
Minnesota
Tammy Walhof, Lutheran Advocacy- Minnesota (LA-MN)  lutheranadvocacymn.org
AFFORDABLE HOUSING: Lutheran Advocacy-MN will again have housing and homelessness as one of its two top priorities for the 2020 legislative session. The lack of adequate affordable housing remains a statewide crisis! In some previous years, we have organized joint education and advocacy events with Lutheran Social Service of MN or in conjunction with Homes for All end of session events. This year, our long-time advocacy partner, Joint Religious Legislative Coalition is holding their first ever Faith Leader Summit on Housing, with opening remarks by Governor Walz and participation by important legislative leaders. We strongly encourage all faith leaders & advocates to attend this free event on the morning of February 20. Register on JRLC's website.
JRLC Faith Leader Housing Summit
Thursday, February 20, 2020, 8:30 a.m. – 12:15 p.m. (plus afternoon legislator visits)
Christ Lutheran on Capitol Hill, 105 University Ave. W. St. Paul, MN 55103
LUNCH PROVIDED / *Please make appointments with your legislators for the afternoon hours following the summit and encourage them to make housing a top priority in the 2020 bonding bill!
CREATION CARE: Clean Energy & the Climate Crisis is the other key issue area that Lutheran Advocacy-MN is addressing with the 2020 Minnesota State Legislature, We are also continuing to make public education for our church people and other people of faith a key priority for the care of God's creation. Lutheran Advocacy-MN has partnered with the Northeastern Minnesota Synod's EcoFaith Network in their summits & retreats over the last several years. This year, we encourage people of faith throughout the Upper Midwest to join with us in Brainerd for the 2020 EcoFaith Summit! What will happen at the Summit?  Worship that sings Easter for the whole creation; Young activists share what motivates them; Breakout sessions for worship and grassroots action in your congregation and community; How to have conversations about important yet sensitive environmental issues; Networking for musicians, students, creation care teams, church gardeners, youth leaders, preachers, public advocates, and more! Register soon, as space is limited!
Now the Green Blade Rises: The Easter Gospel for the Whole Creation
2020 EcoFaith/Creation Care Summit
Saturday, March 28, 2020, 9:00 a.m. – 3:30 p.m.
Bethlehem Lutheran Church, 418 8th Ave NE, Brainerd, MN 56401
---
Pennsylvania
Tracey DePasquale, Lutheran Advocacy Ministry–Pennsylvania (LAMPa) lutheranadvocacypa.org
LAMPA ANNOUNCES FEATURED SPEAKERS FOR LUTHERAN DAY AT THE CAPITOL: Lutheran Immigration and Refugee Service (LIRS) President and CEO Krish O'Mara Vignarajah will be the featured speaker at the LAMPa Honorees Celebration Dinner on May 18. The Rev. Roger A. Willer, PhD., ELCA Director for Theological Ethics in the Office of the Presiding Bishop, and leader in the development of the social message on government and civic engagement, will be the keynote speaker for Lutheran Day. LAMPa Director Tracey DePasquale joined other advocacy staff at the Lutheran Ethicists Gathering in January.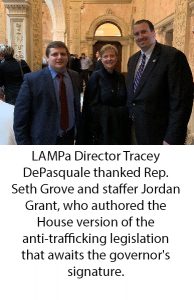 ANTI-TRAFFICKING BILL HEADS TO GOVERNOR, RELATED BILLS PASS HOUSE: The House passed a package of anti-trafficking bills, including SB 60, which increases penalties on traffickers and those who would buy sex or labor from those in servitude. Revenue from increased fines would fund services for child sex trafficking victims. The package has moved into the Senate. SB 60 awaits the governor's signature. LAMPa advocates acted on alerts requesting support for the bills and thanking lawmakers who voted in favor.
PUSHING BACK ON POTENTIAL HIGH-COST LENDING LEGISLATION: LAMPa program director Lynn Fry and the Rev. Matthew Best, a LAMPa policy council member whose congregation works closely with those experiencing homelessness, joined coalition partners in meeting with lenders to discourage them from pursuing legislation that would significantly raise fees and interest on consumer loans in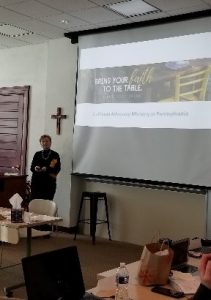 Pennsylvania.
EDUCATING AND EQUIPPING LEADERS: DePasquale participated in a panel discussion with fellow SPPO directors for Pacific Lutheran Theological Seminary (PLTS) students and taught about advocacy as part of a faith formation course at United Lutheran Seminary (ULS). Fry shared an informative session on LAMPa and ELCA Advocacy with the adult discussion class at St. James, Gettysburg.  DePasquale also met with leaders at Union, York to plan community gun violence awareness events connected to National Gun Violence Awareness Day, Emanuel Nine and Juneteenth commemorations.
---
Washington
Paul Benz, Faith Action Network (FAN) fanwa.org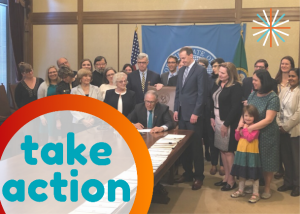 WASHINGTON LEGISLATIVE SESSION: Washington state's 2020 legislative session meets from January 13-March 13. During that time, Co-Director Paul Benz is at the state capitol most of each week lobbying for the many bills on FAN's Legislative Agenda, while the staff in Seattle send weekly updates on the session, create sample advocacy emails for constituents to send to their legislators on important bills, and keep our Bill Tracker up-to-date with the progress in Olympia. Two major successes we celebrate so far are the passage of the Sustainable Farms and Fields bill to reduce the carbon emissions produced by agriculture (SB 5947) and the death penalty repeal bill (SB 5339) out of the Senate – we are hoping those will be followed by passage in the House, and that 2020 will be the year the death penalty is finally repealed in Washington State!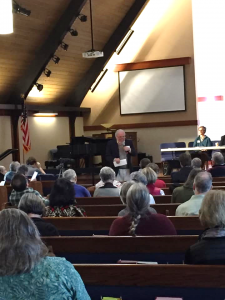 INTERFAITH ADVOCACY DAY: FAN hosts three regional legislative days – in Olympia, Spokane, and Yakima. We recently cohosted a successful Eastern Washington Legislative Conference in Spokane, with 150 advocates who discussed issues affecting our state in workshops, heard an overview of FAN's legislative priorities, and heard from local elected officials. We are currently putting the last-minute touches on Interfaith Advocacy Day in Olympia, which is taking place this Thursday, February 6. We look forward to about 200 advocates who will meet in workshops and caucus groups before heading off to meetings with their legislators, and we'll conclude the afternoon with updates from key elected officials on the 2020 session. Finally, we'll conclude the weekend with Yakima Interfaith Advocacy Day.
CENSUS 2020: FAN received a grant from the WA Census Equity Fund, managed by Philanthropy Northwest, to dedicate outreach efforts across the state to coordinate the Census in hard-to-count populations. We look forward to engaging faith communities in this important work to ensure that all communities receive their fair share of critical federal and state funding, and that everyone in Washington State counts!
---
Wisconsin
Pastor Cindy Crane, Lutheran Office for Public Policy in Wisconsin (LOPPW) loppw.org
CARE FOR GOD'S CREATION: LOPPW participated with coalition partners via the Wisconsin Climate Table. We discussed ways to make known positive state level efforts to diminish greenhouse gas emissions.
LOPPW supported a bill that, if passed into law, would help ensure quicker communication between departments in counties where groundwater standards have been threatened by violations made by Discharge Elimination System permit holders.  A case in La Crosse County revealed that the county and residents were unaware of a potential risk to groundwater contamination for 10 years.
Other news includes:
-The care for God's Creation team met to discuss our solar project.
-The director advised our advisory council member from the Northern Great Lakes Synod as he helped to initiate a care for God's creation team in his church.
-In January, for Wednesday Noon Live program we interviewed a meteorologist on climate change and natural disasters. We turned the interview into a stand-alone VIDEO https://www.facebook.com/watch/?v=313763922844559 and PODCAST: https://www.podbean.com/media/share/pb-gfe6k-ceed73
ELCAVOTES: LOPPW attended an initial voting coalition meeting, sought a partnership with a local organization that focuses on voting to explore how concrete actions we would partner on could fit into our larger ELCAvotes efforts, and was in dialogue with a leader from the Northwest Synod about ELCAvotes.
ADVOCACY TRAININGS AND MEETINGS: LOPPW led a workshop on advocacy at a congregation in the South-Central Synod. The director was also part of a panel for Dr. Cynthia Moe Lobeda's class at Pacific Lutheran Theological Seminary (PLTS). The panel was made up of SPPOs and organized by Ryan Cumming. Lastly, LOPPW participated in the Northwest Synod of Wisconsin social justice team meeting.
IN ADDITION:
-The director was part of a conference call for relators to Directors of Evangelical Mission.
-LOPPW advised leaders with advocacy ideas for a young adults group in the South-Central Synod