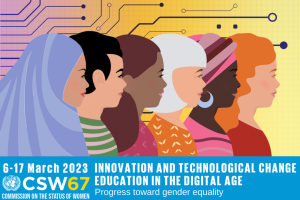 You can be and are part of the exciting 67th UN Commission on the Status of Women (CSW67) taking place March 6-17, 2023, in New York city. The annual gathering is instrumental in promoting women's rights, documenting the reality of women's lives throughout the world, and shaping global standards on gender equality and the empowerment of women.
The Lutheran Office for World Community (LOWC) and Lutheran World Federation (LWF) have assembled and prepared for a delegation and partners to take part in CSW67 both in-person and virtually, including our ELCA Hunger Advocacy Fellows. This role has involved many hours of faith-drive details, from theological grounding to visa assistance. Over 25 people are in the Lutheran delegation, including from Brazil, Ethiopia, Indonesia, Jordan, Liberia, Mexico, Mozambique, Poland, Suriname, Switzerland, Tanzania, Uganda, the United States and Zimbabwe.
Key CSW67 activities will bring the Lutheran delegation in contact with partnering governments, ecumenical and civil society colleagues to highlight the vital role that faith actors play in promoting women's empowerment, and combating violence and discrimination to achieve greater gender equality at local, national and international levels. The priority theme of CSW67 is innovation and technological change, and education in the digital age for achieving gender equality and the empowerment of all women and girls.
The Lutheran delegation will start early, gathering for worship on Sunday, March 5 following orientation (you can listen in) the day before. Additional leadership opportunities coordinated with LOWC and LWF include:
"Inclusive, transformational technologies facilitating gender equality in financial services" (sponsored by World Vision and LWF) on Monday, March 6 at 12:30 p.m. EDT.
"A Phone of My Own: Sexual and Economic Empowerment in Times of Crisis" (LWF among cosponsors) on Thursday, March 9 at 8:15 a.m. EDT.
"Girls on Fire" (sponsored by Ecumenical Women members) on Thursday, March 9 at 2 p.m. EDT.
And a key event with perspective on CSW67's priority theme will be:
"Harnessing digital technologies to end sexual and gender-based violence" (sponsored by LWF) on Friday, March 10 at 10:30 a.m. EDT.
Did you know that the United Nations airs live coverage from UN Web TV online? Access the stream and schedule from https://media.un.org/en/webtv .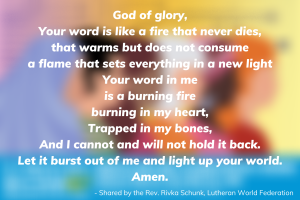 Another way to connect is to support this delegation and aims of the CSW67 in prayer. Shared by the Rev. Rivka Schunk, theological research assistant with LWF, for worship with our Lutheran partners:
God of glory, Your word is like a fire that never dies, that warms but does not consume, a flame that sets everything in a new light. Your word in me is a burning fire, burning in my heart, Trapped in my bones, And I cannot and will not hold it back. Let it burst out of me and light up your world. Amen.