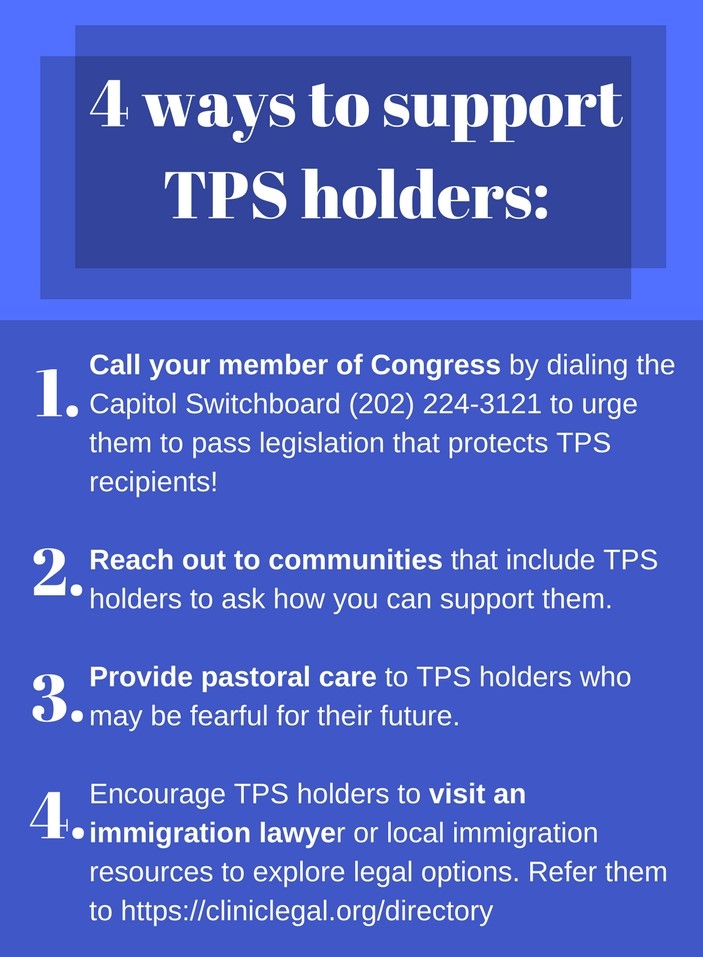 ---
On January 8, the Administration announced that it will end Temporary Protected Status (TPS) for over 200,000 Salvadorans. TPS is a legal immigration status that allows citizens from other countries who are present in the U.S. during a catastrophe in their country to remain in the U.S. until it is safe to return home. As a church that affirms earthly peace built on the dignity and well-being of every person, the Evangelical Lutheran Church in America (ELCA) is disappointed by the Administration's decision that will separate families and harm communities in the U.S. and El Salvador.
Through the AMMPARO Strategy, the ELCA strengthened our commitment to walk alongside children and families who are forced to flee their homes in Central America. We did this to respond to the suffering of thousands of unaccompanied children and families that are displaced from their communities due to violence, lack of opportunities and environmental issues.
Alongside the Salvadoran Lutheran Church (ILS, its acronym in Spanish), the ELCA has called on the Administration to renew TPS for Salvadorans because we know people still cannot live safely in El Salvador In fact, the ILS has witnessed the displacement of thousands of children and entire families from their homes. The Administration has already rescinded TPS for people from Haiti, Sudan and Nicaragua, and due to today's decision, thousands more now face an uncertain future.
Children and family members of TPS holders, many of whom are U.S. citizens, will bear the brunt of this Administrative decision. We pray today for all who are suffering due to this decision and ask members of our church to join us in prayer and action. At the same time, we urge Congress to pass timely legislation that protects all TPS holders.
---
La oficina de Incidencia Política de la ELCA está profundamente decepcionada por la decisión de la Administración de terminar TPS para Salvadoreños
El 8 de enero, la Administración anuncio que terminara el Estatus Temporal de Protección (TPS, por sus siglas en Ingles) para más de 200,000 Salvadoreños. TPS es un estatus legal de inmigración que da la oportunidad a ciudadanos de otros países que están en EE.UU. durante una crisis en sus países de quedarse en EE.UU hasta que sea seguro regresar a su país. Como una iglesia que afirma la paz terrenal construida a través de la dignidad y bienestar de cada persona, la Iglesia Luterana Evangélica de America (ELCA, por sus siglas en inglés) está profundamente decepcionada por la decisión de la Administración que separa a familias y daña a comunidades en EE.UU y en El Salvador.
Con la estrategia AMMPARO, la ELCA fortifico nuestro compromiso de caminar junto a niños(as) y familias que son forzados a huir de sus casas en Centroamérica. Lo hicimos respondiendo al sufrimiento de miles de niños(as) no acompañados(as) y familias que son desplazados de sus comunidades por violencia, falta de oportunidades, o circunstancias ambientales.
Al lado de la Iglesia Luterana Salvadoreña (ILS), la ELCA hizo un llamado a la Administración a renovar TPS para Salvadoreños porque sabemos que todavía no pueden vivir seguiros en El Salvador. De hecho, la ILS ha sido testigo del desplazamiento de miles de niños(as) y familias enteras de sus casas. La Administración ya rescindió TPS para personas de Haití, Sudan y Nicaragua, y por la decisión de hoy, miles mas ahora se enfrentan a un futuro incierto.
Niños(as) y familiares de las personas con TPS, muchos quienes son ciudadanos estadounidenses, serán los más afectados por esta decisión. Hoy rezamos por todos los que sufren por esta decisión y le pedimos a miembros de nuestra iglesia que nos acompañen rezando y tomando acción. Al mismo tiempo, le insistimos al Congreso a que pasen legislación oportuna para proteger a todas las personas con TPS.
---
Learn more and join the ELCA Advocacy network by visiting ELCA.org/Advocacy