by Isabella Peterson, 2021-22 Hunger Advocacy Fellow [about the author]
I often struggle with an uneasy sensation when faced with change – that is the inability to control the "new." It isn't because I fear a new stage in my life, it's because I fear the unknown. I fear the loss of control of what is happening around me; I fear the journey to the "new," not the destination. I fear the loss of control of what is happening around me.
"I am about to do a new thing; now it springs forth, do you not perceive it? I will make a way in the wilderness and rivers in the desert" (Isaiah 43:19).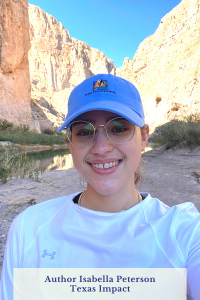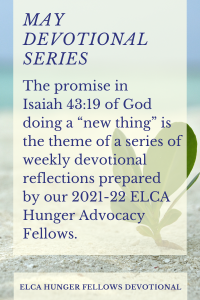 I grew up a Lutheran, having built a deep connection to God from a young age. However, like many of us I am sure, I have struggled with my faith over the last few years, especially these last two years. It seemed like the life I planned out was turned upside down and twisted without a moment's notice. "New" things kept appearing everywhere I looked, and I felt incredibly lost, stuck in an uncontrollable void of questions and uncertainty. My personal journey had become convoluted, and I was desperately searching for control.
New opportunities frighten me, and when another "new" – my position as a Hunger Advocacy Fellow – came along, it was no exception. I was utterly nervous about this alternative path that I was about to undergo, as working for a faith organization was something I had never contemplated.
Once again, I felt I had no control. However, I tried to keep my mind open. Although fear overwhelmed me, possessing an open mind and keeping an open heart allowed me to… thoroughly enjoy this journey.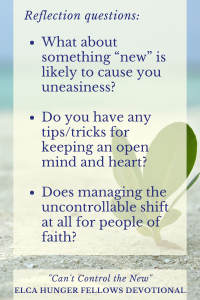 Working with Texas Impact brought new opportunities that I never thought I would experience. I took environmental advocacy abroad to Scotland during the United Nations Climate Conference, down to the Texas-Mexico border to focus on climate migration, and to North Carolina soon for the U.S. Climate Action Network conference. If I'd continually let my fear of having no control hinder my life, I would have missed out on all of these "news."
Another "new" is in my peripherals. This fall, I am going back to my alma mater, The University of Texas at Austin, to get my Master's in Public Affairs, focusing on energy policy. Yet again, I have another "new" I have to face.
Although I have control of many things, I don't have control over the journey itself; and that is okay. When I feel overwhelmed by the uncontrollable nature of life, I will remember this experience as a Hunger Advocacy Fellow when "new" came along. I will remember all the amazing experiences I had when I left my mind and heart open.
Having an open mind and heart comforts me during the uncertainty of newness, and I hope it brings comfort to others who struggle when feeling out of control as well.
---
ABOUT THE AUTHOR: Isabella Peterson is an ELCA Hunger Advocacy Fellow placed with Texas Impact in Austin, Texas, an ELCA-affiliated state public policy office. She graduated from The University of Texas (UT) at Austin with a double major in Government and Sustainability Studies. Peterson is a passionate environmental advocate and has worked previously with several environmental nonprofits in Austin such as the Shoal Creek Conservancy and Rainforest Partnership.