U.N. | Colorado | Minnesota | New Mexico | Pennsylvania | Texas | Washington | Wisconsin
Lutheran Office for World Community, United Nations, New York, N.Y.
Dennis Frado, director
HIGH-LEVEL MEETING ON 30TH ANNIVERSARY OF THE CONVENTION ON THE RIGHTS O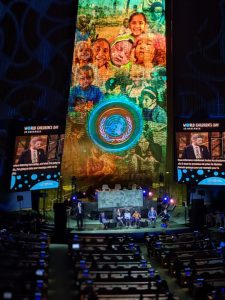 F THE CHILD: The United Nations General Assembly held a High-Level Meeting for the 30th Anniversary of the Convention on the Rights of the Child (CRC), on November 20, 2019. This convention protects the rights of children everywhere to be free from discrimination, violence, and neglect and remains the world's most ratified treaty. Opening Remarks were given by H.E. Mr. Tijani Muhammad-Bande (President of the General Assembly), H.E. António Guterres (UN Secretary-General), Ms. Henrietta Fore (UNICEF Executive Director), and other Special Representatives/ Rapporteurs. These top UN officials noted the important gains that had been made over the past 30 years and urged refreshed commitments. The meeting featured a "kid's takeover" segment with participation of children and goodwill ambassadors through speeches, multimedia, and artistic performances across the three themes of Climate Change, Humanitarian, and Education. A  meeting concluded with Member States invited to provide their interventions on their perspectives regarding the 30th Anniversary of the Convention on the Rights of the Child. You can access the full event on http://www.webtv.un.org
NEVER IS NOW SUMMIT ON ANTI-SEMITISM AND HATE: LOWC Director Dennis Frado joined Kathryn Lohre, ELCA Assistant to the Presiding Bishop and Executive for Ecumenical and Inter-Religious Relations, in attending the annual "Never is Now Summit on Anti-Semitism and Hate" sponsored by the Anti-Defamation League (ADL). Featured speakers at the November 21 event included ADL International Leadership Awardee Sacha Baron Cohen and ADL Courage Against Hate Awardee Hamdi Ulukaya, Founder & CEO of Chobani. Cohen's serious remarks challenging bigotry and intolerance highlighted the role of social media in perpetrating such attitudes and called for holding leaders of social media companies accountable.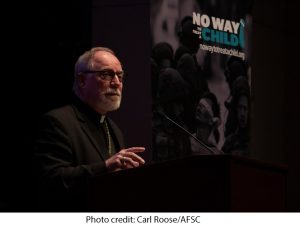 CONGRESSIONAL BRIEFING ON TREATMENT OF CHILDREN IN ISRAELI MILITARY DETENTION: Bishop Thomas Aitken of Northeastern Minnesota Synod represented Presiding Bishop Elizabeth Eaton at a congressional briefing held November 20, which focused on the treatment of children in Israeli military detention. Organized by the Faith Forum on the Middle East, Churches for Middle East Peace, and the American Friends Service Committee, the briefing featured Rep. Betty McCollum (D-4th-MN) and several Christian leaders speaking on the importance of holding governments, including Israel, accountable for observing international human rights standards when utilizing U.S. military assistance as required by U.S. law. Bishop Aitken said, "It is in our DNA as a Church to not turn a blind eye to this issue".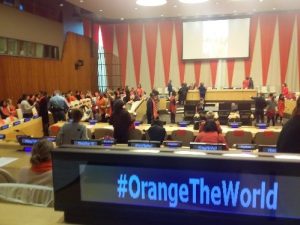 INTERNATIONAL DAY FOR THE ELIMINATION OF VIOLENCE AGAINST WOMEN COMMEMORATION: On November 25 the United Nations held a commemorative event for the International Day for the Elimination of Violence Against Women. Participants wore orange in support of the UN's "Orange the World: General Equality Stands Against Rape" Campaign to end violence against women, with a particular focus over the next two years on rape. One in three women and girls experience sexual violence in their lifetime.
Ms. Ajna Jusic (President of the Association "Forgotten Children of War," Bosnia), a 26-year old panelist, shared her heartbreak of discovering in her teens that she is a child born of war-time rape. Women who were raped in Bosnia, and the resulting children, are still living in a society where they are ostracized. This drives her current work to pass a law acknowledging the "forgotten children of war" as people who have human rights.
Ms. Karen Naimer (Deputy Director of Programs and Director of the Program on Sexual Violence in Conflict Zones/Physicians for Human Rights (PHR)), is a grantee of the UN Trust Fund to End Violence against Women (UNTF), who has changed the handling of rape cases. Using a multidisciplinary approach, PHR gathers professionals from the medical, policing and judiciary fields to work with survivors, ensuring they receive the best care and support possible. She also highlighted that "faith leaders carry enormous clout in their communities. They are change-makers and we need to bring them into the discussion as well" and "anyone who carries a certain level of importance, privilege and credibility in their communities – they are the people who need to be part of the conversation and part of the solution."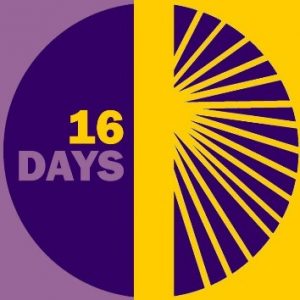 16 DAYS CAMPAIGN: Also on November 25, the 2019 "16 Days of Activism against gender-based violence" campaign kicked off. The international, annual campaign coordinated by the Center for Women's Global Leadership runs for 16 days and ends on Human Rights Day, December 10, 2019. "16 Days is an opportunity for us to highlight what we are doing, what the situation is. But 365 days is to do the work" said Ms. Phumzile Mlambo-Ngcuka United Nations Under-Secretary-General/UN Women Executive Director. This campaign aims to raise awareness, demonstrate solidarity and pressure governments to implement commitments to eliminate all gender-based violence (GBV) against women. Read the full 2019 campaign guide here. The International Labour Organization (ILO) is considering a legally binding convention on GBV. The Center for Women's Global Leadership has created an online 16 Days Toolkit #ILOendGBV, on "ending gender-based violence in the world of work". Through LWF's partnership with Ecumenical Women at the UN (EW), LOWC participated through short blog posts.
PRESIDING BISHOP'S STATEMENT CONCERNING STATE DEPARTMENT ANNOUNCEMENT ON ISRAELI SETTLEMENTS: Presiding Bishop Elizabeth Eaton issued a statement on November 19 in response to an announcement by Secretary of State Pompeo asserting that the "establishment of Israeli civilian settlements in the West Bank is not per se inconsistent with international law." Noting that the ELCA has long called "for an end to the Israeli occupation of the Palestinian territory, [and] the cessation of all settlement activities and withdrawal from settlements on Palestinian territory to the 1967 boundaries", she said the announcement made realization of an end to "the Israeli-Palestinian conflict more difficult and distant, rather than advancing the cause of peace."
---
Colorado
Peter Severson, Lutheran Advocacy Ministry-Colorado, www.lam-co.org
ELECTION RESULTS: Colorado voters rejected Proposition CC, a legislatively referred measure to allow the state to keep revenue collected at existing tax rates for school and transportation funding. Voters approved Proposition DD, which will allow the state to collect taxes on legalized sports betting. Lutheran Advocacy Ministry-Colorado took a "yes" position on Prop CC while taking a neutral position on Prop DD.
PREPARING FOR 2020: The Lutheran Advocacy office is at work preparing for the 2020 legislative session, which will feature significant bills related to paid family & medical leave as well as the abolition of the death penalty. LAM-CO anticipates supporting both measures. There will also be plenty of work happening in several of our policy areas, including school meals, housing issues and fiscal reform.
MINISTRY VISITS: Thanks to the good folks at University of Northern Colorado in Greeley and the Village Exchange Center in Aurora for hosting advocacy visits in November!
May the blessings of Advent, this holy season of preparation, expectation and waiting, be with you all as we await the coming of the Good News. It is Jesus Christ who is our ultimate hope and salvation, not any bill, legislation or policy measure – and for that, we give great thanks!
---
Minnesota
Tammy Walhof, Lutheran Advocacy- Minnesota (LA-MN)  lutheranadvocacymn.org
IMMIGRATION/MIGRANT MONDAY REPLACED: As new executive orders continue to appear, immigration remains a key issue to people contacting Lutheran Advocacy-MN. LA-MN's director, Tammy, made two presentations in November on immigration/asylum at the southern border. Despite the interest, weekly Migrant Monday postings on Facebook will be replaced by Monday or Tuesday postings about clean energy and climate change, and Thursday postings about affordable housing in preparation for the upcoming session.
CLIMATE BONDING PROPOSALS: With Minnesota Environmental Partnership (MEP), LA-MN is considering principles for evaluating bonding projects based on how they impact harmful emissions to the atmosphere as legislation in the 2020 session. Those should be available soon for you to promote with your legislators.
The MEP Energy Cluster is also evaluating specific bonding proposals. Out of 25 possible options for the upcoming session, Lutheran Advocacy-MN hopes to focus on just a couple that help Minnesota transition to clean energy and fewer carbon emissions (possibly proposals related to making solar energy available for schools, improving solar accessibility to Minnesotans generally, or something related to agriculture/land use/cover crops).
CLEAN ENERGY & CARBON PRICING: Clean Energy proposals are the most basic step to major cuts of carbon emissions. Unfortunately, by itself, clean energy doesn't do enough – much more needs to be done (quickly) as devastating impacts of climate change are occurring more rapidly than scientists predicted.
Lutheran Advocacy-MN (including many of you) has been working for various proposals that would achieve
50% renewable electric energy by 2030,
100% renewable energy by 2050, or
a carbon-neutral Minnesota by 2050.
Minnesota surpassed its 25% renewable threshold two years ago, and each of the last three years Xcel Energy has committed to larger proportions of renewable energy and dramatically reduced carbon emissions. However, Minnesota's full legislature hasn't passed legislation that 1) pulls other utilities into doing more, 2) addresses sources of emissions beyond the electricity sector, or 3) offers pathways to employment for people transitioning from jobs in industries related to fossil fuels.
Nationwide, many organizations, climate scientists, politicians (Democrat & Republican) and others are calling for a price or tax on carbon emissions (conservatives usually prefer "carbon pricing" language). In November, Tammy was engaged in events and conversations about the shape those proposals might take in Minnesota. She's gleaned a checklist of criteria for proposals. It will be posted for your perusal and feedback. In addition, within a few days a new talking points guide should be on the website for Christmas cards to, or meetings with, legislators in December.
SUPPLEMENTAL NUTRITION ASSISTANCE PROGRAM (SNAP): Thanks to everyone who submitted comments to the USDA proposed rule change. Whether you commented this most recent time, or one of the other times in 2019 the administration proposed changes (while setting the comment period at minimum allowed), your help to prevent cuts to SNAP which would result in millions of seniors, children, disabled, and other people being eliminated from the program is GREATLY appreciated!
---
New Mexico
Ruth Hoffman, Lutheran Advocacy Ministry—New Mexico (LAM-NM)   lutheranadvocacynm.org
2019 LAM-NM ADVOCACY CONFERENCE: The annual LAM-NM Advocacy Conference was held on November 16 at St. Michael and All Angels Episcopal Church in Albuquerque. Over 100 advocates attended to network and learn about advocacy as well as issues on our Advocacy Agenda. About half of those who gathered were ecumenical and interfaith. 
---
Pennsylvania
Tracey DePasquale, Lutheran Advocacy Ministry–Pennsylvania (LAMPa) lutheranadvocacypa.org
LEGISLATIVE VISITS: Director Tracey DePasquale and Program Director Lynn Fry joined coalition partners in Capitol visits on environmental bills and criminal justice reform legislation. Among the environmental legislation being opposed were bills that would allow companies that spill contaminants to determine if the spill should be reported to authorities, possibly exposing downstream users to toxins. Other visits promoted legislation to end long-term and indefinite solitary confinement, provide alternatives, and institute a step-down progra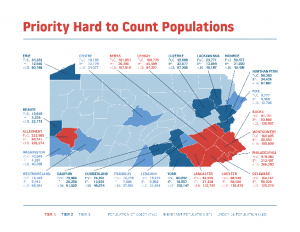 m.
EDUCATING AND EQUIPPING: DePasquale travelled to Trinity Lutheran Church, Reading, to learn from the experiences of their many social ministries and encourage them to continue to expand their work for social justice concerns to include advocacy. Fry attended the quarterly Keystone Counts coalition update on the 2020 Census. LAMPa will provide information to congregations and feeding ministries on ways they can become involved in the Census as they accompany Commonwealth residents who live in targeted counties with hard-to-count populations.
Lynn also met with the Lower Susquehanna Synod Criminal Justice System Ministry Committee to discuss the solitary confinement bills and other criminal justice legislation.
HUMAN TRAFFICKING BILL PASSES THROUGH SENATE: SB60, a bill designed to impose harsher penalties for traffickers and raise revenues to fund programs for child victims of sex trafficking, passed the Senate unanimously. LAMPa had advocated for both House and Senate versions of the bill as introduced, and is working to address concerns raised by amendments just prior to Senate passage. LAMPa is working with Women of the ELCA to engage advocates in Pennsylvania to secure passage of meaningful legislation.
ACTION ALERTS: LAMPa staff shared action alerts on submitting comments to the USDA on the proposed third Federal SNAP alteration; support for PA HB 1862 dealing with surprise medical bills; federal protection for Dreamers; and advocating federal support for veterans.
---
Texas
Bee Moorhead, Texas Interfaith Center for Public Policy texasimpact.org
HEALTH EQUITY EVENTS AND PODCASTS: Texas Impact is working with local faith leaders to host a series of Interfaith Advocacy Training events focused on health equity. November events drew about 100 participants at First Unitarian Universalist Church of San Antonio and St. Peter's Lutheran Church in Elgin.
In addition, the Texas Impact Weekly Witness podcast series has launched a special 10 episode health equity series focused on various aspects of the social determinants of health.
TEXAS INTERFAITH ADVOCACY DAYS: Texas Impact is holding our first Texas Interfaith Advocacy Days, scheduled for February 16-18. The three Texas ELCA synods provided substantial leadership in piloting this event model and are playing a central role in organizing the February event. ELCA climate advocate Ruth Ivory-Moore will be one of the featured speakers.
TEXAS IMPACT TEAM AT COP25 IN MADRID: A team representing Texas Impact and the Texas Interfaith Center for Public Policy will  be attending the COP25 global climate talks as observers for the first two weeks of December. Videos and updates will be posted via Texas Impact's social media and on the website of our COP25 media partner, the Austin Chronicle.
---
Washington
Paul Benz, Faith Action Network (FAN) fanwa.org
ANNUAL DINNER: FAN's Annual Dinner and fundraiser was another success. We gathered supporters and advocates to hear about our legislative successes and be inspired by our speakers and awardees, including a keynote by Rev. Priscilla Paris-Austin of Immanuel Lutheran Church in Seattle. We also celebrate a successful second annual dinner in Spokane.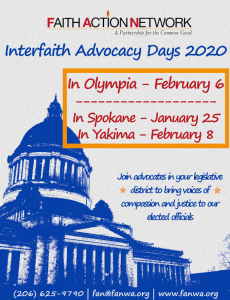 LEGISLATIVE SESSION 2020: Washington's legislature begins its 60-day short session on January 13. At least 2,000 bills will be introduced, with about 200 making it to the governor's desk for a signature. FAN has about 25 bills on our current legislative agenda and will be updating our website to prepare for the session and bill tracking soon! Once the session is done, the electoral season will begin in earnest as over 120 legislative seats will be up for election. FAN's Interfaith Advocacy Day will be February 6, with legislative conferences in Spokane on January 25 and in Yakima on February 8. These are important gatherings to educate and activate faith voices from all parts of the state on important issues and bills before the legislature.
GOVERNOR'S SUPPLEMENTAL BUDGET: Next year is a supplemental budget year, but the governor will still put forth a budget by December 20 for legislative review prior to the session start date. Some of the critical issues we hope to see in the budget include an increase in funding for the Housing Trust Fund, a proposal to close the capital gains tax exemption, as well as other proposals to some of the other regressive tax structures of the state.
---
Wisconsin
Cindy Crane, Lutheran Office for Public Policy in Wisconsin (LOPPW) loppw.org
COMMUNICATION: We had a significant month for communications. LOPPW's director and an advisory council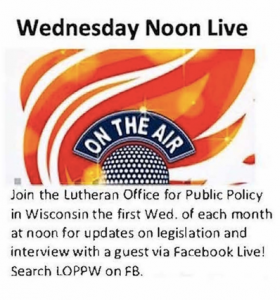 member started Wednesday Noon Live, which will continue the first Wednesday of each month. We will have updates related to our priorities with one focus each month. For our first focus, we talked about what it means to be a sanctuary denomination and also interviewed both Trinidad Ariztia, Program Director of Migration Policy at the ELCA Advocacy Office in D.C., and an  works with victims of gender-based violence and human trafficking.
The director also turned the FB live stream into a podcast and put links for both on our website.  Wednesday Noon Live as a FB post, and podcast for those not on FB, will serve as a visual/audio newsletter. In December, we will begin sending the links in an email to our list serve each month after the FB live shows. We continue weekly reflections via Monday Quotes. We are utilizing all of our tech equipment to improve our outreach.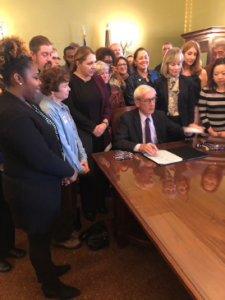 CARE FOR GOD'S CREATION: The director has been preparing to attend COP25 in Madrid via conference calls and studying materials.
ACTION ALERTS & BILL SIGNING: We sent out action alerts on SNAP, immigration and anti-sex trafficking. We were invited to two bill-signings. The director, intern and a Women of the ELCA representative attended the bill signing at the capitol. An LOPPW volunteer and retired nurse attended the bill signing in Richland Center.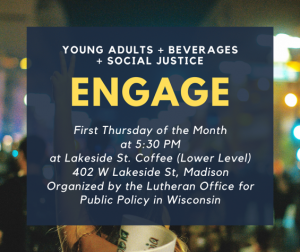 An advisory council member initiated a monthly gathering to discuss social issues over beverages at a coffee shop in the South-Central Synod. He and one of our volunteers planned the first event. More than 15 people attended. We hope to use this as a model for other parts of the state.