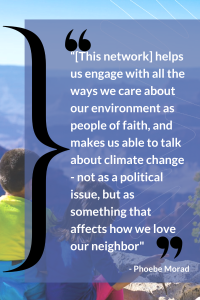 "In the Scriptures, God assigns a sacred responsibility to human beings: we are to care for and keep God's creation for future generations," opens the ELCA's most recent social message, "Earth's Climate Crisis." It continues, "With God's help humanity can turn from the present course, take loving and just action, and live more harmoniously within God's beautiful and verdant creation."
Creation Care Ambassadors (Ambassadors), trained through a certification program of Lutherans Restoring Creation (LRC) with ELCA collaborator Blessed Tomorrow, empower themselves to make a difference with tools, resources and networking to act and advocate for climate solutions. Reach out to an Ambassador to help support local congregational and synod creation care activities using the 🗺️ LRC locator map, and consider taking the free training.
"[This network] helps us engage with all the ways we care about our environment as people of faith, and makes us able to talk about climate change – not as a political issue, but as something that affects how we love our neighbor," says Phoebe Morad, LRC Executive Director and ELCA Creation Care Network Associate. "We're saying to the Creator we worship – thank you for this creation," she describes, and Ambassadors can prompt informed and faithful response. "And then we are acting, together."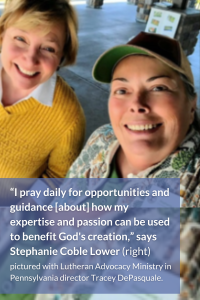 Stephanie Coble Lower attended the Susquehanna Summit in Oct. 2022, an interfaith environmental gathering, after her Ambassador training. "One thing I have discerned is that I love connecting organizations in our work. There is so much more we can do together as opposed to individually," she said. Great times to invite an Ambassador to facilitate presentations and conversations on faith and climate include conferences, small-group forums and retreats, and important days like Earth Day and holy seasons. "I pray daily for opportunities and guidance [about] how my expertise and passion can be used to benefit God's creation," Lower adds.
Many of us find ourselves enjoying and centering the natural world in our daily activities anew this spring. "As Lutheran Christians, we confess that both our witness to God's goodness in creation and our acceptance of caregiving responsibility have often been weak and uncertain," is a confession in Caring for Creation: Vision, Hope, and Justice, the third-ever ELCA social statement passed nearly three decades ago. As climate change presents humanity with a kairos moment, let's center and enjoy anew actions together of creation care.