– by Abbigail Hull, ELCA Hunger Advocacy Fellow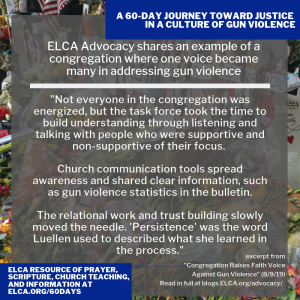 Addressing the growing number of deaths and injuries caused by firearms while at the same time protecting the rights of those who use firearms responsibly called a member of Lord of the Mountain Lutheran Church in Dillion, Colo. to action after the inaugural National Gun Violence Prevention Sabbath Weekend in March 2014. "As people of faith, we are directed to do so," said Diane Luellen. "These things are important. If we don't do it, who will?"  
              Luellen found she wasn't the only one moved. A small group of congregants and community members wrote a Letter to the Editor in The Summit Daily Newspaper to raise awareness of Sabbath Weekend. The congregation decided to create a gun violence task force, and later the task force connected with area coalitions to build capacity. One voice became more voices in the congregation and community.   
               "You have to be patient, but sometimes I didn't want to be patient," Luellen admitted. Not everyone in the congregation was energized, but the task force took the time to build understanding through listening and talking with people who were supportive and non-supportive of their focus. Church communication tools spread awareness and shared clear information, such as gun violence statistics in the bulletin.  
              The relational work and trust building slowly moved the needle. "Persistence" was the word Luellen used to describe what she learned in the process. Now, the congregation takes part in an annual National Vigil for All Victims of Gun Violence in its county. It has hosted workshops and adult forums around gun violence awareness – which seeded formation of the Summit Colorado Interfaith Council. Two years after establishment of the task force, the congregation empowered it through a resolution to make statements representing the congregation on pertinent matters. Task force members joined a legislative rapid response network that saw passage of a Colorado bill this spring. 
              Luellen and her congregation's story mirrors the prodding of Paul in Acts 18, "Do not be afraid, but go on speaking and do not be silent, for I am with you." If you are feeling the nudge to act, or speak out, tell others because you probably aren't alone. I believe it may be the Holy Spirit wrestling with you to tell others and listen more.