By Mary Minette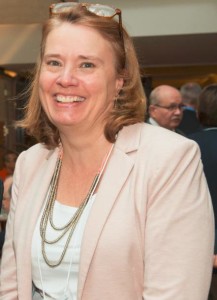 After nearly 10 years of service as ELCA Advocacy director for Environmental Policy and Education, Mary Minette has completed her work with the ELCA Advocacy Office and is moving to a new position.
 "Mary has provided tremendous leadership for the whole church in her vocation and passion to care for creation. Her voice and perspective is respected from Washington, D.C., to congregations and synod assemblies throughout the church." – Stephen Bouman, ELCA executive director for Congregational and Synodical Mission
 We hope you enjoy her final Living Earth Reflection below. Mary's thoughtful and faithful leadership will be greatly missed by Lutheran advocates and ecumenical partners, but in her new role she continues her work for creation justice. Please join us in thanking God for Mary's ministry and wishing her the best of luck!
On Dec. 12, 2015, in Paris, nearly 200 nations agreed for the first time to collectively take steps to address climate change. The Paris agreement was the culmination of years of movement building by groups ranging from environmentalists to labor unions, from local governments to the business community. The faith community has played a key role in the U.N. climate negotiations since their beginnings at the Earth Summit in Rio de Janeiro in 1992, but in Paris faith advocates were present in the highest numbers and had the greatest visibility and access ever.
Under the Paris agreement each country has pledged to set its own greenhouse gas emission reduction goals and to review those goals on a regular basis. As of this writing, 160 countries have submitted national goals, or Intended Nationally Determined Contributions (INDC).  The INDC for the United States includes actions across our economy—raising fuel economy standards for cars and trucks, regulating carbon dioxide emissions from power plants and methane emissions from oil and gas production, increasing energy efficiency, and encouraging adoption of renewable energy technologies. Other countries have also stepped forward with ambitious plans. For example, during the Paris meeting in December, leaders of African nations announced a new initiative that will make their continent a leader in the adoption of renewable energy—addressing both climate change and the continent's need for energy development.
The Paris agreement pledges to keep total human-induced global warming below a 2-degree Celsius increase from pre-industrial levels, which climate scientists consider a key threshold for preventing catastrophic climate change. Although current INDC are not sufficient to meet that goal, the Paris agreement also includes mechanisms to review current commitments and to scale up ambition for reducing greenhouse gas emissions every five years. This creates opportunities for advocates to put pressure on our own governments to make good on their promises and to increase ambition over time; however, it will be incumbent upon all of us to make sure that we keep building pressure on our elected officials to ramp up their goals.
The Paris agreement includes financial commitments to help developing countries adopt cleaner energy technology and to help vulnerable countries adapt to already occurring climate change, including rising sea levels, increases in severe weather, and long-term droughts.
A key priority for faith advocates during negotiations was helping vulnerable countries address so-called "loss and damage," the term used to refer to irreparable impacts of climate change on lives and livelihoods, including loss of territory. Island nations, such as Kiribati, might soon be completely submerged and will face relocation and sovereignty issues.
The Paris agreement did not provide a final answer to these difficult questions, but it did include a recommendation to continue working for solutions to loss-and-damage issues, which faith advocates can build on in future years.
How can we help support the Paris agreement?
We can support initiatives, such as the Clean Power Plan, to regulate carbon dioxide emissions from power plants and rules to reduce methane emissions from the oil and gas sector.
We can continue our strong support for the U.S. contribution to the Green Climate Fund and to poverty-focused international development.
This agreement, for the first time, considers local actions as part of what will be needed to keep temperatures within safe boundaries. As advocates, we can work with our cities and counties and states to push for more renewable energy, higher energy efficiency standards for buildings, better land use practices and other things that will reduce greenhouse gas emissions.
We can build on what many of our congregations are already doing—making our buildings more energy efficient, putting solar panels on church roofs and geothermal heating and cooling systems under our foundations.
And we can continue to look at our individual contributions to climate change—driving less, turning down the thermostat, recycling, and prioritizing small and large actions to reduce our carbon footprint.
 And most importantly:
Do not lag in zeal, be ardent in spirit, serve the Lord. Rejoice in hope, be patient in suffering, persevere in prayer. – Romans 12:11-12