Today's post is from Kelly Sherman-Conroy (Oglala Sioux), Luther Seminary student and member of the American Indian/Alaska Native Lutheran Association.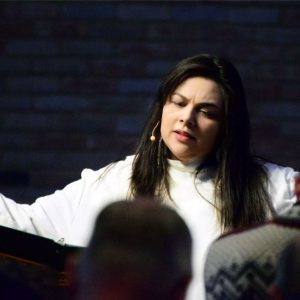 In August of 2016 the ELCA made a promise to the Native people.  The Churchwide Assembly, made up of members of the ELCA, passed a resolution written by ELCA Native American clergy Bishop Guy Erwin (Osage Nation) and Pastor Joan Conroy (Oglala Sioux) to recognize and celebrate contributions of Native Americans in the life of the church and community.
The whole body of the ELCA confessed that they were wrong and repudiated, explicitly and clearly, the European-derived Doctrine of Discovery, a document that has been used to justify racism against and enslavement of indigenous peoples since it was written in 1493.
This papal bull, known in Latin as "Inter Caetera," gave Christian explorers the right to claim lands they "discovered" for their Christian monarchs. Any land discovered that was not inhabited by Christians could be exploited. If pagan inhabitants could not be converted, they could be enslaved or killed. Indigenous people have felt the sting of that papal edict since Europeans first landed in North America. The Native culture, according to early missionaries, did not fit the Christian religion, and belief in the Gospel required them to give up who they were in order to become something they could never be… white.
When the ELCA passed the resolution formally repudiating the Doctrine of Discovery, one of the commitments that was made was to "encourage the Office of the Presiding Bishop to plan an appropriate national ceremony of repentance and reconciliation with tribal leaders, providing appropriate worship resources for similar synodical and congregational observances with local tribal leaders, at such times and places as are appropriate."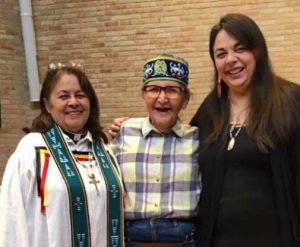 This Native American Liturgical Celebration and Service of Reconciliation was created by Kelly Sherman-Conroy, a member of the Oglala Sioux Tribe in Pine Ridge South Dakota, who attends Nativity Lutheran Church in St. Anthony, MN and also currently attends Luther Seminary. This liturgy, with the help of many people, was put together to in a meaningful way integrate Native culture and spirituality, and also keep some boundaries of the Lutheran Christian traditions. The result is that a profound and deeply spiritual experience has been created for all involved, not just in the worship practices themselves but in relationship with God and the other. In other words, inculturation (the adaptation of worship to various cultural settings) aims to deepen the spiritual life of the assembly through a fuller experience of Christ who is revealed in Native people's language, rites, arts, and symbols.
On November 22nd this service will be live streamed from Nativity Lutheran Church in its entirety. You will be able to join the live stream at Nativity's web site, and more information about the event is available on Facebook. It is my hope that this service and celebration will serve as an example as to how this liturgy can be used in regions across the ELCA, and that the participants will have a blessed, faith-filled and formative experience.
If you would like to host this liturgy in your own synod or congregation, the worship resources themselves and a list of guidelines created to aid in the use of the liturgy may be found from ELCA.org. The American Indian/Alaska Native Lutheran Association is also available for conversation via email at ELCANATIVE@gmail.com.
Images:
Image 1 is a photo of Kelly Sherman-Conroy, taken at Luther Seminary during worship
Image 2 is (from left to right), Pastor Joan Conroy (Oglala Sioux), Great Grandmother Mary Lyons (Ojibwe Elder), Kelly Sherman-Conroy (Oglala Sioux).  All three led the Liturgy at Luther Seminary in October.