Today's post is from John Michael Longworth, OEF, Pastor at Good Shepherd Lutheran in Rutland, VT.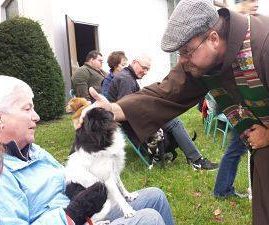 Good Shepherd Lutheran Church is nestled in the heart of Vermont's Green Mountains in the small city of Rutland. Just downhill from ski areas like Killington and Pico, and a short drive from beautiful glacial lakes and the southern reaches of Lake Champlain, this picturesque community is surrounded by forest, farms and an array of wildlife. I like to imagine that it's not that different from the hilly region that Francis of Assisi called home when he was called to rejuvenate the Church.
We have the good fortune of having a beautiful sanctuary, with stained glass windows celebrating the creation story, and also a peaceful outdoor chapel with a hand cut stone altar. The back drop for this worship space is an awe inspiring vista of the western slope of the Green Mountains. For several years, this outdoor chapel has been used during the summer months for a festive alternative liturgy called "Saturday Night on the Hill". This lively outdoor service has included folk & blues music, Taize with live accompaniment, and favorite songs from our Synod's camp.
Four years ago, the local Episcopal priest was not available to offer the blessing of the animals at our county Humane Society shelter and I was invited to fill in. It was a real joy. However, the following year the responsibility went to the newly arrived rector. Our worship team decided to make use of our incredible setting and the exceptional foliage that is often present at the beginning of October to host one last Saturday Night on the Hill which included a blessing of the animals.
In addition to the fun that barks, meows and caws add to worship, this event is a great way each year to celebrate the stewardship of creation. At the same time, it is an opportunity to share about Francis of Assisi and the Order of Ecumenical Franciscans (www.oeffranciscans.org), to which I belong. Last year we expanded the celebration by hosting this worship jointly with our brothers and sisters of the Rutland United Methodist Church. Their pastor, The Rev. Hannah K. Rogers helped to lead the worship.
I firmly believe that our call to preach the Gospel extends beyond the people in our pews in a typical week. A blessing of the animals is a wonderful way to share love with our neighbors, the furred and feathered ones, and the loving families who bring them.