John Weit recently wrote in the Worship E-news,
"As we near the end of the 50 days of Easter, I hope you have had some time to reflect on worship during Holy Week and the Three Days in your context. Worship planners often look forward to what comes next, but it is equally important to take time to think about how things went recently… [and] Spring is a good time to think about your congregation's worship life in general. There are many resources available and we want to remind you of the free resource "Worship Care: A guide for reflection and connection" published in 2016."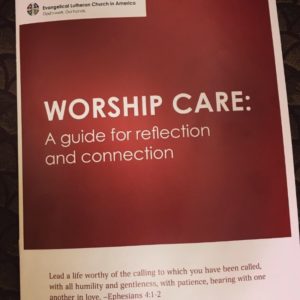 Here is a little more information about what Worship Care is and how you can use it in your context.
In essence, Worship Care is a free workshop resource designed to help worship leaders and worshippers have an honest and creative conversation about worship in their own congregations. It is flexible enough to use for a council retreat, a worship committee meeting or even a synod event. As the introduction says,
Worship Care is an opportunity for pastors, musicians and anyone who leads worship to check-in with one another about the worship lives of their congregations. It's that simple. The material may be easily adapted for use in a congregational setting with all lay leaders of worship (ushers, musicians, assisting ministers, altar guild, and so forth).
If you choose to use the full resource as written, you can plan to spend approximately 90 minutes together in reflection and conversation. Worship Care has three objectives for that time:
To care for, pray for and support one another as worship leaders;
To provide tools, in a spirit of mutuality (not competition or condescension), to reflect on the worship life of the congregation(s); and
To connect our contextual liturgical lives with outreach and mission.
A session leader should be selected who can guide and support conversation, but little preparation time is necessary other than becoming acquainted with the material and creating a welcoming space. The facilitator is encouraged to open conversation with the question, "How is worship really going?," then continue on to sharing what's working well in worship, and finally to describing the context of your worshiping community and discussing the ways in which what happens inside the sanctuary is connecting to what happens outside of the church doors.
You can download this Worship Care as a pdf at ELCA.org/worship (under Worship Resources -> General) or directly via this link. A hard copy was also mailed to congregations along with the worship and culture resource "Can We Talk."