This October and November, join Susan Briehl, Matt James, Daniel Schwandt, Kevin Strickland and Scott Weidler in exploring the core foundations and new possibilities of the ELW family of resources. Strong Center, Open Door is two days of worship, workshops, music and conversation designed for everyone who plans worship in a Lutheran setting. Workshop topics range from "Worship as Faith Formation" to "Seasonal Worship Planning" and from "Navigating Sundays and Seasons" to "Singing the Word of God."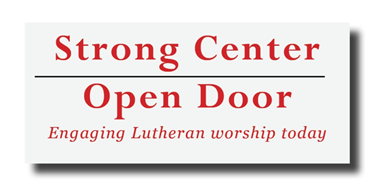 Strong Center, Open Door is designed to give you experiences and tools to take home and share with your own worshipping community. Registration is open for two remaining locations: Minnesota (October 14-15, Rochester) and Pennsylvania (November 4-5, Lansdale). The cost is $40 per person including lunch both days. For full information and to register, go to the ELCA web site.
Come explore some of the many ways your congregation can engage Lutheran worship today!