Today's blog post is from Robyn Sand Anderson, an artist in Redwood Falls, MN.
One evening, when my husband Jon was a young seminarian back in 1981, he encouraged me to be an artist, to pursue that path. (That was before he knew what that would mean.) Nonetheless, it turned out to be my path. I remember thinking at the time, "What good is painting a pretty picture?" I thought his calling was so meaningful; I wanted that, too. I feel like God has been showing me the answer to that question ever since.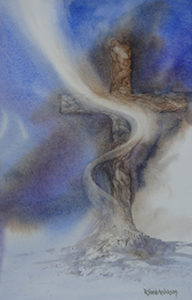 Art Speaks Faith
Art, music, and dance are part of a universal language that speaks across culture, geography and time, without words. It is another voice, a visual language that can speak the faith in unique, new and creative ways. The arts are expressive, spiritual and have the power to evoke our emotions, tapping into something deep within us. Where language and culture can divide us, the arts have the power to connect us to each other and to the Creator who made all things.
As we approach the Lenten season once again, our minds turn inward. I find it a time of self-examination. I've never been one to give up a certain thing for Lent, mostly because I am terribly undisciplined and struggle to do anything on a regular basis. Instead, I tend to focus in on a word, a phrase or a piece of art. On Ash Wednesday, it is a visual experience for me. I watch the people go forward for the imposition of ashes. I hear the words, "Remember that you are dust, and to dust you shall return."  I see the ashes, the cross of dust. We know that this life is a gift; we know that sometimes it is hard. Sometimes we suffer. We walk forward in trust. It is humbling.