Today's post is from Peg Schultz-Akerson, Pastor at Lutheran Church of the Master, Los Angeles, CA.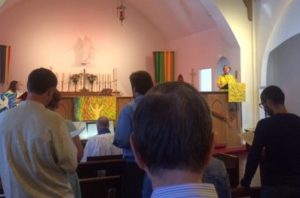 The Song of Simeon (Luke 2:29-32, also known as the Nunc Dimittis) continues to shine in these latter days of the season after Epiphany. Christians live "according to the word" made flesh in Jesus through whom "salvation is prepared in the presence of all peoples." Jesus calls us to all peoples with the glorious promise: "When you welcome the stranger, you welcome me!" (Matthew 25:38-40)
How awesome and extraordinarily available is this promise in these days when more people are immigrants or refugees than since WWII. (See Lutheran Immigration and Refugee Services.)
My eyes see this promised encounter with Christ every Sunday where I serve as Interim Pastor with the people of Lutheran Church of The Master, Los Angeles. Our church is blessed to be located in the Little Tehran neighborhood of West Los Angeles where Santa Monica Blvd is the busy stretch also known as Route 66.
Ours is an historic road and we do historically vital ministry as we welcome all who come to neighboring streets. Our church sign along the boulevard makes clear our "Welcome" in Persian, Arabic, Spanish and English. God loves you is also written in these four languages on our Facebook page, because it's true. God loves us all.
We are now a worshipping home to over a dozen who first came among us as strangers. We are blessed to worship, serve, light candles for peace, and share meals as friends. These new friends have come to Los Angeles from Kazakhstan, Indonesia and Australia; from Lebanon, Armenia, Peru and Mexico; from El Salvador, Sweden, Switzerland and Iran. Some come for opportunity. Many for safety. All are brothers and sisters in Christ. As strangers-become-friends looking upon each other, we each see the smiling face of Jesus whose love makes us one.
Welcome!

 اهًلاوسهًلا (Arabic)

 خوش آمدید (Persian)

¡Bienvenidos! (Spanish)
God loves you!

 الله يحبك (Arabic)  

خدا شما را دوست دارد (Persian)  

…


¡Dios les ama! (Spanish!)
Note on the pictures: The top photo is by Carlos Valera showing Pr. Peg preaching at Lutheran Church of the Master, and the second photo is of LCM's world map featuring pins for all the places their community has come from.