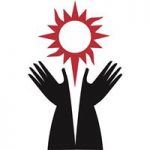 "I arise early in the morning and I  cry out to you, I hope for your word.
My eyes are open in the night watches, that I may meditate upon your promise." (Psalm 119:147-148)
During this time of pandemic many are seeking resources to support daily prayer in the home. As we are physically separated from supportive Christian communities, it becomes increasingly important to mark our days and hours with prayer. As noted in Keeping Time, "Prayer is a gift of access for all the baptized and those seeking to live in a relationship with the God who has spoken, is speaking, and has promised to speak through Jesus, the living Word, and the Spirit, who helps us pray with sighs too deep for words as we ponder the scriptures, which still speak to us" (Using Evangelical Lutheran Worship: Keeping Time, p. 148).
These daily prayers may be prayed together as a family or as individuals. Prayer at morning and evening are the primary times for common prayer in various faith traditions. You may want to create a space in your home for such prayer, being aided by lighting a candle or having a vessel of water nearby to remember your baptism. Several short collects for various situations could be used throughout your day, keeping with St. Paul's guidance to "pray without ceasing… for this is the will of God in Christ Jesus for you" (1 Thess. 5:17-18).
To support prayer practices in the home, we have provided these simplified forms of  Morning Prayer, Evening Prayer, and Night Prayer. In addition to these three times of day we have provided Responsive Prayer, a simple order that may be adapted to a variety of times and contexts. Each of these services are adapted from Evangelical Lutheran Worship. In addition, a resource of other Prayers and Blessings for Daily Use including a collection of table prayers and prayers for various situations is also available.
Daily prayer can be supported by including scripture passages from the daily lectionary. These readings that include an Old Testament text, a New Testament text, and a Psalm, provide a helpful pattern that bridges the previous Sunday to the next Sunday. Readings on Monday through Wednesday build upon what was heard the previous Sunday while Thursday through Saturday look forward to the upcoming Sunday. The list of readings can also be found in Evangelical Lutheran Worship, p. 1121­–1153.
Other published devotional materials such as Christ in Our Home and The Word in Season are available from Augsburg Fortress. Daily devotionals from Christ in Our Home can be received to your email through June 30. Bread for the Day, an annual publication that supports daily prayer, can currently be purchased as an eBook. More Days for Praise, a resource for the church's festivals and commemorations is designed for home devotions. Remembering those saints who have lived through a host of challenging times and situations reminds us of our connection to a great cloud of witnesses.
You may also wish to sing hymns during this time. To purchase copies of Evangelical Lutheran Worship and All Creation Sings for the home, visit the Augsburg Fortress website or call 1-800-328-4648. These and other hymnals have a topical index where you may search for hymns for time of day or season of the church year.
More on hymnody resources in this time can be found through The Hymn Society.  For your devotional time, you might be interested in knowing about the Community Video Hymn Sing Facebook page led by Paul and Elizabeth Damico-Carper.
It is our prayer that these resources can be an aid to your daily prayer time. May the Spirit fill you with the peace of the Risen Christ in these days and always.