Today's post is by Paul Friesen-Carper who serves as Assistant Director of Music at Gloria Dei Lutheran Church in Saint Paul, Minnesota.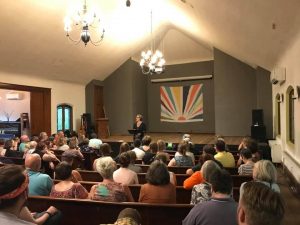 This July, Adult V. (no B.S.) was held at Art House North in Saint Paul, MN, where Humble Walk Lutheran Church usually meets. It was a time for adults of a wide range of experiences to get together for singing, games, art projects, snacks, and speakers sharing their thoughts about stories from the Bible. It was an event with lots of planning input from youth who helped staff it. It was a new thing that went better some nights than others. But most of all, it was a place for the curious-about-church, the employed-by-church, the burnt-by-church, the can't-get-enough-of-church, and lots of in between to be welcomed, held, and renewed. And although there wasn't any designated worship time, we found holy moments in gathering, word, meal and sending.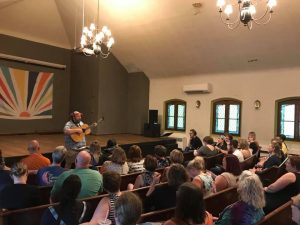 I led singing to gather us each night. One of the songs we sang each day as part of our gathering was a quote from the Sufi mystic Rumi: "Come, come whoever you are, worshipper wanderer, lover of leaving. Ours is not a caravan of despair. Though you have broken your vows a thousand times, come. Come again, come." And in that singing we created space for everyone there, whether they sang or not, to be welcomed into this journey. We sang some paperless music, some popular songs, some requests, and some from a resource Humble Walk had recently created. Being a church poor in money, but rich in talent and volunteer spirit, they sought out used LBWs as churches switched over to ELW. Then, in order to lower barriers to participation, beautify, and simplify the hymnals, they unbound the books. They removed all but one communion service, compline, the psalms, and 50-60 hymns they would sing regularly. And finally, they rebound them in custom-made art paper to create a resource that is quirky, accessible, and matches the spirit of the place.
After singing, announcements, and a teaser from the evening's speaker, we divided into large groups for art-making, game-playing, and snack-eating. Rotating through these activities we shared silliness, camaraderie, affirmation, and we built community that alluded to the sacramental life of the church.We gathered around one bible story each night that took unpacking. Over the three nights, leaders looked with us into the Flood story, the Jonah story, and the Ruth story.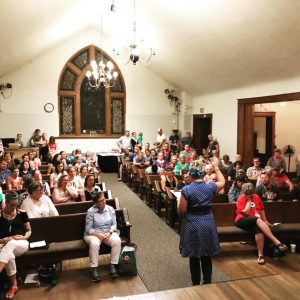 To close we sang again. I wrote a benediction song for the event that sent us out each night:
"Go with God. Go with Grace. Go with mercy from this place. Let the heavens with joy resound: All the earth is holy ground."
And at the end of the last night Pastor Jodi sent us with this blessing: