Today's post is by Linda Witte Henke, an artist specializing in the creation of liturgically purposed work for congregation, synod, and churchwide settings (www.lindahenke.com). This is the first of quarterly posts by Linda that will provide suggestions and templates for an expression of liturgical art.
When asked, most congregants would likely describe Advent as a time of "preparing for Christmas." While this description may be technically accurate, the reality is that most people's experience of the month of December is focused on extensive "to-do" lists that, at best, are only distantly related to the essence of Advent.
Thankfully, the lectionary texts for Advent in Year C offer stirring words and rich imagery to draw us into deeper understanding and appreciation for these precious four weeks. Advent is a time of preparing our hearts and lives for the coming of Jesus the Christ encompassing past, present, and future:
On Advent I, Jesus speaks of "signs in the sun, the moon, and the stars" and urges us to "stand up and raise your heads, because your redemption is drawing near." (Luke 21)
On Advent II, the voice of John the Baptist crying out in the wilderness directs us: "Prepare the way of the Lord, make his paths straight. Every valley shall be filled, and every mountain and hill shall be made low, and the crooked shall be made straight, and the rough ways made smooth." (Luke 3)
On Advent III, the one who is coming is heralded by John the Baptist using language that calls for us to repent the brokenness of our relationships with God and one another in order that our lives may "bear fruits worthy of repentance." (Luke 3)
On Advent IV, Mary lifts her voice to proclaim God's greatness in turning our up-side-down world right-side up. (Luke 1)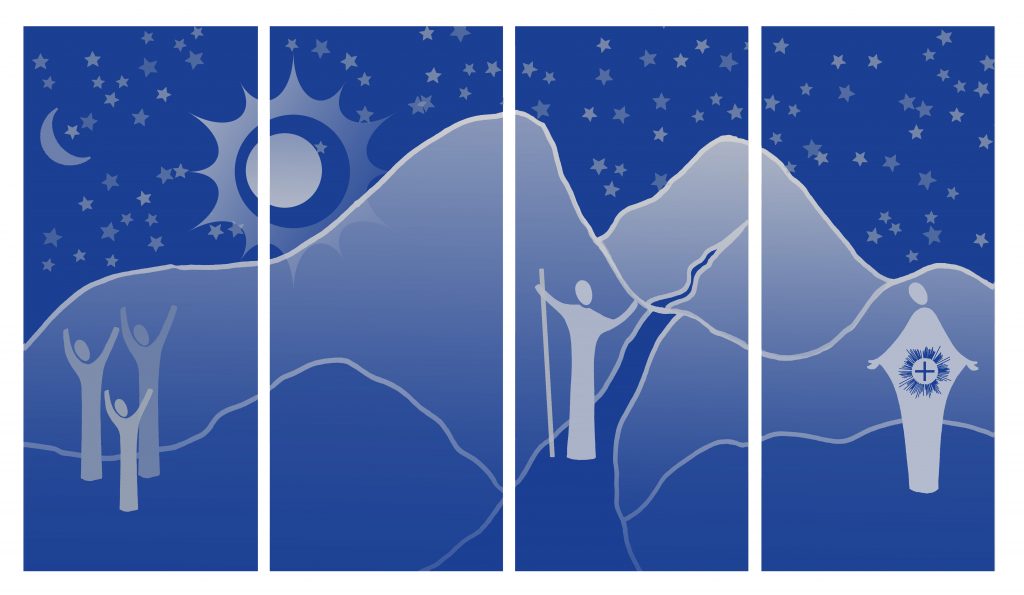 This post offers a way to incorporate imagery of the season into the assembly's worship through use of a four-panel design linked to the weekly texts. The panels may be used as stand-alone designs, one per week, or as a composite that evolves from one to four panels over the course of the four-week season.
Some possibilities for utilizing the design include:
Creating banners, using silver markers and silver paint on blue "fadeless" paper (available by the roll in craft stores or education-supply outlets) or using silver lamé and silver organza fused or stitched/appliquéd onto blue fabric
Using a "print on demand" service to reproduce the digital design on paper or fabric
Incorporating the digital design in the congregation's projected worship slides
Including the digital design in the congregation's print and/or electronic communications
Regardless of the way(s) in which you choose to integrate the design into your congregation's Advent journey, the effectiveness and impact of the design's use will be enhanced by intentional references to the design throughout the season, particularly within the context of worship. For example:
How might it feel to lift up our heads and hands in anticipation of Jesus' coming? (Advent I)
How might heightened awareness of the sun, moon, and stars awaken our longing for God's coming close to reside within and among us? (Advent II)
How might repentance of our human brokenness pave the way for faith's fuller fruition in us? (Advent III)
How might Mary's song engage our more enthusiastic participation in the in-breaking reign of God's up-side-down order? (Advent IV)
The attached PDF includes a modest-resolution image of the complete design, as well as patterns that can be enlarged to create banners in whatever scale is right for your congregation's space. A higher-resolution image for large-scale reproduction may be downloaded from:  https://www.dropbox.com/sh/x69s78odh0gqcks/AACdV0LxnzVn9BvvoRwgwaFya?dl=0.