From July 23-26, 2018, the "Hearts, Hands, Voices" event was held on the campus of Valparaiso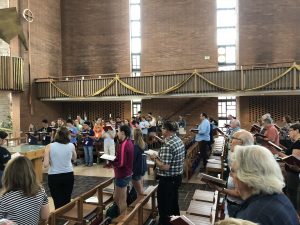 University in Valparaiso, Indiana. This continuing education event was a joint venture between the Association of Lutheran Church Musicians (ALCM) and the ELCA. Two attendees of this event, one a first-time attendee from North Dakota and the other, a long-time member of ALCM from Pennsylvania, share with us how these days were formative for their music ministry.
Chad Svenby serves as Director of Worship and Music Ministry at Lutheran Church of the Cross in West Fargo, ND
The Hearts, Hands, Voices event was the first ALCM event I have attended. I came away from the week re-energized for the work that I do as a worship and music director. I enjoyed the opportunity to connect with other music leaders about the role and importance of music in worship, as well as our shared challenges and successes.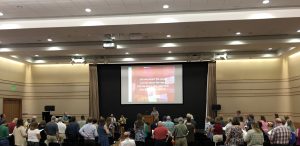 The group learning sessions were very informative and helpful. My church offers contemporary worship services so I found the inclusion of sessions related to presenting music in that type of setting to be a great addition. Throughout the event, participants were given access to a wide variety of materials and resources related to music leadership and worship planning. There were several that were of interest to me, such as the Musicians Guide to Evangelical Lutheran Worship, that I will be acquiring and using in my own planning.
I appreciated that this conference was tied in to the last week of the Lutheran Summer Music program that took place at Valparaiso University during the month of July. It was a joy to see so many of the next generation of music leaders developing and sharing their talents. A highlight of the week was the hymn festival on Wednesday evening, an inspirational and moving event. The performances reaffirmed in me the power and beauty of music and the impact it can have on the worship experience of an individual or congregation.
I left this event feeling invigorated and proud of the work I and others do as music leaders. I was challenged to develop new ideas and improve upon how music is presented to the members of my congregation. And I left feeling blessed that I am able to share the power and beauty of music with others.
Karen Eddinger serves as Minister of Music at Trinity Lutheran Church in Reading, Pennsylvania.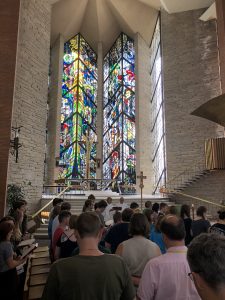 Another conference?  Having served churches as a Minister of Music for more than forty years, what could this event offer other than a break from the day-to-day routine of church work and an opportunity to meet or reconnect with colleagues? From my first step into the Chapel of Resurrection at Valparaiso University, the answer was that this was going to be an exceptional experience. The concurrent programming of this ALCM event with the last week of the Lutheran Summer Music program united the hearts, hands, and voices of several generations of musicians. From the opening Eucharist, through Morning Prayer, Night Prayer, and the hymn festival, these LSM students lifted our worship to new heights as we together praised God through the gift of music.
Group learning sessions both affirmed what was already known and reminded us of what was once learned but perhaps forgotten over the years. Growth happened when we were stretched beyond our comfort zones. How hard is it to play a shaker? In a robust 6/8 tempo, much harder than it looks!  How humbling to be a "trained" musician who just can't do it! Paperless music (singing without printed scores) is a perfectionist's nightmare! But from my struggle came the startling insight of how congregational members may feel when asked to sing something new. (For more about the practice of singing "paperlessly," visit Music That Makes Community).
One of the greatest treasures of such an event was meeting fellow worship leaders. Sharing with one another our varied styles of worship, creative juices begin to flow; a breath is taken, spirits are renewed, and excitement is generated as we make plans for the coming year.  Another conference? Yes, please!