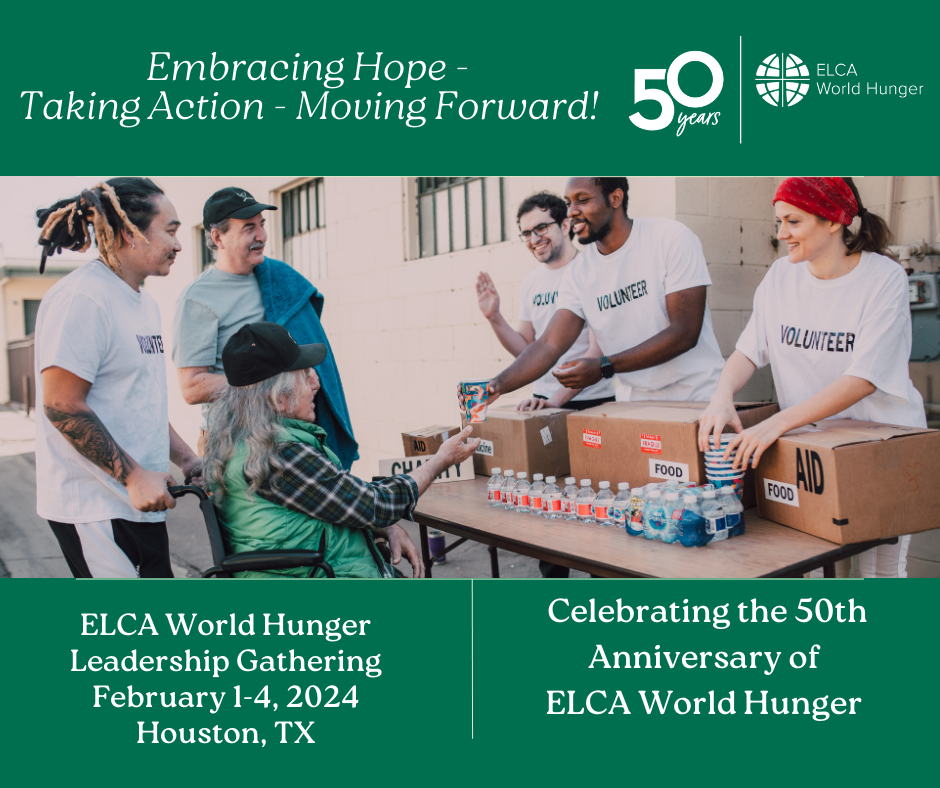 For fifty years, we have stood together as Lutherans, taking action to address root causes of hunger and poverty around the world through ELCA World Hunger, grounded in God's promise of a time when we will hunger and thirst no more. As part of the long tradition of the church meeting human needs, ELCA World Hunger is a testament to our hope and our commitment for this church to be part of God's transformation of the world.
Today, we invite you to celebrate the 50th anniversary of ELCA World Hunger at the 2024 ELCA World Hunger Leadership Gathering. The Mary and Howie Wennes Hunger Leadership Endowment supports the gathering, established by the Wennes Family in 2016.
This signature event gathers ELCA World Hunger's leaders for a time of networking, idea sharing, learning, and planning for our shared ministry to address hunger and its root causes in our local and global communities. Next year's event, February 1-4, 2024, will center on 1 Peter 4:10 and the theme Embracing Hope – Taking Action – Moving Forward! We celebrate 50th years of God's faithfulness!
Who is invited?
· Each synod is invited to bring up to three participants to the event.
· To reflect the diversity of our church, synods bringing three participants must ensure that at least one participant is a youth, young adult or person of color. A discounted registration rate will apply for the third representative.
· Former Hunger Advocacy Fellows.
· Big Dream Ministry Partners.
· Invited ELCA World Hunger ministry partners.
What is the cost?
All registrations include airfare, all event costs, and room and board for four days, three nights. Rates below are for synod representatives. Ministry partners, Big Dream ministry partners and former Hunger Advocacy Fellows will receive information about their rates in separate email invitations.
Standard Registration: $450 | Discounted Rate (for Third Hunger Leader): $250
Registration is NOW OPEN at this link.
Questions? Contact us at hunger@elca.org