Elyssa Salinas
​Please welcome our newest colleague in ELCA World Hunger – Elyssa Salinas!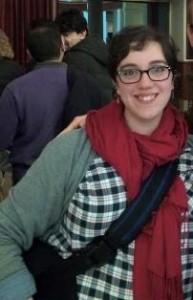 Hello! I'm Elyssa Salinas and I'm thrilled to join ELCA World Hunger as the program assistant for Hunger Education! Currently I'm finishing my Masters of Divinity at the Lutheran School of Theology at Chicago, and I will be graduating in May! I'm originally from the Chicago area, growing up in Oak Park and Des Plaines. I attended Valparaiso University and pursued a degree in theatre, enjoying roles such as Lady Bracknell in The Importance of Being Earnest and Sir Toby Belch inTwelfth Night. Also in college I began to develop an interest in gender studies and performance poetry.
After graduating in 2012 I decided to take the advice of one of my professors and give the East Coast a try, so I decided to attend the Lutheran Theological Seminary at Philadelphia as a Fund for Leaders scholar. While there I got a job with a nonprofit organization that worked with families dealing with home instability in connection with a diverse pool of faith groups in the area. This experience provided me with an opportunity of engaging my faith with social issues I felt (and still feel) strongly about.
Throughout my time in college and seminary I spent four summers working near Santa Cruz, California, at Mt. Cross Ministries, a Lutheran camp set in the Santa Cruz Mountains. Mt. Cross gave me a chance to experience the West coast and engage with youth, where every day was about seeing God through their eyes.
Throughout my discernment process in Philadelphia I found that my call was not what I expected, and so after two years I decided to transfer back home to Chicago and pursue a call in teaching. I'm happy to be home and close to my family while I continue to follow my path in education. This Fall I will start my Ph.D at LSTC in systematic theology and sexual ethics, where I plan to focus on body/sex shaming and how to embrace our bodies as God embraces each of us, as children of God's abundant love. I am an advocate for positive body image, and I challenge myself and others to see each of us as God sees us, beloved and beautiful.
Poetry has been a vehicle to explore my own challenges with body image and my identity as a Latina. I have been performing poetry for the past few years at various open mic performances in Philadelphia and Chicago along with using poetry as part of my academic career. Currently I'm working on a book of poetry from the point of view of biblical women, especially Old Testament women such as Hagar, Dinah and Jael.
Fun Facts about Elyssa!
I was a competitive public speaker for 7 years!
My favorite movie of all time is Beauty and the Beast, and I love Disney! My mother is the only person to beat me at Disney trivia.
I got my first poem published this year in Thinking Theologically!
My CTA commute always entails a book and I'm always looking for more to read!