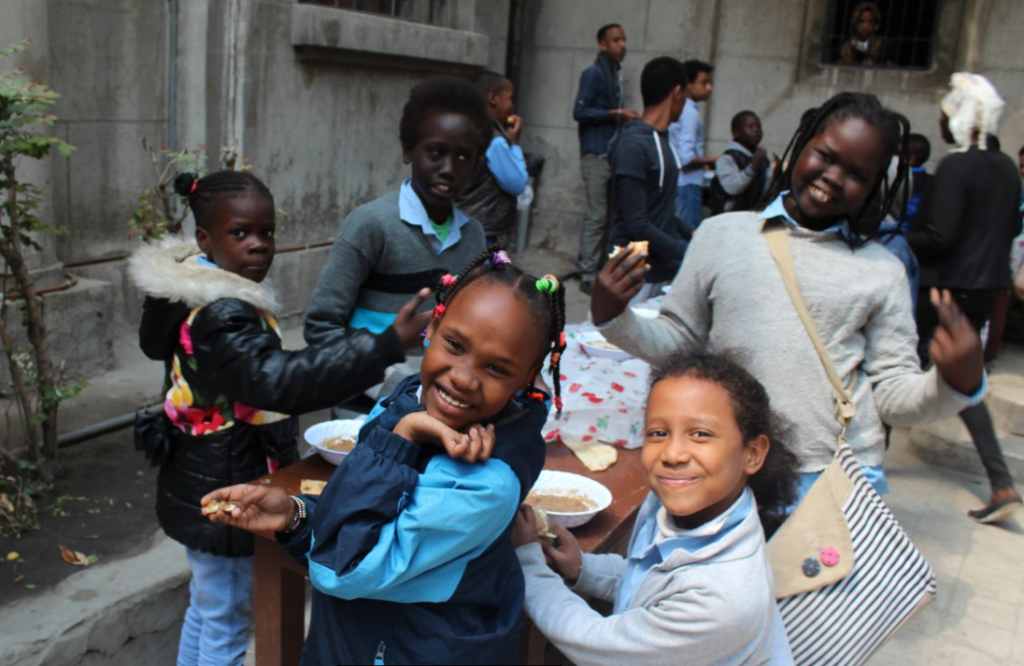 This story is also available as a bulletin insert as part of ELCA World Hunger's newest "reproducible stories" series. Click here to download a copy.
Yohannes (not pictured) was 16 when he arrived in Cairo, Egypt, alone. He made his way to Egypt from Eritrea, in East Africa. It was an arduous journey from Eritrea, through Sudan and, finally, to Egypt.  Along the way, food was hard to come by. Yohannes had lost weight and was not well.
Upon arriving in Cairo, Yohannes came to St. Andrew's Refugee Services (StARS) seeking help. He had not eaten for two days, so the first thing StARS provided was a warm, home-cooked meal. StARS, a program supported by gifts to ELCA World Hunger, offers unaccompanied refugee children food, education and psychosocial support.
Through gifts to ELCA World Hunger, StARS feeds 350 refugee children two meals a day, four days a week. And, with the help of the program, Yohannes has learned about nutrition, budgeting, and services available to him in Cairo.
Unaccompanied children in Cairo often live together in overcrowded apartments so that they can afford the rent. Some receive a small amount of financial support from the United Nations once they register, but most find it very difficult to make ends meet. Financial support from the ELCA and other partners allows StARS to employ a refugee as a chef and to provide part-time work to six young refugees as kitchen assistants and cleaners. Without this work, they would have no means to support themselves as they struggle to survive in Cairo.
For Yohannes and other unaccompanied refugee youth, StARS provides something else that is crucial to well-being – the chance to be children. The program provides food, education and, importantly, a safe space for playing sports and building friendships. "If StARS did not exist, I would go without food for the entire day," Yohannes said. "Nobody can study with an empty stomach."
"And here I get the chance to learn and to be with my friends."
According to UNHCR, the United Nations Refugee Agency, over half of the world's refugees are children. Many have experienced or witnessed violence, exploitation, trafficking and abuse. Yet, the children's resilience helps them cope in new communities, if they are given the support they need to make new friends, learn and play.  Faith-based organizations like StARS help make this possible.
Today, Yohannes is attending school. He has a brighter future thanks to the support of ELCA World Hunger and St. Andrew's Refugee Service.
(For more on Lutherans and refugees, see here. Visit ELCA World Hunger on Vimeo for "The Kafley Family" story to hear one family's story of finding a new home in Chicago, with the support of ELCA World Hunger and RefugeeOne.  To learn more about refugees and resettlement, visit Lutheran Immigration and Refugee Service at www.lirs.org, a long-time partner of ELCA World Hunger.)