A New Resource on Housing!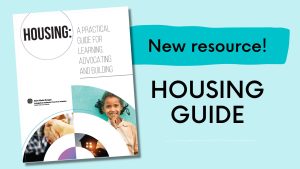 The United States faces a looming crisis in housing, the second in barely more than a decade. The job losses and other economic impacts of the COVID-19 pandemic have many of us facing an increased risk of eviction and foreclosure; at the same time, there is a marked shortage of available housing within reach for most Americans. The problems of homelessness and housing insecurity are ongoing and growing. Solving them means developing sustainable solutions for the long term, rather than temporary fixes for a current crisis. This church has a clear imperative to help those of us experiencing homelessness and housing insecurity. The church also has a big opportunity to make a difference.
This new resource from ELCA World Hunger will help you get started in learning about homelessness and affordable housing, advocating on issues connected to homelessness and affordable housing, and even building affordable housing!
Download "Housing: A Practical Guide for Learning, Advocating and Building" from https://www.elca.org/Resources/ELCA-World-Hunger#New. Check out other resources from ELCA World Hunger on the same page and at https://www.elca.org/Resources/ELCA-World-Hunger#HungerEd!
Who Is This Resource For?
This resource is for congregations concerned about homelessness and affordable housing. For congregations new to this work, this resource will provide step-by-step guidance on how to build awareness and capacity around the root causes of homelessness, how to become an advocate for affordable housing and people experiencing homelessness, and, finally, how to build affordable housing. For congregations already involved in this work, the resources in this guide can help with congregation and community education, training new volunteers, and refining your current project.
About This Resource
This resource contains three sections: "Learn," "Advocate" and "Build."
The "Learn" section contains activities and information to educate congregations and groups about the complex issues of housing and homelessness. If your group is just getting started, use the information and activities in this section to learn more about a wide variety of topics: common myths about homelessness, effective responses to housing insecurity, and the historical impact of the discriminatory practice of redlining. This section also introduces common terms used to describe housing insecurity and homelessness.
The "Advocate" section contains information and activities to help participants become effective housing and homelessness advocates. It includes helpful information on the roots of Lutheran advocacy, housing policy, insights from leaders and more.
The "Build" section contains a guide on how to build affordable housing, with helpful information about choosing a team, forming a nonprofit, funding a project and more. There are also checklists of the tasks necessary to create a successful affordable housing project.
Learn More
Interested in learning more about affordable housing, homelessness and learning from some of ELCA World Hunger partners about this important work? Check out the latest Hunger at the Crossroads webinar on Hunger and Housing here: https://vimeo.com/726168452
Get Connected
If you use "Housing: A Practical Guide for Learning, Advocating and Building" or have questions about how to use the guide, get in touch with us at hunger@elca.org.
Note: the housing guide is having some issues with sizing in peoples' browser windows. If you have this issue, try downloading the resource to your personal device!