"When we begin to attend as a community to public issues, we exercise faith practices that embody our understanding of the gospel, witness to the world our public commitments, and communicate a different way of being a church." – Amy Reumann, Director of ELCA Advocacy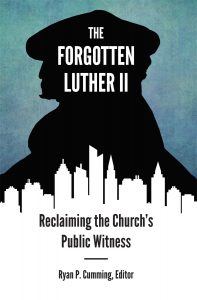 Many people – Lutheran and non-Lutheran – are familiar with Martin Luther's teachings on civil order and obedience to laws. Fewer folks, though, recall the Luther who admonished preachers to use the pulpit to rebuke rulers for injustice, argued for public support for education of girls and boys, and inspired generations of future Lutherans to stand against political oppression and injustice.
The authors of The Forgotten Luther II: Reclaiming the Church's Public Witness (Fortress Press, 2019) offer this side of Luther and Lutheran faith to congregations today. Featuring chapters by theologians, pastors and teachers in the ELCA, this second volume in the Forgotten Luther series shares the stories of Lutherans from today and yesterday whose faith moved them into public advocacy and activism – and encourages readers to hear the call of faith to "strive for justice and peace in all the earth."
Carter Lindberg, a contributor to the first Forgotten Luther book, Mary Jane Haemig and Wanda Deifelt deal with issues as diverse as war, education and embodiment, while Amy Reumann, the director of ELCA Advocacy, offers a clarion call to advocacy by congregations, shaped by faith and inspired by the stories of congregations already active in the public square.
Chapters by Kirsi Stjerna and Anthony Bateza recall the dangerous memories of racism and anti-Semitism that have pervaded Lutheran history, sins that have deformed the church's public witness in history, while offering suggestions for building a more inclusive, just church today.
Together, the authors address critical questions for the church today: When should the church support the state's agenda? When should it resist? What are the options for critical but constructive cooperation? Their answers are surprising, troubling and inspiring.
Discussion questions accompany each chapter to help guide conversations in education forums, adult Sunday School series and more. Interviews with each of the authors are also available at https://vimeo.com/showcase/5926704.
A portion of the proceeds from the sale of this book will go to ELCA World Hunger to support the longstanding work of ELCA Advocacy as part of a holistic and transformative strategy to end hunger.
---
The Forgotten Luther III symposium is coming! The Forgotten Luther III: Reclaiming a Vision for Global Community will be hosted at Saint Luke Lutheran Church in Silver Spring, Maryland, October 25-26, 2019. Learn more here. Watch for more updates on the ELCA World Hunger blog!