It's game time! The Big Game Challenge has kicked off, and our church is racing toward the goal of ending hunger!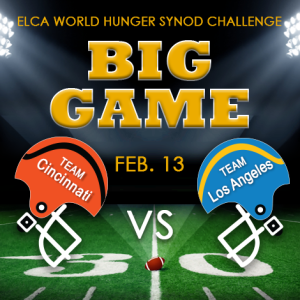 While you are cheering on your team and celebrating with family and friends— let's help tackle hunger together!
From kickoff to the final whistle, Team Cincinnati and Team Los Angeles will seek to outdo one another for the sake of the gospel. The fans that donate the most through their team page to ELCA World Hunger by midnight Central time on February 13th will help their synod take home the title of ELCA World Hunger Champion — regardless of the outcome on the field. Whether your favorite formation is 3-4, 4-3, or 3:16, you can send your nickels and dimes to support your team!
Check out this video of Bishop Dillahunt of the Southern Ohio Synod of the ELCA encouraging supporters:
And not to be outdone, the Southwest Califonia Synod's Bishop Bos is ready to prove that Team Los Angeles has the most generous synod:
Be sure to send us your game day photos! and may the best team win – so we can all tackle hunger together! #elcabiggamechallenge #untilallarefed
Visit ELCA.org/BigGame to be part of the action!