Are you daydreaming about summer as much as we are? Around the country, ELCA congregations are already making plans for next year's Vacation Bible School, and ELCA World Hunger is thrilled to invite you to explore our new VBS curriculum for 2019, "Who is My Neighbor?" This curriculum is a free resource that is now available to order and download!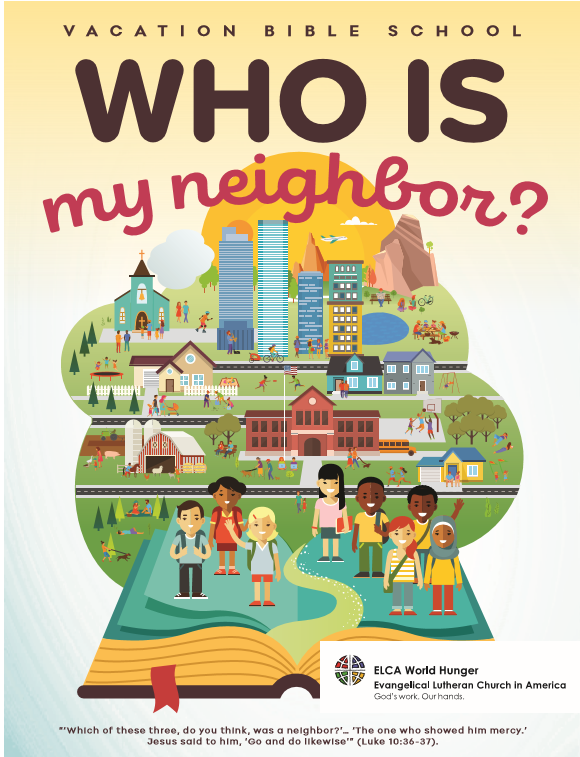 "Who is My Neighbor?" invites children and youth to re-imagine what it means to be neighbors in Christ. Based on the Good Samaritan story, this full, five-day program contains skits, games, crafts, snacks and intentional activities for children to enjoy and learn how our faith calls us out into the world to love and serve our neighbors.
The skits for each day introduce a new character in the Good Samaritan story, starting with the lawyer who asks Jesus, "Who is my neighbor?" Each skit shares an important lesson that directly relates to the theme and theme verse, which groups will practice at the start and end of each day.
Themes for each day:
Day One – God loves us (1 John 4:19)
Day Two – Let your light shine (Isaiah 58:10)
Day Three – No fear (1 John 4:18a)
Day Four – God loves everyone (Acts 10:34b-35)
Day Five – Building God's neighborhood (Romans 15:2)
Based on your feedback, we've made "Who is My Neighbor?" more user-friendly for VBS planning teams by organizing each section by activity categories, rather than by days of the week. Organizing the sections in this way allows everyone on the team to be able to flip to the activities that they are assigned so that all of your leaders can find the materials and directions for their roles in one section. The program is organized in the following sections: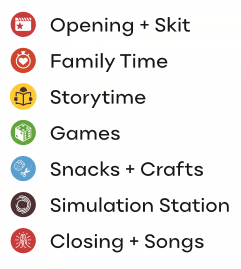 Each day begins with a large group opening, including a skit to introduce the daily theme and a new character within "The Good Samaritan" story. This is followed by "family time" – small group sessions to dig deeper into the theme and bible verse. Then, participants travel through five rotations: crafts, games, snacks, storytelling and a "simulation station" – an interactive and engaging activity to learn more about hunger and how our faith calls us to respond. The stories for each day are based on real stories from projects supported by your gifts to ELCA World Hunger. Not only will children, youth and adults hear about the work this church is doing around the world, but through "Who Is My Neighbor?" they will be part of the response!
Leaders will find schedule templates, theme song suggestions and options for younger (K-2nd grade) and older (3rd grade and above) participants so that you can adapt to the needs of your group! Each lesson is rooted in Lutheran theology, drawing on our church's strong tradition of theology and practice in the world.
The VBS program is also flexible, so you can adapt it to fit your needs. Already have a VBS for this summer? "Who is My Neighbor?" can also be used for Sunday School, family faith formation, and children's sermons throughout the year.
How can I get my whole congregation involved?
A month or two prior to your VBS, create your own "Who Is My Neighbor?" campaign! Set a goal for your congregation to meet before the VBS starts and raise funds for your neighbors here in the United States and around the world through ELCA World Hunger.
Look for free posters, certificates and additional pictures accompanying the Storytime section coming soon!
If you have any questions about "Who is My Neighbor?" or ELCA World Hunger's educational resources, please contact Ryan Cumming, program director of hunger education, at Ryan.Cumming@ELCA.org.
Learn
Click on the image below to download "Who Is My Neighbor?" To see some of ELCA World Hunger's other congregational resources, including confirmation lessons, interactive immersion experiences, stories and videos, visit www.elca.org/Resources/ELCA-World-Hunger.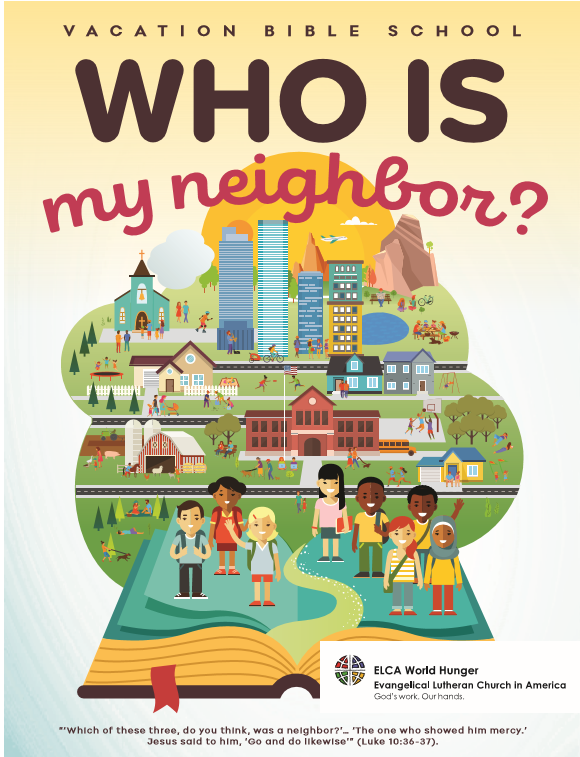 Share
We want to hear from you! Share the story of your Vacation Bible School on social media, or email us directly at hunger@elca.org.
Give
Gifts to ELCA World Hunger are acts of love towards our neighbors living with hunger and poverty both here and around the world. Together, we are creatively and courageously working toward a just world where all are fed.