It's hard to overstate the impact COVID-19 has had on our communities and our worship experiences. Summer 2020 has begun with a great deal of uncertainty – about our health, the health and well-being of our neighbors, jobs and more. But these past few months have revealed in surprising ways what we have known by faith – God is still at work in our world, inspiring hope, motivating change and leading us to a brighter future. And many congregations have been hard at work, adapting to meet the new needs and changing landscape of worship and faith formation.
To help with this, ELCA World Hunger is delighted to share an adapted version of this year's Vacation Bible School: "On Earth As in Heaven…At Home!" This adaptation simplifies some of the activities in the original leader's guide, offers tips for doing crafts and games at home, and provides links to pre-recorded videos you can share.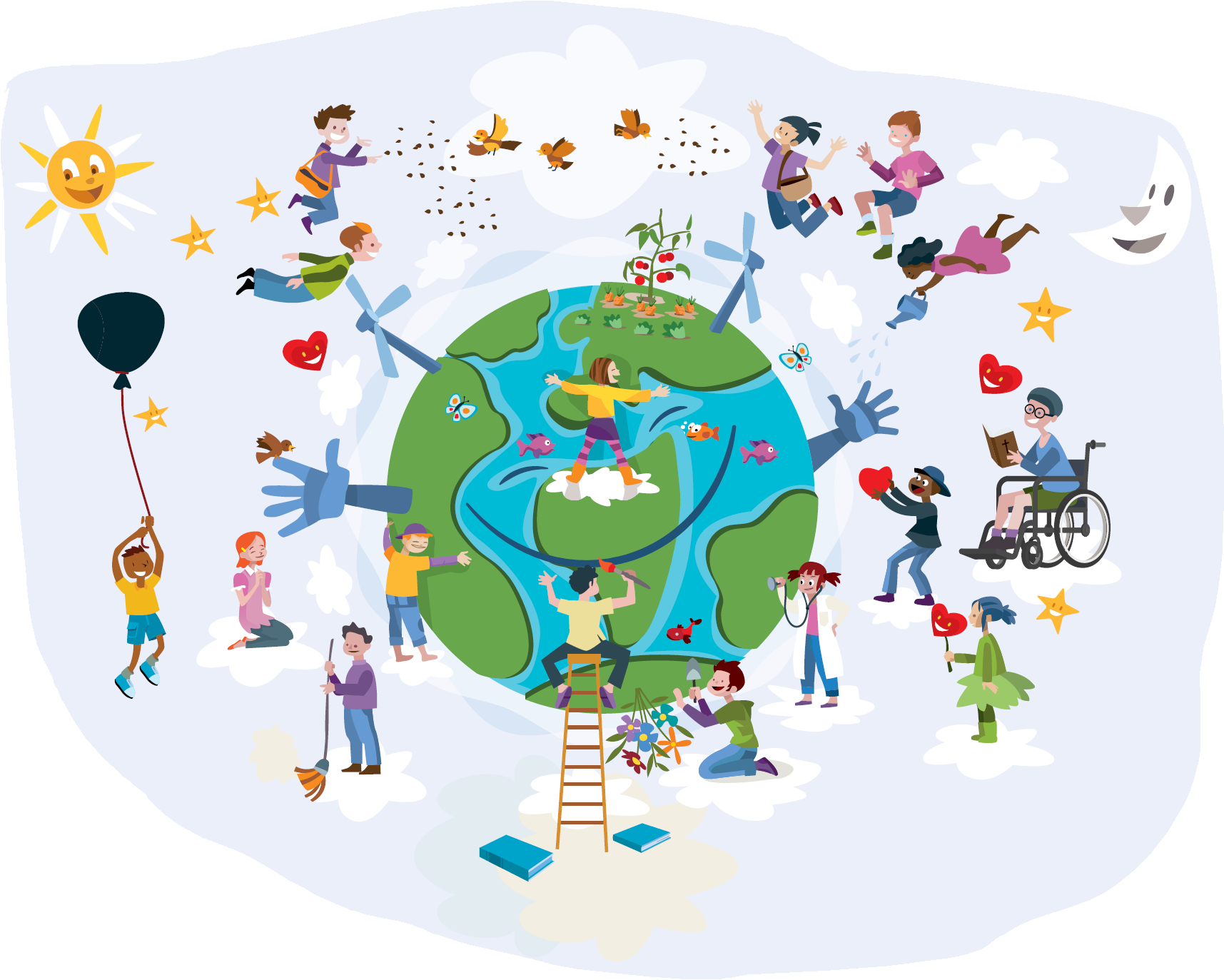 The new leader's guide for this at-home VBS provides simplified instructions for a shorter schedule, as well as alternative activities for parents or caregivers to use at home. The small-group times from the original format have been re-structured into short bible studies, with tips for hosting an online meeting or for households doing the activity on their own. We also included tips for helping children use a journal as part of the small-group times.
New game ideas have been added with an eye toward smaller households doing them, rather than large groups, and new craft ideas can be done with both younger and older children at home. There are also links to the songs for "On Earth As in Heaven" and to pre-recorded videos.
We are also happy to share that we have pre-recorded videos for the skits and for the Story Time station for "On Earth As in Heaven!" The skits were recorded and performed by Paige and Alexis Greve. There are five videos – one for each day – and these can be shared, posted to your congregation's website, or played live during online gatherings. Each skit helps introduce the theme for the day.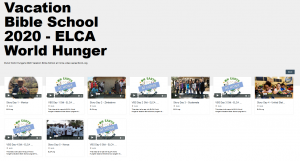 There are also five skits that tell the stories of projects supported in part by ELCA World Hunger. ELCA churchwide staff tell the stories in the videos, so in each one, children will meet one person who works for the ELCA and hear the story of our neighbors working to end hunger around the world. Each story also includes some fun facts about the countries featured.
All of the videos can be viewed or downloaded from the ELCA's Vimeo showcase page at https://vimeo.com/showcase/7224146.
ELCA World Hunger also has original music for "On Earth As in Heaven!" There is a song for each day, and you can find zipped folders for each song on our resource page at https://elca.org/hunger/resources#VBS. Each folder will have a recording with vocals, an instrumental recording and a songsheet with chords.
In the leader's guide for "On Earth As in Heaven…At Home," we included a permissions letter that details the rights your congregation has to fair use and sharing of the songs and other materials associated with "On Earth As in Heaven."
This adaptation of VBS for 2020 is the product of many conversations with leaders across the ELCA who provided their input and suggestions as it came together. All of the materials were developed, too, with the generous support of gifts to ELCA World Hunger, and we are happy to provide them for free because of this. If you use "On Earth As in Heaven…At Home," please consider inviting participants to continue supporting the work of our church toward a just world where all are fed.
If you have any questions or feedback, please contact Ryan Cumming, program director of hunger education for ELCA World Hunger, at Ryan.Cumming@ELCA.org, or Brooke De Jong, program assistant for hunger education, at Brooke.DeJong@elca.org.
Blessings in your ministry!