Announcing ELCA World Hunger's Big Dream Grant Awards
This World Food Day, ELCA World Hunger is pleased to announce four ministries that have been awarded Big Dream Grants. ELCA World Hunger's Big Dream Grants, one-time gifts of $10,000 to $75,000, support domestic ministries as they pursue innovative and sustainable approaches to ending hunger. As we reflect on the meaning behind World Food Day and our shared commitment to address hunger until all are fed, we celebrate the big dreams of these ministries and their commitment to excellence.
New this year, ELCA World Hunger's Big Dream Grant recipients were identified in part based on the contributions of their work toward the United Nations' Sustainable Development Goals, or SDGs. The SDGs are intended to focus sustainable development toward overcoming poverty, inequality and environmental degradation. ELCA World Hunger is pleased to partner with the Lutheran World Federation as part of its "Waking the Giant" initiative. "Waking the Giant" is a global ecumenical effort which aims to build the capacity of churches to contribute effectively to the SDGs. Churches and partners are focusing on five of the 17 UN Sustainable Development Goals (SDGs) – Goals 3, 4, 5, 10 and 16 – and the ELCA has an additional focus on Goal 2.
Ministries receiving ELCA World Hunger Big Dream Grants are: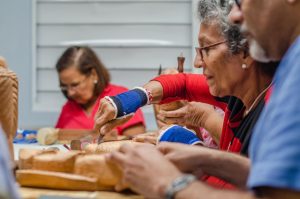 IntegrArte, a ministry hosted in an ELCA congregation in Dorado, Puerto Rico, works with people of all ages to address mental health in a community where mental health services are otherwise inaccessible to many who need them, particularly in the aftermath of Hurricanes Irma and Maria. IntegrArte is building connections between church and community by expanding mental health services within the greater community. IntegrArte is preparing to realize its long-term dream of expanding into a community center that will host programming for older adults, a Montessori school and an emergency shelter.
Through its McClintock Partners In Education (McPIE) ministry, a partnership with the local middle school and community, Christ Lutheran Church in Charlotte, North Carolina fosters an environment where families have the opportunity to thrive through meals, clubs, camps and courses that open up pathways for both youth and parents. Christ Lutheran is increasing the ministry's capacity to support the economic success of under-served populations in Charlotte through a commitment to bilingual support and the creation of the McClintock Innovation Lab & Library, which will focus on STEM programming.
The Table: A 1st Century Style Community in the 21st Century is a worshipping community in Milwaukee, Wisconsin, reducing barriers to food. The Table provides a place where families can learn to grow the food that they want to eat and fosters learning and entrepreneurial opportunities for community members. Looking ahead, The Table will further drive economic development and empowerment through expanding programming and a longer growing season made possible by new greenhouses.
End Hunger in Calvert County, based in a rural area in Maryland, is a coalition of local churches and other organizations working together to end hunger in the community. End Hunger Calvert County connects food-insecure communities with hunger relief options and works to reduce systemic poverty through a robust workforce program. Now, the organization is blazing new trails as it develops a mobile app to connect low-income families to comprehensive services.
We celebrate the work of these ministries and thank you for your support of ELCA World Hunger as we work together to fight hunger and poverty in the United States and 60 other countries around the world. To learn more about ELCA World Hunger's approach, visit ELCA.org/hunger.
At the global level, the "Waking the Giant" initiative provides churches and church-related actors with tools and training to relate their on-going work to the SDGs. At the national level, churches and ecumenical partners set up implementation mechanisms for taking stock of their existing work in relation to the SDGs and engage in joint planning for direct action and advocacy. "Waking the Giant" is currently focused on four target countries: Colombia, Liberia, Tanzania and the United States. The ELCA is hosting and funding the initiative in the United States. To learn more, watch the video below or visit wakingthegiant.lutheranworld.org.