From the story of Pentecost – the coming of the Holy Spirit – as told in Acts 2: 17:

"In the last days it will be, God declares, that I will pour out my Spirit upon all flesh, and your songs and daughters shall prophesy, and your young shall see visions, and your old shall dream dreams."
The walk to Emmaus (Luke 24: 13-25) is a fairly "well-trodden" path for many Christians. It's a story we hear once a year in the lectionary cycle – a story that comes together so well for me at the end when Jesus has vanished from the disciple's sight – and yet, they "see" in a new and different way.
"Were not out hearts burning within us?" the disciples say to each other. Through the walking and talking, they caught a glimpse of God's dream for a reconciled world – perhaps such a glimpse that the whole world might never look the same.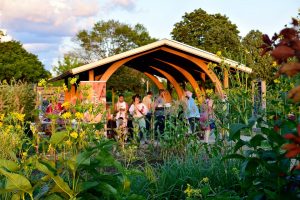 October 16, was World Food Day, a day that also occurs once a year to commemorate the founding of the Food and Agriculture Organization of the United Nations in 1945.
On World Food Day this year, ELCA World Hunger announced our upcoming Big Dream grant ministry partners – a group of four ministries that exemplify innovation and best practices in the pursuit of a just world where all are fed.
At the same time, 14 people gathered to discern and award the 2020 Domestic Hunger grants. Domestic Hunger Grants walk with congregations and their ministry partners as they seek to love and serve their communities in transformative, holistic and integrated ways. The awards are for up to 3 years and up to $10,000 per year, for a possible total award of $30,000. During this process, staff like me are notetakers. My role is to listen and record (a true gift!)
And on days like this, as we walk together in conversation, you hear many things. But the one that stays with me today is from one of our decision makers at the table who said, "I will need some help deciding on award amounts. I am 17 years old. It's hard for me to imagine $30,000. I have never seen that much money in my life!"
The group gathered chuckled a bit, but then … we paused.
Think about it.
When was the first time you could conceptualize or understand what $30,000 really meant? When did you first "see" that kind of money? Or, have you ever??
Around the room, people said, "when I went to college," "when we bought a house," "when I got a car," or "when I saw a medical bill." For many, the first time we had "seen" $30,000 was as debt.
And yet, others reflected, "Living on $30,000 a year isn't easy, either."
Though it is can be difficult to live on $30,0000 in a context like the United States, an annual income of $30,000 (USD) puts a person in the top 1.23% of richest people in the world (Global Rich List). $30,000 is an amount that many or even most of our global neighbors may never actually see.
And for our high school senior-aged award table member, if all goes according to her plan and she completes college, she may join the ranks of the 45 million people in this country carrying a total of $1.5 trillion in student loan debt (more than what Americans owe in credit card and auto loan debt combined.)
And in that moment, through the community gathered, I saw things differently.
Faith formation and leadership development are intentional, experiential moments found and honed in and with community – like the one gathered together on October 16.
What would it be like if most youth and young people in this church, the ELCA, first "see" or try to conceptualize $30,000 represented by the hopes and dreams and plans of program budgets put forth by courageous, creative congregations seeking to love and serve their neighbors and neighborhoods through anti-hunger work? And not as debt— which is what the world will almost surely present without the alternative.
What type of leaders would be in our midst if more leaders – of all ages – can catch these glimpses that may essentially change the way we see the world around us? How might not only our expectations change, but our communities, relationships and stewardship change too?
At that table gathered, $30,000 looked like a ministry working with neighbors toward equitable access to food through community gardening and land ownership or like community-led advocacy and capacity building to improve access to safe water in a region dealing with lead pipe infrastructure issues.
God creates and gifts diversely and abundantly – and we are freed by grace through faith to boldly discover and wonder what God is up to and how we can be part of that in service with our neighbors and neighborhoods. Faith is a living daring confidence in God's grace.
As people of faith, we are called to see things differently because of who God is – and to help others catch a glimpse of it too.
God's gracious abundance opens our eyes to the presence of God among us, freeing us to see visions and dream dreams. And by being church together – through the Spirit – those visions and dreams set our hearts on fire.
"Were not our hearts burning within us while [Jesus] was talking to us on the road?" (Luke 24: 23)
Mikka McCracken is Director, Strategy and Engagement for ELCA World Hunger.
Photo Credit: Cheri Johnson