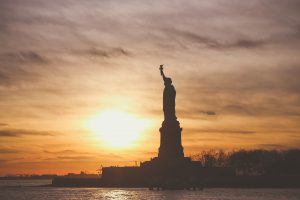 The following guest post from Alaide Vilchis Ibarra, program director, migration policy, for ELCA Advocacy, describes a proposed rule change that will have a dramatic effect on some of our most vulnerable neighbors.
While my husband worked at a small nonprofit and I went to school, we used the Affordable Care Act (ACA) subsidies to be able to afford his health insurance. Not having to choose between his health and other indispensable items made a difference for our family at a pivotal time when we needed support. As I write this, the Department of Homeland Security (DHS) is considering proposing a rule change that would harm families that have accessed public benefits, just like my family once did.
This expected rule will raise barriers for people to obtain and maintain legal immigration status in the U.S. if they or their dependents access public benefits such as Special Supplemental Nutrition Program for Women, Infants, and Children (WIC), Affordable Care Act (ACA) insurance subsidies, and the Supplemental Nutrition Assistance Program (SNAP). Historically, the U.S. government has restricted immigration applications if they determined an immigrant would be a "public charge," that is, if they would likely depend on cash assistance or long-term medical care. This rule change will greatly expand this definition to harm people whose dependents, including U.S. citizen children, have had to access public benefits.
As a church, the ELCA has long advocated for healthcare for vulnerable populations, SNAP, and WIC. As people of faith, we have ministries across the country that accompany people that will be hurt by this rule. Families that we worship alongside and minister to have to choose between accessing support for food security and good health or leaving their family vulnerable to separation, a choice no family should have to make.
Programs like WIC and SNAP are vital safety nets for families and often provide the short-term support they need to get through hard economic times. These programs have proven effective in ensuring that families and individuals can avoid long-term poverty and hunger. As people of faith in God's promise of a world without hunger, Lutherans have long been at the frontlines of providing relief to people living in poverty and food insecurity. But we also believe that one of the core responsibilities of government is ensuring that all people have what they need for healthy lives. In the ELCA's social statement on economic life, Sufficient, Sustainable Livelihood for All, our church calls for "scrutiny of how specific policies and practices affect people and nations that are the poorest, and changes to make policies of economic growth, trade, and investment more beneficial to those who are poor."
Scrutiny of this proposed rule change clearly points to the negative impact it will have on people in our communities and congregations who are hungry and in need of assistance.
What can people of faith do?
After the rule is published, there will be a small period for the public to send comments to oppose this rule. The number and content of comments submitted during this period will impact whether the proposed rule is revised. We can make a difference.
If you are participate in a hungry-related ministry, think about how this proposed change might affect you or your community. Then, follow ELCA Advocacy and ELCA World Hunger on social media to receive instructions when the rule change is issued and the comment period begins.
ELCA Advocacy:
Facebook: ELCA Advocacy
Twitter: @ELCAAdvocacy
Advocacy e-alerts: Sign up here.
ELCA World Hunger:
Facebook: ELCA World Hunger
Twitter: @ELCAWorldHunger
By speaking up, people of faith can work together toward a just world where all are fed.