As Reformation Sunday approaches and the winter months ensue, do you find yourself already daydreaming about summer? ELCA World Hunger would like to encourage that habit by offering a sneak peek into ELCA World Hunger's newest VBS program, "Who is My Neighbor?"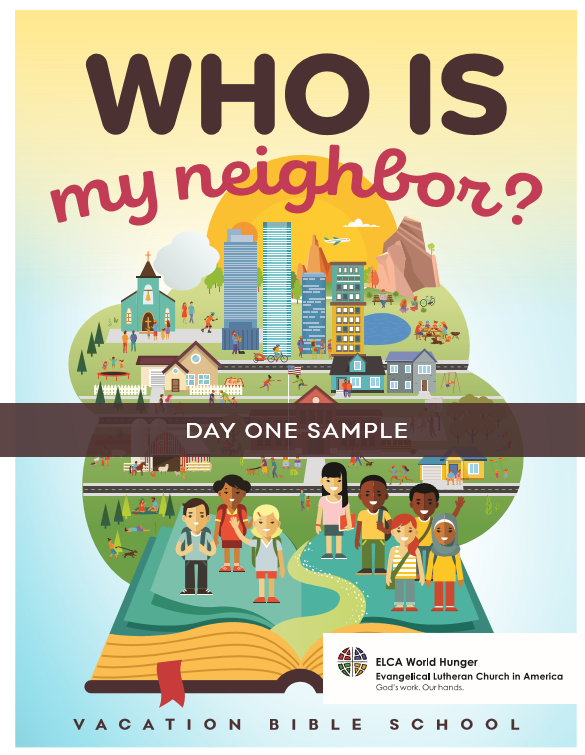 Based on the Good Samaritan story, "Who is My Neighbor?" engages participants in a week of fun, laughter and play while learning about how we are called by God to love and care for our neighbors within our communities and around the world.
Each day focuses on a different character from the Good Samaritan story, with Day 1 introducing the main character—the lawyer who asks Jesus the question, "Who is my neighbor?"
This full, five-day curriculum will be free and available in print or through download. You'll find skits, family time, games, snacks, crafts and stories that will help participants explore what it means to be a neighbor in Christ by learning about neighbors in six parts of the globe!
Please enjoy this Day 1 sample and be on the lookout for the full "Who is My Neighbor?" VBS curriculum to be available in mid-November!
We pray that the children in your VBS will see the ways God has blessed them and their neighbors—and the role they can play in God's promise of a just world where all are fed.
Learn
If you'd like to learn more about other resources that ELCA World Hunger offers to congregations,  please visit www.elca.org/Resources/ELCA-World-Hunger.
Give
Gifts to ELCA World Hunger are acts of love towards our neighbors living with hunger and poverty both here and around the world. Together, we are creatively and courageously working toward a just world where all are fed.
Connect
Sign up here and receive news, information and the latest resources from ELCA World Hunger.