Light of Grace Lutheran Church's story
If you visit the Saturday-morning farmers market in Federal Way, Wash., you might see Kay (Kyong Yon) Mattingly smiling and dancing with her friends from Dasom Bi-Cultural Cooperation, a ministry of Light of Grace Lutheran Church. The ministry hosts a booth with a variety of Korean goods for sale, but the members also seek to bring joy to those around them – and create it for themselves.
About midway between Seattle and Tacoma, Federal Way has a large population of Korean immigrants, and services to
this community are limited. Given the aging population, demand for housing and rising cost of living, Light of Grace members recognized that members of their fellow immigrant population were struggling with hunger, needed help covering basic expenses and lacked opportunities for being in community.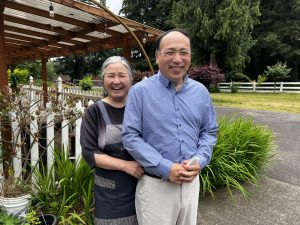 With a grant from ELCA World Hunger, Light of Grace started a new program through Dasom Bi-Cultural Cooperation to provide space and support for fellow Korean-American immigrants three days a week. Tuesday through Thursday, program participants have an opportunity to cook Korean food, eat a healthy meal, create goods to sell or keep, and take advantage of interpretation services, social engagement and emotional support.
In every corner of the church building, you'll find people with various skills – altering clothing, drying herbs for tea, harvesting veggies, making Korean chili paste – executing and sharing their skills with others. They are chatting, laughing and buzzing with joy – building a community of care by generating a livelihood for the whole community.
At the end of the month, they distribute additional earnings from Dasom goods to their neighbors, who use them to help with grocery bills, basic expenses and health care. "This is God's work," explains the Rev. Jenny Kim, co-pastor of Light of Grace with her husband, the Rev. Sang Soo Kim.
"I always had heard that the Lutherans excel at helping churches in need, but after having experienced it firsthand, I'm just really so happy and proud to be a member of this church."

– Kay (Kyong Yon) Mattingly
ELCA World Hunger supports programs for people to get the food they need to eat, and trainings and resources to
build their livelihoods. This is one pillar of our shared work as church to end hunger and poverty around the world, including the United States. Gifts to ELCA World Hunger fund programs focusing on education; health; water and sanitation; agriculture and nutrition; income and savings; peace, justice and human rights; and advocacy and community organizing.
Kay is grateful for the support she receives from ELCA World Hunger. She appreciates not only our financial commitment but how we accompany their community, "turning an attentive ear when the small churches report hardship, and inquiring what we need, whether financially or in terms of people; having meetings with us; not ever discriminating against us because we're Asians; and just being so attentive to our needs. … I'm so thankful for that."
While the solutions vary – from training about village savings and loan groups, to supporting mobile health clinics, to providing backpacks of food for children who don't have enough at home – the goal remains the same: provide for people's immediate needs while working together for more just systems. Bread for today and hope for tomorrow. This vision – both short- and long-term – is especially important this year, as the effects of the war in Ukraine, food shortages and climate crises continue to ripple around the world, preventing so many of our neighbors from making ends meet.