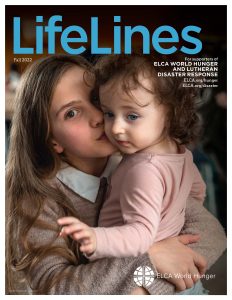 ELCA World Hunger and Lutheran Disaster Response have always been intricately connected, but in recent months global events have reminded us again just how vital the work of God through these shared ministries is for communities around the world.
The depth of the humanitarian and refugee crisis in Ukraine and across Europe will require a yearslong response. Incredible generosity to Lutheran Disaster Response in the wake of the Eastern European crisis and to ELCA World Hunger over the last 18 months has enabled us to temporarily expand our work in impacted regions. Because of our donors, we are better-equipped and better-resourced to support our global neighbors as they face great challenges.
As the world yearns for an end to this terrible conflict and its far-reaching consequences, in this issue of "LifeLines" we lift up stories of hope, of new opportunity and of God at work even amid tragedy and instability. We know that the effects of the war in Ukraine are far-reaching, which makes the relationships our church has with local communities around the world so important.
In this issue, you will read about a project of our companion church, the Evangelical Lutheran Church in The Gambia. The church is working with women such as Anna, a caretaker of a cashew farm in The Gambia, whose story is shared in this issue, to create new opportunities for food security without reliable imports from Ukraine.
You'll also read about Rosita in Guatemala, who at just 11 years old made the difficult journey with her father to try to migrate to the United States. In Tacoma, Wash., rapid gentrification is forcing longtime residents out of their neighborhood, but Peace Lutheran Church is seeking justice by enabling those neighbors to afford to stay or return.
We look back at the work made possible by gifts to Lutheran Disaster Response and the efforts of our companions and partners in the five years since the devastating 2017 hurricane season. And we look ahead to the work that remains in response to civil unrest, famine and drought in the Horn of Africa.
The world faces some incredibly complex challenges in the days ahead, but we know that God stirs up wellsprings of hope that inspire generosity and tireless efforts for peace, justice and a future filled with good things. We thank our donors for being a sign of hope through their support of ELCA World Hunger and Lutheran Disaster Response.