ELCA World Hunger's 40 Days of Giving
Lent 2022
In English and en Espanol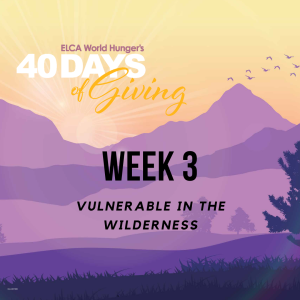 Week 3: Vulnerable in the Wilderness
"O God, you are my God, I seek you, my soul thirsts for you; my flesh faints for you, as in a dry and weary land where there is no water" (Psalm 63:1)
Read
Isaiah 55:1-9
Psalm 63:1-8
I Corinthians 10:1-13
Luke 13:1-9
Reflect
The Gospel reading for the third Sunday of Lent is challenging. Jesus is speaking at a large gathering (of "thousands," we read in Luke 12) and is covering a lot of theological ground. In Chapter 13, a group from the crowd shares with him news of "the Galileans whose blood Pilate had mingled with their sacrifices" (13:1). The event warrants no further description from Luke, but the picture the Gospel writer paints in just a few words is horrific. While performing a religious ceremony, a group of Galilean Jews have been slaughtered by Pilate's soldiers.
We have no record of the event in other sources, but we do know that, tragically, it would not have been out of character for Pilate. Indeed, the end of Pilate's rule in Judea came about from a similar incident, when Pilate ordered his soldiers to massacre a group of Samaritans on Mount Gerizim as they gathered for a religious ceremony.
Perhaps by naming the event to Jesus, the people were trying to trick him, as so many others had tried before. Or perhaps they were feeling him out, seeing if Jesus would say anything rebellious against Pilate or Rome. Either way, Jesus doesn't take the bait. As we see so often in the Gospels, Jesus instead uses the opportunity to challenge what the people think they know about God and themselves.
At the time, the people believed that tragedies such as the massacre of the Galileans or the deadly collapse of "the tower of Siloam" (v. 4) that killed 18 people were not mere accidents; they were, as one biblical scholar writes, "the wages of sin." The violence of tyrants, the human cost of disasters, the ravages of disease — all these were viewed as the intentional consequences meted out by God because the victims had sinned. In short, they believed those who died had gotten what they deserved.
That same theological mentality persists today. A 2017 survey of Americans found Christians to be nearly twice as likely to believe that poverty results from the personal moral failings of individuals.
The biblical witness in Luke paints a different perspective. Jesus pointedly asks the crowd if the Galileans killed by Pilate and the people killed by the falling tower were worse sinners or offenders than others. It's a rhetorical question that Jesus turns to his audience. Of course, they were neither worse sinners nor more egregious offenders. The unjust rule of tyrants is not reserved for the worst of sinners, nor do disasters wait until the most immoral people are at risk.
Thus far in this season of Lent, we have been reflecting on what it means to be in the wilderness, journeying toward the promise God has in store. This encounter between Jesus and the crowd, which began in Luke 12 and continues in Luke 13, is a poignant opportunity to continue this reflection.
Jesus' rhetorical questions about violence and disaster challenge us to consider our own vulnerability and responsibility as we make our way in the world.
Jesus' question reminds the crowd that tragedy and trauma don't wait for morally upright people to get out of harm's way; we are all vulnerable as we traverse a wilderness fraught with injustice, violence, hunger and poverty. The superiority we may feel over others is neither true nor significant. In Luke,
Jesus reminds us that we've all sinned and fallen short of the glory of God. And, importantly, neither Pilate nor the tower of Siloam waited to make sure the most unworthy were at risk before dealing death to the crowd.
We might say the same about hunger and poverty today: no amount of hard work can ultimately overcome an unjust system. As research has shown, even the most qualified candidates for jobs can find themselves locked out by systems rooted in prejudice. Neither moral purity nor a clean conscience can undo the damaging impact of housing discrimination that leaves some communities more vulnerable to flooding or storms than others. Hunger is not the result of personal moral failings but a risk we all
take in a world still yearning for God to fulfill the promise that all will be fed.
Yet research shows clear patterns in the distribution of hunger and poverty in the United States and around the world. The reality is that not all of us are equally vulnerable to hunger or poverty, nor are we vulnerable in the same ways. Employment discrimination makes securing jobs harder for candidates of color, even if they are more qualified than candidates who are white. Gender discrimination makes controlling land and securing loans to start a business harder for women. Public funding is often diverted to communities that are already financially secure and away from communities that are at risk. Each of these inequities deepens a person's vulnerability, shifting hunger from an incidental situation to an entrenched reality.
As we reflect on our vulnerability in the wilderness, Jesus' message in the Gospel reading drives us to reflect on our own responsibility, calling us to examine what "fruit," if any, we are producing. Is the work we do in the world reducing our shared vulnerability or increasing it? How are our laws, policies and practices making the "wilderness" a less dangerous place for ourselves and our neighbors?
The teachings Jesus offers in Luke 12 and 13 are grounded in themes of anticipation and watchfulness. The practices of repentance and reconciliation he encourages (see Luke 12:13-15 and 57-58) are part of the identity of a people looking to the coming reign of God, preparing for a world that is no longer a wilderness but a full expression of God's promise.
As the church, we are called to anticipate this promised future. In our confession, we confront the distance between where and who we are now and where and who we are called to be. In our commission, we bear witness to what we know by faith: that the death-dealing realities of a violent Pilate, crashing towers and hunger-causing injustices ought not to be. These realities are no more part of God's plan for us now than they are part of God's plan for our future.
As we journey together in the wilderness this Lent, Jesus' words remind us of what it means to be vulnerable, to be responsible and to bear witness to the future we know God has in store.
Ask
What situations or circumstances have left you or your community feeling vulnerable? How does faith in God help you navigate times when you feel powerless or at risk?
Consider some of the observations about hunger and poverty in the study session for this week. What are some of the factors that make us and our neighbors vulnerable to hunger and poverty?
In this week's readings, what is Jesus saying about what it means to be the people of God?\ As Lutherans, we believe we are saved by grace despite our own sin.
How does the truth of grace change how we relate to our neighbors, especially our neighbors facing hunger or poverty?
Pray
Loving God, you sent your Son to save us when we could not save ourselves. Yet we still strive to save ourselves. Forgive us for the ways we have divided your world of grace according to our own false ideas of worth. Remind us of the gracious love that creates, saves and sustains us. Move us to be witnesses of your grace in the world and to seek new ways of sharing that with our neighbors. In your loving name we pray, amen.
SEMANA 3: Vulnerables en el desierto
"Oh Dios, tú eres mi Dios; yo te busco intensamente. Mi alma tiene sed de ti; todo mi ser te anhela, cual tierra seca, extenuada y sedienta" (Salmo 63:1).
Lecturas: Isaías 55:1-9; Salmo 63:1-8; 1 Corintios 10:1-13; Lucas 13:1-9
La lectura del Evangelio para el tercer domingo de Cuaresma es un desafío. Jesús está hablando en una gran reunión (de "miles", como leemos en Lucas 12) y está abarcando mucho terreno teológico. En el capítulo 13, un grupo de la multitud comparte con él noticias de "cómo Pilato había dado muerte a unos galileos cuando ellos ofrecían sus sacrificios" (13:1). El acontecimiento no merece que Lucas lo describa con más detalle, pero la imagen que el escritor del Evangelio pinta en solo unas pocas palabras es horrible. Mientras realizaban una ceremonia religiosa, un grupo de judíos galileos habían sido masacrados por los soldados de Pilato.
No tenemos registro de este suceso en otras fuentes, pero sí sabemos que, trágicamente, no habría sido extraño al carácter de Pilato. De hecho, el fin del gobierno de Pilato en Judea se produjo a partir de un incidente similar, cuando Pilato ordenó a sus soldados que masacraran a un grupo de samaritanos en el Monte Gerizim mientras se reunían para una ceremonia religiosa.
Tal vez la gente le mencionó a Jesús el acontecimiento para tratar de engañarlo, como muchos otros lo habían intentado antes. O tal vez estaban tratando de averiguar lo que Jesús pensaba, a ver si decía algo rebelde contra Pilato o Roma. De cualquier manera, Jesús no muerde el anzuelo. Como vemos tan a menudo en los Evangelios, Jesús en cambio usa la oportunidad para desafiar lo que la gente cree que sabe acerca de Dios y de sí mismos.
En aquel tiempo, la gente creía que tragedias como la masacre de los galileos o el colapso mortal de "la torre de Siloé" (v. 4) que mató a 18 personas no habían sido meros accidentes; eran, como escribe un erudito bíblico, "la paga del pecado". La violencia de los tiranos, el costo humano de los desastres, los estragos de las enfermedades —todo esto era visto como las consecuencias intencionales impuestas por Dios porque las víctimas habían pecado. En pocas palabras, ellos creían que los que morían habían recibido lo que merecían.
Esa misma mentalidad teológica persiste hoy. Una encuesta de estadounidenses de 2017 encontró que los cristianos tienen casi el doble de probabilidades de creer que la pobreza es el resultado de las fallas morales personales de los individuos.
El testimonio bíblico en Lucas pinta una perspectiva diferente. Jesús pregunta deliberadamente a la multitud si los galileos asesinados por Pilato y las personas que murieron por el colapso de la torre eran peores pecadores u ofensores que otra gente. Es una pregunta retórica que Jesús dirige a su audiencia. Por supuesto, no eran ni peores pecadores ni ofensores más atroces. El gobierno injusto de los tiranos no está reservado para los peores pecadores, ni los desastres esperan hasta que las personas más inmorales estén en riesgo.
Hasta ahora, en esta temporada de Cuaresma, hemos estado reflexionando sobre lo que significa estar en el desierto, caminando hacia la promesa que Dios tiene reservada. Este encuentro entre Jesús y la multitud, que comenzó en Lucas 12 y continúa en Lucas 13, es una oportunidad conmovedora para continuar esta reflexión. Las preguntas retóricas de Jesús sobre la violencia y el desastre nos desafían a considerar nuestra propia vulnerabilidad y responsabilidad a medida que nos abrimos camino en el mundo.
La pregunta de Jesús le recuerda a la multitud que la tragedia y el trauma no esperan a que las personas moralmente rectas salgan del peligro; todos somos vulnerables mientras atravesamos un desierto plagado de injusticia, violencia, hambre y pobreza. La superioridad que podemos sentir sobre los demás no es ni verdadera ni significativa. En Lucas, Jesús nos recuerda que todos hemos pecado y hemos sido privados de la gloria de Dios. Y, lo que es más importante, ni Pilato ni la torre de Siloé esperaron para asegurarse de que los más indignos estuvieran en riesgo antes de matar a la multitud.
Podríamos decir lo mismo sobre el hambre y la pobreza hoy: ninguna cantidad de trabajo duro puede superar en última instancia un sistema injusto. Como han demostrado los estudios, incluso los candidatos más calificados para puestos de trabajo pueden verse bloqueados por sistemas arraigados en prejuicios. Ni la pureza moral ni una conciencia limpia pueden deshacer el impacto dañino de la discriminación en la vivienda que deja a algunas comunidades más vulnerables a las inundaciones o tormentas que otras. El hambre no es el resultado de fallas morales personales, sino un riesgo que todos corremos en un mundo que todavía anhela que Dios cumpla la promesa de que todos serán alimentados.
Sin embargo, los estudios muestran patrones claros en la distribución del hambre y la pobreza en los Estados Unidos y en todo el mundo. La realidad es que no todos somos igualmente vulnerables al hambre o la pobreza, ni somos vulnerables de la misma manera. La discriminación en el empleo hace que asegurar empleos sea más difícil para los candidatos de color, incluso si están más calificados que los candidatos que son blancos. La discriminación de género hace que controlar la tierra y obtener préstamos para iniciar un negocio sea más difícil para las mujeres. A menudo el financiamiento público es desviado hacia comunidades que ya son financieramente seguras y lejos de las comunidades que están en riesgo. Cada una de estas inequidades aumenta la vulnerabilidad de una persona, y el hambre cambia de una situación incidental a una realidad arraigada.
Mientras reflexionamos en nuestra vulnerabilidad en el desierto, el mensaje de Jesús en la lectura del Evangelio nos impulsa a reflexionar en nuestra propia responsabilidad, llamándonos a examinar qué "fruto", si es que hay alguno, estamos produciendo. ¿Está el trabajo que hacemos en el mundo reduciendo nuestra vulnerabilidad compartida o aumentándola? ¿Cómo están nuestras leyes, políticas y prácticas haciendo del "desierto" un lugar menos peligroso para nosotros y nuestro prójimo?
Las enseñanzas que Jesús ofrece en Lucas 12 y 13 se basan en temas de anticipación y vigilancia. Las prácticas de arrepentimiento y reconciliación que él promueve (ver Lucas 12:13-15 y 57-58) son parte de la identidad de un pueblo que mira hacia el reino venidero de Dios, preparándose para un mundo que ya no es un desierto, sino una expresión plena de la promesa de Dios.
Como iglesia estamos llamados a anticipar este futuro prometido. En nuestra confesión nos enfrentamos a la distancia que hay entre dónde estamos y quiénes somos ahora, y dónde estamos llamados a estar y quiénes estamos llamados a ser. En nuestra comisión damos testimonio de lo que sabemos por fe: que las realidades mortíferas de un Pilato violento, torres que se caen e injusticias que causan hambre no deben existir. Estas realidades no son más parte del plan de Dios para nosotros ahora de lo que son parte de su plan para nuestro futuro.
Mientras caminamos juntos en el desierto esta Cuaresma, las palabras de Jesús nos recuerdan lo que significa ser vulnerables, ser responsables y dar testimonio del futuro que sabemos que Dios tiene reservado.
Preguntas para la reflexión
¿Qué situaciones o circunstancias han dejado a su comunidad sintiéndose vulnerable? ¿Cómo le ayuda la fe en Dios a navegar los momentos en que se siente impotente o en riesgo?
Considere algunas de las observaciones acerca del hambre y la pobreza de la sesión de estudio de esta semana. ¿Cuáles son algunos de los factores que hacen que nuestro prójimo y nosotros nos volvamos vulnerables al hambre y la pobreza?
En las lecturas de esta semana, ¿qué dice Jesús sobre lo que significa ser el pueblo de Dios?
Como luteranos creemos que somos salvados por gracia a pesar de nuestro propio pecado. ¿Cómo la verdad de la gracia cambia la forma en que nos relacionamos con nuestros vecinos, especialmente los que enfrentan el hambre y la pobreza?
Oración
Amoroso Dios, enviaste a tu Hijo para salvarnos cuando no podíamos salvarnos a nosotros mismos. Sin embargo, todavía luchamos por salvarnos a nosotros mismos. Perdónanos por las maneras en que hemos dividido tu mundo de gracia según nuestras propias falsas ideas de mérito o valor. Recuérdanos el amor misericordioso que nos crea, salva y sustenta. Muévenos a ser testigos de tu gracia en el mundo y a buscar nuevas formas de compartirla con nuestro prójimo. Oramos en tu amoroso nombre, amén.