Often on days like this, I am moved in remembrance of stories. Perhaps this day invokes memories of women whom you have loved and who have loved us. Perhaps you remember the fierce women from the sacred texts — my personal favorite: the Daughters of Zelophehad (Numbers 27). Maybe you reflect on women who have led their communities and world and need no introduction, from girls like Malala Yousafzai to women like Nobel Peace Prize Laureate and ELCA International Leaders scholar Leymah Gbowee to those who names have been hidden like Mary Jackson, Katherine Johnson and Dorothy Vaughan, most recently illuminated in the major film "Hidden Figures."
The global agenda for women is driven by a seminal meeting of the United Nations "Fourth World Conference on Women" in 1995 in Beijing. It was at this meeting that Former Secretary of State – and then-First Lady – Hillary Clinton brought to prominence the phrase "Women's rights are human rights; and human rights are women's rights."
Each year, the United Nations Economic and Social Council (ECOSOC) convenes the "Commission on the Status of Women" (CSW), the principal global intergovernmental body exclusively dedicated to the promotion of gender equality and the empowerment of women. This year marks the 61st year since the United Nations First World Conference on Women (Mexico City), and the theme for CSW this year is "Women's Economic Empowerment in the Changing World of Work," a critical theme for those of us dedicated to a just world where all are fed.
Take this quick quiz to see how much you know about women in the global economy!
ELCA World Hunger is a founding member of the ELCA Young Adult Cohort, a group of young adults engaging at the intersection between faith + justice. One of the signature leadership experiences of this Cohort is at the UN CSW, and beginning next week, this group will again join hands, stories and voices together to learn, convene and strive toward a just world where are all are fed and all might flourish. You can follow along with the larger movement through Ecumenical Women online and on social media by following @ELCAWorld Hunger (Twitter and Instagram) and on Twitter, Instagram and Facebook, with the #ELCAYACohort hashtag.
ELCA Global Church Sponsorship and ELCA Global Mission leaders often also join the Lutheran delegation at UN CSW and have produced some great materials for ELCA congregations and friends to use on this day. This International Women's Day booklet is a great place to start, full to the brim of excellent ideas to learn, share and support this ministry.
But perhaps my favorite parts are the smiling faces that greet us on the front cover and throughout the materials. These are the women whose stories we know and can journey alongside as they build stronger communities and a more just world.
I could write about many of them by name and you can learn more about the ELCA International Leaders program and meet some of them in this video. But today, I leave you with an example of how our work together as a church is interconnected, or as Presiding Bishop Elizabeth Eaton says, "We are church together!"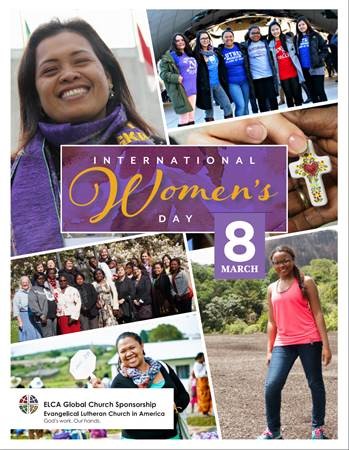 On the top left corner of this booklet cover is a woman named Julinda. Julinda is the executive director of the Women's Crisis Center, a ministry of the GKPS church in North Sumatra, Indonesia. I have written more about her ELCA World Hunger supported work and ministry here. Julinda has advocated at the UN CSW (pictured below), is also an international women leader and has participated in one of the signature leadership events, a series of seminars hosted in Wittenberg Germany, birthplace of the Reformation, for women from the Global South to come together for conversation and ongoing reformation.
In this 500th anniversary year of the Reformation, let us:
From stories of Leymah and Julinda to those who will advocate and educate at next week's UN CSW, we are church together. Join us. (Have a "her-story" to share? Check out Lutheran World Federation's "Women on the Move" her-stories project.)
Mikka McCracken is the Director of Planning and Engagement for ELCA World Hunger.