As many of you may already know, Rev. George Johnson, one of the foundational leaders of ELCA World Hunger has died. For seven years (1980-1987) George served as Director of the World Hunger Program for the former American Lutheran Church (now ELCA). Pr. Johnson rooted the then American Lutheran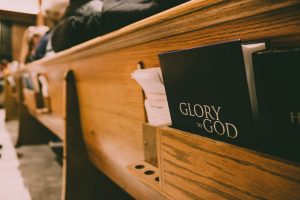 Church's Hunger program, which would grow into ELCA World Hunger, on a foundation of justice. The ELCA World Hunger staff give thanks to God for his life and his service to the church.
George taught that a sustained life-long commitment to justice must start with one's worship life. While this may not sound radical at first read, it was a bold statement in his time and is worth taking the time to explore what it means for life in 2020. It can be easy to relegate the work we do towards a just world where all are fed to something that is done outside of Sunday service. It is easy to look at our soup kitchens, meal packing programs, community gardens, job training programs, advocacy work, and more as standalone ministries, not as the central work of the church that flows from the shared songs and prayers of Sunday worship.
For George, creating a just world where all are fed started not with the chopping of vegetables for a soup supper or picking up the phone to call your congressperson, it stated with the songs, teaching, and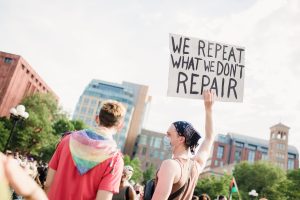 prayers shared in worship. George's work and life serve as a reminder of what it means to live into that Sunday promise of justice and carry it out into the world.
So, it is fitting that George's final work from his very long and prolific life explores various theological understandings of justice that people can use to ground their personal and communal lives of worship in the justice that Christ preached. To celebrate Pr. Johnson's life and service to ELCA World Hunger, here is an excerpt from the preface to his final book, No Time for Silence:
I HAVE ALZHEIMER'S DISEASE. Nothing to brag about, nothing to be ashamed about, and I see no reason to be silent about it. My brain served me well for eighty-five years, but now it has more and more difficulty remembering things.  I decided not to spend the remaining days of my life dwelling on what I have lost. Instead, I want to give people resources that will help them think and act critically in an age of confusion and conflicting voices. While I come from a Christian background, the points in this book pertain to people of all faiths, cultures, races, and genders.  The main premises of Silence Is Not the Answer are for all people to read and act on. I have read widely these past years about theology, politics, and suffering and its root causes. I cannot recall all that I have learned, but I can refer you to authors and spiritual leaders who I believe will challenge your preconceptions and give you hope for the future. One of my favorite authors and theologians at this stage in my life is Marcus J. Borg. His book Jesus: Uncovering the Life, Teachings, and Relevance of a Religious Revolutionary is a masterful portrayal of the historical Jesus and emerging Christianity. He explores the way Jesus resisted the domination system of the Roman empire power of his day. For Borg, both the personal and the political dimensions of Jesus's message are important for understanding the revolutionary aspects of his life and teaching. I highly recommend Borg's book if you want to understand who Jesus is for Christians today.

Another theologian I find inspiring is Leonardo Boff, a Roman Catholic priest from Brazil whose speaking out about the suffering of the poor and the death of millions in Latin America made head-line news. Despite attempts by the church to silence Boff because his speech was offensive to the establishment, his message made a difference. Boff's book When Theology Listens to the Poor is a call for the modern church to create a better option for the poor. He points out how Mark 26:11, "The poor you will always have with you," is used to support the status quo and creates an attitude of fatalism, pessimism, and cynicism that destroys any hope that things could be different.  However, Boff argues that the true meaning of this verse is that the opportunity to help is always there. Boff reminds us that when Jesus offered a better option for the poor, he was making it clear that God acts to free people from the bondage of poverty and oppression. It is the prophetic task of the church to do the same. Some people may say, "I don't remember George espousing such progressive positions in his previous writings. Has he changed his mind?" In the past, I sometimes felt that I didn't have enough information about an issue, that others had good points too, that I  should wait to see what happened and that my voice wouldn't make a  difference.  But these excuses allowed bad choices to be made that cause suffering for our brothers and sisters.  As Brian McLaren says in his book The Great Spiritual Migration, we are all in the process of development. Sometimes new wine needs new wineskins, as Larry Rasmussen says. I have a certain perspective. My education and life experience have shaped my thinking and analyses. Others will see things differently. I respect that. But as Holocaust survivor Elie Wiesel says, "What hurts the victim most is not the cruelty of the oppressor but the silence of the bystander."

We need to read and listen attentively and then speak out for causes that we think are important. John the Baptist is described in the Gospels as "the voice of one crying out in the wilderness." He calls us to "repent," wake up and change.  Silence Is Not the Answer is a collection of prophetic voices urging us to wake up, notice what is happening, and take a stand. Our world today is filled with fear, conflict, war, and confusion. I encourage you to read the writers in this book with an open mind and think about their urgent cry. Some points will be made more than once.  Some truths are worth repeating. When I say to my wife, "I love you," I am glad that Vivian does not say, "George, you already told me that. "When I began putting this book together, my wife said, "With your diminished hearing and eyesight and your memory problems, are you able to tackle another book?" Maybe not, but some things need to be said as we move toward the 2020 elections and beyond. So, with the help of Vivian and a professional editor, I collected some pieces written by myself and others to let our voices be heard and break the silence. If we remain silent, then our leaders and fellow citizens will not wake up and change course.  We must speak up and act now before our society is beyond saving