​
Imagine.
You are smart and charming. You're motivated to succeed. You've moved across the world, left behind your friends and family, and embraced a very different culture to start a new life, hopefully a better life, in America.
But your first year here was really tough. You lived in a homeless shelter because you couldn't find a job or an affordable place to live. Because you are a new immigrant, you are ineligible for most forms of public assistance. Even though you're a college graduate, it doesn't matter in America because you weren't educated here. Plus, it's almost impossible to get a call back for a job interview, because no one knows how to pronounce your name, and rather than call you, employers simply move on to the next candidate.
Imagine you are Baryogar (pronounced buy-yo-gar), who came to the United States as a refugee from Liberia. In Liberia, Baryogar had jobs in human resources and bookkeeping. But when he arrived in America, Baryogar couldn't find any job.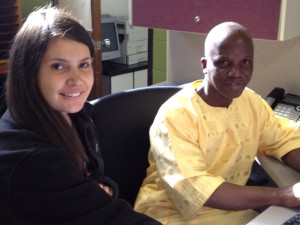 "When I came here, I didn't have any idea of American culture. In Africa, it is a sign of disrespect to look in someone's face. I had to learn in America, it is the opposite. Without Daily Work's help, I would not have learned those things and I would not have gotten a job," Baryogar said.
Founded as a Lutheran ministry in 2000 by a collaboration of ELCA pastors in St. Paul, Minnesota, Daily Work's mission is to assist job seekers by helping them prepare for, find and maintain work that enables them to support themselves and their families. We operate from two ELCA churches in the Twin Cities: Christ on Capitol Hill in St. Paul and Christ the King in New Brighton.
Baryogar is one of more than 750 people affected by joblessness and poverty who have come through Daily Work's doors to get the personalized help they need to transform their lives and become contributing members of the workforce. Today, more than 60 percent of the people Daily Wo​rk serves are immigrants, most of who are from the African countries of Ethiopia, Eritrea, and Liberia.
Baryogar continues to work as a nursing assistant in the same job Daily Work helped him find in 2007. His transition to America, while challenging, also came with some advantages. For example, English is the official language in Liberia, which meant that Baryogar had significantly better English skills than many other new immigrants. Baryogar was also a refugee, which enabled him to receive some refugee support and public assistance for up to eight months following his arrival in America. (However, most immigrants to Minnesota are not eligible for these types of supports. To learn more, read hereabout how medical assistance has been cut in Minnesota.)
Typically, the immigrants Daily Work serves come to the U.S. by "winning" a diversity visa. The Diversity Immigrant Visa program is a congressionally mandated lottery program that annually makes available 55,000 permanent resident visas to natives of countries deemed to have low rates of immigration to the United States.
According to Abera, another Daily Work job seeker and visa lottery winner, it was shocking to find out how hard it is to get a job in America and provide for his family here…and in Africa. Many immigrant families expect the family member now in America to send money home to Africa to help support them.
"I came here because I heard America is the land of opportunity. Everybody wishes to come to America. Life is very hard in Africa, the income from jobs in Africa is not enough to make a life and the politics are very unstable. In order to afford to come here, my family sold their family home to pay for all the expenses for me and my wife to move here.  It was a big sacrifice for them because now my mother must live in a public house," Abera said.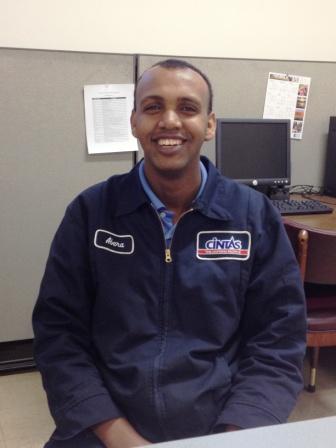 Abera first came to Daily Work in mid-2012, about 18 months after moving to America. In that time, he had worked four different, temporary jobs that kept ending in lay-off. In the fall of 2012, Abera again came to Daily Work after being laid-off from another temp job. In addition to helping him put together a better resume and cover letter, his Daily Work counselor suggested that he take a 10-week job training course through another local nonprofit organization.
"Abera needed something new on his resume that demonstrated his work ethic and drive to succeed," said Julie Hoff, Daily Work Executive Director. "We felt that taking this course would give him a bigger network, fresh information on his resume, and of course, some new skills to showcase to employers," Hoff said.
The strategy worked! Today, Abera has a year of steady work history. He currently works two full-time jobs, one as a security officer and the other as a customer service provider at an airport. While he knows he still has a long way to go to achieve his goal to be a small business owner, Abera feels good about the progress he has made in the past year.
"This is all possible for me because of help from Daily work.  Now this day is brighter for me because I can help myself and my family. Having a good work means to me that I have more options to develop my career and take care of my family, both here and in Africa," he said, smiling.
These are just two examples of the immense challenges new, legal immigrants face when moving to the U.S. While most of the focus on immigration today is about border issues and undocumented immigrants, there are many barriers and issues that new, legal residents of the United States face, including lack of financial support following arrival, difficult immigration laws that keep families apart, and unfair employment practices that both discriminate against and take advantage of immigrants who will do anything to survive.
On top of that, new immigrants face tremendous challenges just to learn English and drive a car, obtain new education and job skills that American employers value, and simply understand and adapt to American culture. As native-born Americans, we have had 20 years or more to gain the key assets needed to obtain living wage work: English language skills, cultural competence, formal education, and driving skills. Imagine if you had to learn all these things in a matter of weeks or months and support your family at the same time.
Daily Work was founded by ELCA pastors who believe that we are called to serve others and to share our personal gifts in meaningful ways. The ELCA, its congregations, and people like you play an important role in helping new immigrants by starting and supporting programs in your communities like Daily Work; but you can also make a difference by speaking out as voices for reform. Please consider what you can do to make life better for someone new to America. To learn more about immigration reform and the challenges facing immigrants, check out the resources below.
Challenges Facing New Immigrants and Refugees
Reform Immigration for America
Fair Immigration Reform Movement
Campaign for Community Change​
Julie Hoff is the Executive Director of Daily Work in St. Paul, Minnesota. Daily Work is a nonprofit organization supported, in part, by a Hunger Education grant from ELCA World Hunger.