Today's post is from Megan Neubauer, Program Associate for the ELCA Strategy on HIV and AIDS. This post originally appeared on the ELCA Worship blog.

Spirit of the living God, you breathe on all that is. You lead us from the places of pain and difficulty to your cool living waters of health and wholeness. Through you every tear is wiped away and we are transformed by your wellsprings of life.

-Litany from ELCA worship resources for World AIDS Day
December 1st is quickly approaching. Each year, this is a day set aside to commemorate World AIDS Day; a day of remembrance, awareness, and commitment to action.
In 2009, the ELCA Churchwide Assembly passed the ELCA's Strategy on HIV and AIDS, outlining where the ELCA is being called in the response: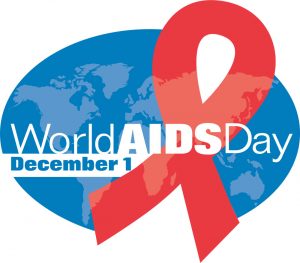 Called to biblical and theological reflection in community
Called to effective prevention, treatment, and care
Called to eradicate stigma and discrimination
Called to walk with companion churches and partners in other countries
Called to advocate for justice
Called to build institutional capacity and make strategic choices
The ELCA and each of its members have the opportunity to speak out powerfully against all forms of stigma, discrimination and systemic inequality. Together, we can be affirming communities and engage in open conversations. Collectively, we can raise our voices in advocating for just policies. And as a community of faith, we can begin in worship and prayer.
Coming together on Dec. 1st, or at our usual worship times on Sunday, Dec. 3rd, we join our neighbors around the world as we honor all who have lost their lives to AIDS-related illnesses; we seek encouragement to take bold action; we rejoice in scientific advances in effective prevention, treatment and care; and we are sent out in peace, freed to act.
As we gather this World AIDS Day, remember that on this and every day, we are called to respond.
You can find ELCA Worship resources here. The full ELCA Strategy on HIV and AIDS, along with other resources for World AIDS Day can be found here. You can also stay connected with the ELCA's Strategy on HIV and AIDS on social media @ELCAHIVandAIDS, and can share what your congregation is planning for World AIDS Day 2017.
We thank you that by the life-giving power of your spirit you bestowed upon us, your people, such gifts as are needed to respond to the situation at hand. Pour on us all that we need to stop AIDS and reach out to everyone affected with compassion, healing and hope.

May we know your call to be leaders in this struggle and employ the courage, wisdom and resources you have given to respond to HIV and AIDS.