Gina Tonn
​​Gina Tonn
September 17, 2014
Greetings, ELCA World Hunger blog readers! My name is Gina Tonn, and I am happy to introduce myself as the newest member of the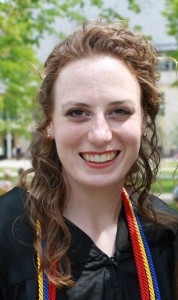 dynamic ELCA World Hunger team in Chicago! I will be serving as a Program Assistant for the next year through a placement with the Lutheran Volunteer Corps (LVC). I am honored to be the first LVC member to work with ELCA World Hunger and am excited about all the year has in store. I will be working with Education and Constituent Engagement.
In addition to my work with ELCA World Hunger, my year with LVC will consist of living in intentional community with four other corps members, learning about and working for peace with justice, and striving to live simply and sustainably. I anticipate embracing all the challenges and learning opportunities I will face this year.
I come to Chicago from Brooklyn Park, MN – a suburb of Minneapolis – where I have lived my whole life, with the exception of residing in Northfield, MN, for the last four years while attending St. Olaf College. I graduated from St. Olaf in May 2014 with majors in economics and religion. I sang with The St. Olaf Cantorei and participated in a variety of extracurricular activities, including working with the Student Activities Committee and the Office of Alumni and Parent Relations.
My commitment to social justice became more than an underlying inclination during the summer of 2013 when I interned at the University of St. Thomas Interprofessional Center's Legal Services Clinic with the Immigration Law Practice Group. During my internship, I developed a deeper appreciation for how important it is to fight for justice by listening to other people's stories and working in partnership to improve quality of life. My experience there is a large part of what drew me to a year of service with the Lutheran Volunteer Corps after graduation. I'm grateful to be with ELCA World Hunger because of the holistic nature and integrity of the work this organization does in relationships with companion synods and local partners. Furthermore, I believe in our baptismal vocation to love and serve our neighbors. I am energized by the opportunity to live into that vocation even more fully this year – in the workplace and in my intentional community.
Some fun facts about me:
While at St. Olaf I was a costume sewing assistant for our international dance troupe – I know my way around a sequin!
I've been a summer soccer referee for ten years.
My hobbies include running, photography, and singing hymns in four-part harmony.
I love to read. I especially enjoy popular non-fiction, like the work of Malcolm Gladwell or a good memoir.
One of my favorite foods is coleslaw. While on a road trip with some friends this past year I ordered coleslaw in just about every city we visited, so I like to think myself a bit of an aficionado!
Gina Tonn is a Program Assistant with ELCA World Hunger. This is her first post to the ELCA World Hunger blog and she looks forward to sharing many more stories with the ELCA World Hunger community over the next year.