This advent reflection is part of ELCA World Hunger's 2020 Advent Study. You can download the full study here. You can also download the corresponding advent calendar here. 
Advent Week One
"Keep Awake"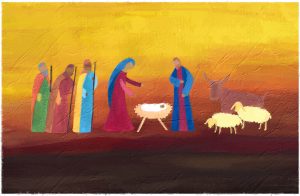 Read
Isaiah 64:1-9
Psalm 80:1-7, 17-19
I Corinthians 1:3-9
Mark 13:24-37
Study
This year has felt like an awful lot of waiting already, and now here we are at the start of Advent, a season of … waiting. Many greeted the new year with expectant hope. Early reports signaled a strong harvest year for farmers. Economic news in the United States seemed to be largely positive, though critical issues of poverty and inequality remained present. The year, for many, looked promising.
But how quickly things change. By mid-March, COVID-19 was declared a pandemic, and economies started grinding to a virtual halt. Of course, the risk wasn't the same for everyone, as we knew from the start. The lives of older adults and people with compromised immune systems or underlying health conditions were at significant risk. Small-business owners, service industry workers and farmworkers faced increasingly dire consequences for their livelihoods. In the United States, communities of color saw rates of infection, hospitalization and death that were many times higher than those of white communities. As the disease spread around the world, the uneven risk was brought into sharper relief — between wealthy countries and countries with fewer economic resources and lower access to high-quality, affordable health care. The inequities within countries, including the United States, was also brought into sharper relief.
Perhaps never before has so much of the world been glued to statistical data, watching every release of new case counts, changes in positivity rates, and testing capacity. We waited together for stores to reopen, for furloughs to end and for the chance to visit loved ones. As church, we waited for the chance to dine together at the table of communion, even as the Spirit refused to postpone inspiring the people of God to worship in new, creative ways.
Together, we felt the inertia and anxiety of waiting for good news about progress on vaccines or positivity rates. On the other hand, some commenters encouraged others to view the pandemic and its accompanying shutdowns as a welcome "pause," a slowdown of the hurried pace of daily life. And perhaps, for some of us, the pause has been an opportunity to take a break and reflect on which demands on our time and attention are truly valuable.
But something is missing in this picture of the pandemic as a restorative period of reflective waiting. So many of us this year, and every year, do not have the privilege of uninterrupted self-reflection. The service industry workers and gig workers who immediately lost their jobs, or whose continued employment meant entering a scary field of person-to-person encounters, did not have the privilege of merely "waiting it out" in hope that the pandemic would ease. The millions of people in the United States and around the world who face severe food insecurity could not merely wait for sustenance or stability.
In a letter earlier this year, Presiding Bishop Elizabeth Eaton wrote of the converging of two deadly viruses — COVID-19 and the ongoing virus of racism that continues to infect our communities and institutions. The distress named by Bishop Eaton in her letter is a more visceral and accurate description of what so many of us felt this year. The cries of people raised in supplication during the pandemic and lifted in protest are the cries of those who can no longer wait.
This Advent season opens with a story of another people sick of waiting. The Gospel of Mark, most likely, was written to the community of early Christians living under the shadow of empire in first-century Rome. This early community faced persecution and violence. They were no strangers to suffering.
Amid this suffering, Jesus, using what is often a general reference to humanity in Hebrew, promises them a future in which the "Son of Man" will come "with great power and glory" (13:26) to set all things right.
In the meantime, he tells them, "Keep awake" (13:37). To "keep awake" is to grasp the kind of hope that inspires and to renounce the kind of hope that incapacitates. It is to feed on the hope that propels and to starve the hope that paralyzes. It is the gospel hope that tells us not to "wait and see" but to "come and see."
Em Musa, a grandmother in Ramallah, Palestine, knows that "just waiting" is a luxury she and her community cannot afford. Married at 20, mother to four children, Em Musa had more than enough responsibilities to occupy her time. But she also knew that her community in Palestine could not wait for progress. So, she chose to work toward justice for her people by becoming active in the Palestinian resistance movement. To this day, she bears the scars of this decision. In her time as an activist, she was wounded on her forehead, shot in her left thigh and imprisoned for almost a year and a half. Her husband passed away after her release, when their youngest child was just two-and-a-half years old.
Today, Em Musa participates in a Meals on Wheels project in Ramallah that is supported, in part, by ELCA World Hunger. The aim of the program is to help people isolated by health, age or circumstance experience a sense of community in addition to the food provided. The weekly gatherings help participants build connections with one another and with volunteers and staff, while home delivery of food meets the needs of people unable to come to the Arab Women's Union due to health or limited mobility. A physician is available once a week, and the Meals on Wheels program helps distribute some of the medication needed by participants such as Em Musa.
Em Musa's thirst for justice led her to costly activism, and now her hunger, for both food and community, has led her to the Meals on Wheels program. The ministries and programs supported by ELCA World Hunger are driven forward not merely by a deep awareness of the need in our communities but also by an even deeper awareness that, amid struggles for justice and wholeness, God will "strengthen [us] to the end" (I Cor. 1:8) — and what an end it will be!
As we enter this season of Advent, may we do so knowing that to hope in God is not to wait but to "keep awake," not to lose hope when faced with challenges but to confront them together. To hope is to know that the coming of Christ happens amid daily life and all its struggles. It is amid those things where relationships are birthed and renewed and where God is, even now, at work.
Ask
Where have you found hope in the past year?
How can or has hope for the future motivated you to work for justice in the present?
What is your hope for the future? How is God calling you to make this hope a reality?
How is the church called to "keep awake" amid the suffering and injustices uncovered by the pandemic and all that has happened this year?
What can we do to make sure that our Advent discipline of "staying awake" does not become passive waiting?
Pray
Gracious God, you sustain your people through seasons of change and challenge. Breathe into us your Spirit, drive us from our waiting places and into the world to be part of the promise you proclaim. Inspire us with hope and courage to confront our needs — for justice, for health, for liberation, for one another and for you — and restore our relationships with one another and with all of creation. In the name of your son, Jesus Christ. Amen.