It is easy to think of malaria prevention as simply providing mosquito nets for prevention and medicine to those who have fallen ill. I have to confess, I've lived in Africa and had malaria on three different occasions, and frankly, my thinking about how to effectively combat the parasite is still so often stuck in this familiar pattern.
And then I visited Burure, Zimbabwe.
Burure is located in the Gokwe Region of Zimbabwe, bordered by rivers which are notoriously difficult to cross during the rainy season. It is an area that has been plagued by outbreaks of malaria in the past. It is, without question, one of the most remote areas served by the Evangelical Lutheran Church in Zimbabwe (ELCZ).
During my visit, I had the opportunity to visit the ELCA World Hunger-supported and ELCZ-operated Burure Primary and Secondary Schools and the Burure Gokwe Clinic – institutions which provide the opportunity for education and health care to a catchment area of approximately 10,000 people. I also had the privilege of meeting with Jairos Charedzera, a Village Health Worker supported by the ELCA Malaria Campaign.  With a contagiously enthusiastic and upbeat demeanor (even in the hottest part of the day), Jairos explained to me how he teaches malaria prevention and control in Burure and the surrounding villages and acts as a "trainer of trainers" for income-generating savings groups in each of these villages. Before introducing me to the savings groups, Jairos began his presentation with this simple yet profound truth:
"Health and income that reduces poverty must never be separated. When a household's income rises, so does the likelihood of good health."
Each of the village savings and loan groups greeted us with their own unique song and dance before telling us how their group works and displaying the fruits of their labor. In each of the groups, the members (all women) contribute a certain amount of money each month. That money is pooled together to invest in income-generating activities. The profits of these activities are then used to provide things like goats, hens, pots, pans, mosquito nets or other necessities for each member of the group and their households.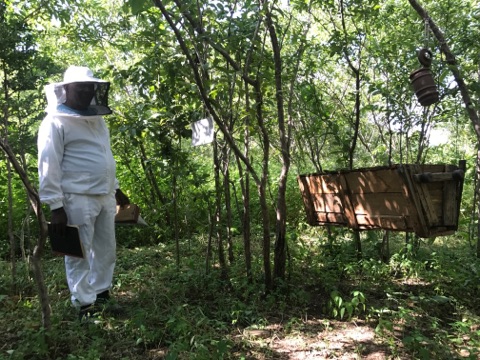 The group in this photo consisted of seven women who pooled their resources together to plant and nurture a nutritional garden, growing squashes, groundnuts, greens, and spices. They also harvested honey from beehives they had built and maintained.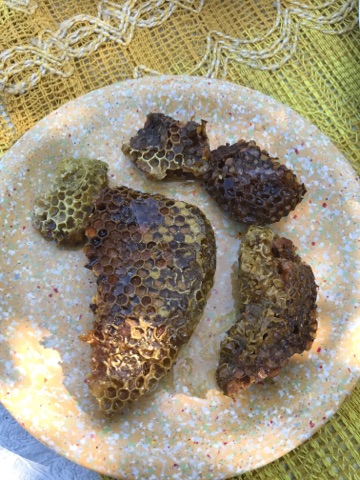 After the group gave their presentation (and, being most persuasive in their sales pitch, successfully sold us nearly all of the produce pictured), I asked the leader of the group about the meaning of the song they had greeted us with. Her answer:
"Our song says that we will put into practice what we learn from one another."
I learned anew in Burure that there is a more powerful method for undoing the devastating effects of malaria in communities than simply distributing mosquito nets and medicine – that method is giving the power back to the women.
Strong women are directly at the center of Burure's journey toward a future of hope and possibility, freed from the shackles of preventable diseases like malaria. When women gain access to income, the whole community benefits. The profits go toward household necessities that make the cooking of nutritional food easier and to needs like mosquito nets (which they can purchase with pride and at a fairer price because they negotiate as a group), school fees for their children, and paying for medical care that mitigates the impact of easily treatable diseases like malaria. All are cared for, and no one is left behind.
Leaving Burure, we travelled hundreds of miles to visit four different hospitals in Zimbabwe. At each one, we left them with a gift of produce we received from the savings and loan group in Burure. The produce that was grown and harvested by these resilient women was used to feed sick people across their country.
When women are given power, the blessings cannot be contained, traversing mountains, valleys, and every barrier. When women are given power, malaria doesn't stand a chance.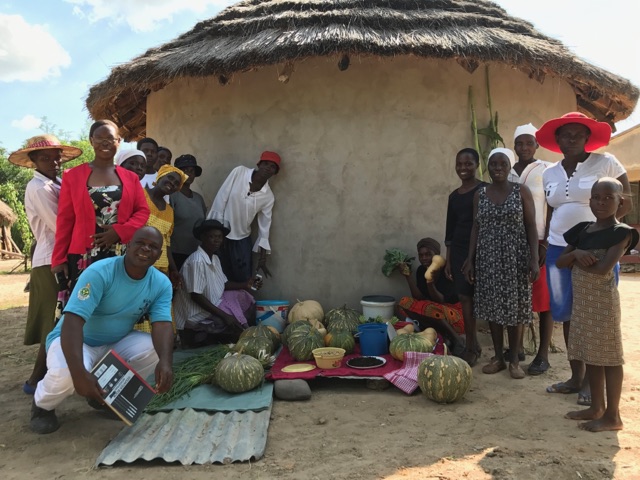 David Mills is the program director for budget and operations for the Diakonia team in ELCA's Global Mission unit. Diakonia works with the ELCA's companion churches and international partners with projects supported by ELCA World Hunger and Lutheran Disaster Response.