Session 1 — Psalm 32
"You are a hiding place for me." —Psalm 32:7
Psalm 32 is a fitting way to begin the season of Lent. The season has most commonly been understood through the centuries as a time of fasting and preparation for Easter, a time when new Christians were often baptized. As early as the second century, theologian Irenaeus of Lyons wrote of a time of penance and prayer leading up to Holy Week when Christians and those seeking baptism should fast for a period of 40 days or 40 hours (the translation is unclear) while reflecting on their sin and their need for God's grace.
The psalm for this week draws us into the emotional and spiritual experience of repentance and forgiveness. "Happy are those whose transgression is forgiven," the psalmist writes, "whose sin is covered" (verse 1). The verses describe the internal turmoil with vivid and visceral language, such as "groaning" (verse 3). The "heavy" hand of God bears down on the psalmist, sapping their strength to keep going (verse 4). When they experience forgiveness, it is like being "surround[ed]" by gladness and finding a comforting, secure "hiding place" (verse 7).
That experience of shame and isolation lies at the heart of what sin really is and how it impacts us. The psalmist, for example, suffers in "silence," while their body "wastes away" from the effects of what we might today call depression (verse 3). So often, we understand sin as simply disobedience. We view God as a law-giving judge who demands our compliance with specific rules. Repentance and forgiveness, then, are concerned with our confession of what we did wrong and our promise to do better next time.
The psalm, though, offers a deeper understanding of the dynamic between sin and forgiveness and between us and God. Here, sin is a visceral and painful experience of being locked out of relationships, of feeling that we cannot become our full selves. Forgiveness goes beyond merely the acceptance of an apology for wrongdoing and points toward God's desire for true reconciliation and wholeness. The psalm recognizes how, on this side of the full reign of God, life can wound us and leave us yearning for words of welcome, comfort and love.
What the psalmist describes is the experience of stigma. The word comes from a Greek term meaning "mark" or "puncture," which seems apt when one considers how deeply being stigmatized can cut. To be stigmatized is to be made to feel ashamed or broken because of something we have done or, more often, for who we are. This is one reason why food pantries and other hunger ministries are often underutilized by the people who need them. To be hungry, all too often, is to be stigmatized for circumstances beyond one's control, so neighbors commonly try to deal with hunger or food insecurity on their own. The social and emotional costs of stigma are simply too high.
This stigma is reinforced often in the ways we talk about hunger. Language such as "the hungry" or "the poor" makes it seem as if a person's whole identity is nothing more than the challenges they face. People dispensing angry rhetoric about "freeloading" or calls for "self-sufficiency" ignore the hard work people do to avoid or escape hunger or poverty — and our lack of control over the systems or events that may drive us into them.
The psalmist takes comfort in knowing that, with God, there is no stigma. In God the only "mark" we carry is being God's children. This faith motivates the robust hunger ministries that accompany neighbors every day. Food pantries and other feeding programs may provide food, but perhaps the most important part of all our ministries may be building a community that reinforces God's love of all rather than society's stigmatizing of some.
The ministry of Christ the King Deaf Church in West Chester, Penn., is a testament to this faith. Christ the King provides a place of welcome, worship and fellowship for neighbors who are deaf or who have hearing limitations. Through DeafCAN!, Christ the King's community human services program, the church reaches across six counties and into the lives of over 250 individuals and their families every year. Recognizing that inaccessibility in many communities can create significant communication barriers for people who need help to meet their basic needs, DeafCAN! provides support for deaf neighbors who are hungry, homeless, imprisoned or ill. It is the only program in Pennsylvania to provide dedicated service for immigrants and refugees who are deaf or have hearing limitations; the state of Pennsylvania used the DeafCAN! Sensory Service Provider (SSP) program as a model for its own.
Learn more about the DeafCAN! Sensory Service Provider (SSP) program by watching the video below.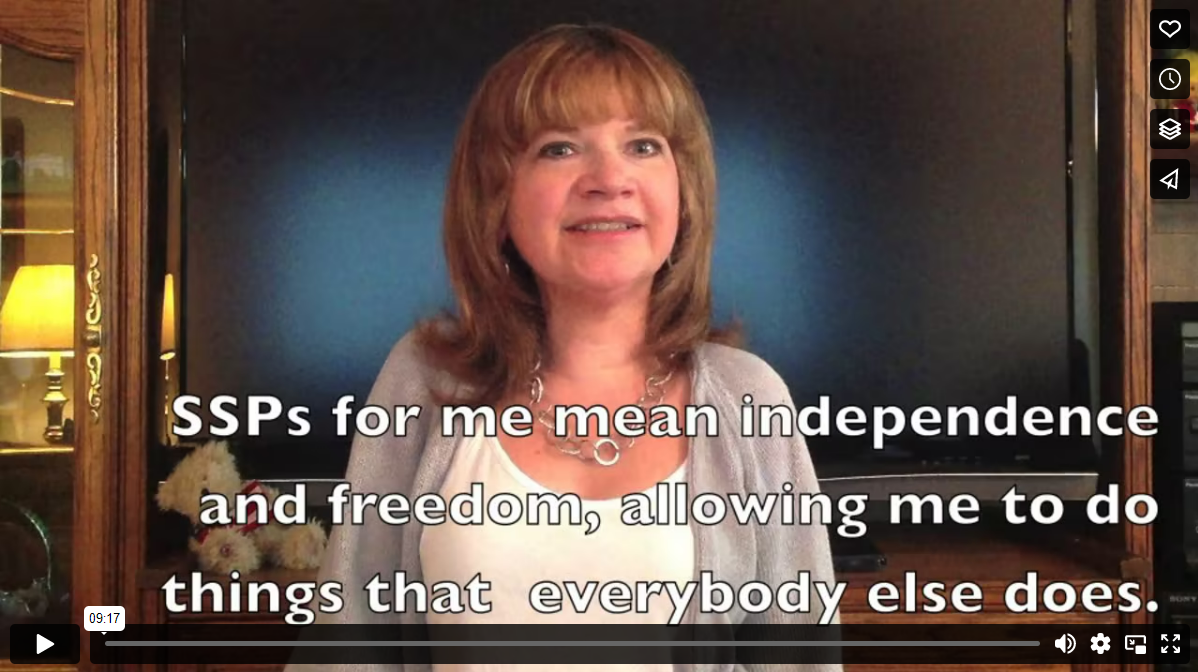 With a Domestic Hunger Grant from ELCA World Hunger, DeafCAN! was able to purchase personal protective equipment so that the SSP program could continue safely. The leaders of the program are also looking ahead to establishing the first transitional housing facility for deaf people recently released from prison and, potentially, for others in need of stable housing. Through its work with deaf immigrants and refugees, DeafCAN! has also created new opportunities for support, especially through teaching English and American Sign Language classes and citizenship classes. The eastern Pennsylvania chapter of DeafCAN! performed two plays showcasing the life stories of the actors themselves in 2021.
This work is critical to confronting the stigmatization caused by prejudice and discrimination against people based on their abilities. As DeafCAN! puts it, "Being deaf can cut one off from much that the rest of us take for granted: social services, church, neighbors . . . and most cruelly, cut off from their own families." Stigmatization and exclusion are core drivers behind the higher rates of hunger and poverty that people living with disabilities face in the United States. The inaccessibility of resources, even within many churches, makes it more difficult for all neighbors to get the support they need to thrive.
In contrast to these systems, institutions and communities set up to exclude them, Christ the King Deaf Church provides opportunities for people who are deaf to participate and lead. In fact, the Rev. Beth Lockard, co-founder of Christ the King Deaf Church along with her husband, is currently pastor of the church, and more than half the staff is deaf. Through DeafCAN!, the church and its ministry bear witness to the important role faith communities can play in ending stigma and fostering authentic hope for neighbors made vulnerable by the sins of discrimination, marginalization and stigmatization.
For generations — and too often today — people living with disabilities encounter people of faith who try to link their disability to sin, claiming, like Jesus' disciples in John 9, that disability results from disobedience to God. Or, well-intentioned people of faith offer to pray that God will "heal" their disability, without asking first whether a neighbor who is disabled desires or even needs such "healing." Far more important is healing the systems and communities that exclude neighbors based on their abilities. The ministry of Christ the King Deaf Church and the words of Psalm 32 teach us that God's healing penetrates more deeply, healing the wounds caused not by the sins we commit but by the sin that is pressed upon us, the stigmatization that, perhaps like a heavy hand, "dries up" our strength (vs. 4) and pushes us to remain silent (vs. 3). The Psalm is a reminder of the sin that pervades our communities, separating us from God and one another, and leaving so many of us feeling alone.
The call to return to God during Lent – to prepare, to fast and to repent – is twofold. On the one hand, it is a way to remind ourselves that being made to feel ashamed, burdened, excluded or "cut off" is not part of God's plan for us. On the other hand, it also opens us to recognize the many ways that we, the church, have failed to be the loving, welcoming, affirming presence God calls us to be in the world. The ministry of Christ the King Deaf Church and DeafCAN! is not a specialized, localized ministry; it is the ministry to which God calls the whole people of God – ending not just physical hunger, but the emotional, mental and spiritual hunger from which we yearn for release.
REFLECTION QUESTIONS
How does Psalm 37 shape or reshape your understanding of sin?
Think of a time when you experienced someone stigmatizing or stereotyping you. How did this make you feel?
How does or how can your faith inform your encounters with people (even strangers) who are experiencing hunger and homelessness?
Consider your own context. How does your congregation, school or workplace provide a welcoming environment to people of diverse abilities? What could you be doing better, and what action steps could you take toward that end between now and Easter?


Sesión 1 — Salmo 32
"Tú eres mi refugio" —Salmo 32:7
El Salmo 32 es una manera apropiada de iniciar la temporada de Cuaresma. A lo largo de los siglos, esta temporada ha sido entendida más comúnmente como un tiempo de ayuno y preparación para la Pascua de Resurrección, una época en que a menudo se bautizaba a los nuevos cristianos. Ya en el siglo II, el teólogo Ireneo de Lyon había escrito sobre un tiempo de penitencia y oración que conduce a la Semana Santa y en el cual los cristianos y aquellos que desean ser bautizados deben ayunar por un período de 40 días o 40 horas (la traducción no es clara) a la vez que reflexionan sobre su pecado y su necesidad de la gracia de Dios.
El salmo de esta semana nos lleva a la experiencia emocional y espiritual del arrepentimiento y el perdón. "Dichoso a quien se le perdonan sus transgresiones", escribe el salmista, "a quien se le borran sus pecados" (versículo 1). Los versículos describen la perturbación interna con un lenguaje vívido y visceral, como "gemir" (versículo 3). La mano de Dios "pesaba" sobre el salmista, debilitando su fuerza para seguir adelante (versículo 4). Cuando experimentan el perdón, es como estar "rodeados" de alegría y encontrar un "refugio" reconfortante y seguro (versículo 7).
Esa experiencia de vergüenza y aislamiento yace en el meollo de lo que realmente es el pecado y cómo nos afecta. El salmista, por ejemplo, sufre en "silencio", mientras que su cuerpo "se consume" por los efectos de lo que hoy podríamos llamar depresión (versículo 3). Con demasiada frecuencia consideramos que el pecado es simplemente desobediencia. Vemos a Dios como un juez que da la ley y exige nuestro cumplimiento de reglas específicas. El arrepentimiento y el perdón, entonces, tienen que ver con nuestra confesión de lo que hicimos mal y nuestra promesa de hacer mejor las cosas la próxima vez.
Sin embargo, el salmo ofrece una comprensión más profunda de la dinámica entre el pecado y el perdón y entre Dios y nosotros. El pecado aquí es una experiencia visceral y dolorosa de ser excluido de relaciones, de sentir que no podemos llegar a ser completos.  El perdón va más allá de la mera aceptación de una disculpa por haber hecho el mal y apunta hacia el deseo de Dios de una verdadera reconciliación y plenitud. El salmo reconoce que, en este lado del reino pleno de Dios, la vida puede herirnos y dejarnos anhelando palabras de acogida, consuelo y amor.
Lo que el salmista describe es la experiencia del estigma. Esta palabra proviene de un término griego que significa "marca" o "punción", que parece apropiado cuando consideramos lo profundo que ser estigmatizados puede cortarnos. Ser estigmatizado es sentirse avergonzado o estropeado por algo que hemos hecho o, más frecuentemente, por lo que somos.  Esta es una de las razones por las que las despensas de alimentos y otros ministerios de alivio del hambre a menudo son subutilizados por las personas que los necesitan. Con demasiada frecuencia, el tener hambre es ser estigmatizado por circunstancias fuera del control de la persona, por lo que comúnmente el prójimo trata de lidiar por su cuenta con el hambre o la inseguridad alimentaria. Los costos sociales y emocionales del estigma son simplemente demasiado altos.
Este estigma se refuerza a menudo en nuestras formas de hablar sobre el hambre. Palabras como "los hambrientos" o "los pobres" hacen que parezca que toda la identidad de una persona no es más que las dificultades que enfrenta. Las personas que dispensan una retórica enfadada sobre el "oportunismo" o llamados a la "autosuficiencia" ignoran el arduo trabajo que las hacen personas para evitar o escapar del hambre o la pobreza —y nuestra falta de control sobre los sistemas o eventos que pueden arrastrarnos a estas.
El salmista se consuela al saber que, con Dios, no hay estigma. En Dios, la única "marca" que llevamos es ser hijos de Dios. Esta fe motiva los robustos ministerios del hambre que acompañan al prójimo todos los días. Las despensas de alimentos y otros programas de alimentación pueden proporcionar alimentos, pero quizás la parte más importante de todos nuestros ministerios puede ser construir una comunidad que refuerce el amor de Dios por todos, en lugar de la estigmatización de algunos por parte de la sociedad.
El ministerio de Christ the King Deaf Church [Iglesia Cristo Rey para sordos] en West Chester, Pensilvania, es un testimonio de esta fe. Christ the King proporciona un lugar de acogida, adoración y compañerismo a los vecinos sordos o que tienen limitaciones auditivas. Por medio de DeafCAN!, el programa comunitario de servicios humanos de Christ the King, la iglesia llega a seis condados y a las vidas de más de 250 personas y sus familias cada año. Reconociendo que la inaccesibilidad en muchas comunidades puede crear barreras de comunicación significativas para las personas que necesitan ayuda en satisfacer sus necesidades básicas, DeafCAN! brinda apoyo a vecinos sordos que tienen hambre, no tienen hogar, están encarcelados o enfermos. Es el único programa en Pensilvania que brinda servicios dedicados a inmigrantes y refugiados sordos o con limitaciones auditivas; el estado de Pensilvania usó el Programa de Provisión de Servicios Sensoriales (SSP, por sus siglas en inglés) DeafCAN! como modelo para su propio programa.
Con una Beca Doméstica contra el Hambre de ELCA World Hunger [Hambre Mundial de la ELCA], DeafCAN! pudo comprar equipo de protección personal para que el programa SSP pudiera continuar de manera segura. Los líderes del programa también están mirando hacia el futuro con el fin de establecer la primera instalación de vivienda de transición para personas sordas recién liberadas de prisión y, potencialmente, para otras que necesitan una vivienda estable. Mediante su trabajo con inmigrantes y refugiados sordos, DeafCAN! también ha creado nuevas oportunidades de apoyo, especialmente a través de la enseñanza de inglés y del lenguaje de señas americano, y clases de ciudadanía. En 2021, el capítulo del este de Pensilvania de DeafCAN! realizó dos obras teatrales que muestran las historias de la vida de los propios actores.
Este trabajo es fundamental para enfrentar la estigmatización causada por los prejuicios y la discriminación contra las personas en función de sus capacidades. Como dice DeafCAN!, "ser sordo puede separarlo a uno de mucho de lo que el resto de nosotros damos por sentado: servicios sociales, iglesia, vecinos. . . y lo más cruel, separarlo a uno de su propia familia". La estigmatización y la exclusión son los principales impulsores de las tasas más altas de hambre y pobreza que enfrentan las personas que viven con discapacidades en los Estados Unidos. La inaccesibilidad de los recursos, incluso dentro de muchas iglesias, hace que sea más difícil para todos los vecinos obtener el apoyo que necesitan para prosperar.
En contraste con estos sistemas, instituciones y comunidades establecidas para excluirlas, Christ the King Deaf Church ofrece oportunidades para que las personas sordas participen y lideren. De hecho, la Rvda. Beth Lockard, cofundadora de Christ the King Deaf Church junto con su esposo, es actualmente pastora de la iglesia, y más de la mitad del personal son sordos. Por medio de DeafCAN!, la iglesia y su ministerio da testimonio del importante papel que las comunidades de fe pueden jugar en acabar con el estigma y fomentar una auténtica esperanza en el prójimo que ha sido hecho vulnerable por los pecados de discriminación, marginación y estigmatización.
Durante generaciones —y con demasiada frecuencia hoy—, las personas que viven con discapacidades se encuentran con personas religiosas que intentan ligar su discapacidad con el pecado, afirmando, igual que los discípulos de Jesús en Juan 9, que la discapacidad es el resultado de la desobediencia a Dios. O personas de fe bien intencionadas ofrecen orar para que Dios "sane" su discapacidad, sin preguntar primero si un prójimo que está discapacitado desea o incluso necesita tal "curación". Mucho más importante es sanar los sistemas y las comunidades que excluyen al prójimo en función de sus capacidades. El ministerio de Christ the King Deaf Church [Iglesia Cristo Rey para sordos] y las palabras del Salmo 32 nos enseñan que la curación de Dios penetra más profundamente, curando las heridas causadas, no por los pecados que cometemos, sino por el pecado que se nos impone, la estigmatización que, tal vez como una mano pesada, "seca" nuestras fuerzas (versículo 4) y nos empuja a permanecer en silencio (versículo 3). El Salmo es un recordatorio del pecado que impregna nuestras comunidades, separándonos de Dios y unos de otros, y dejando a muchos de nosotros sintiéndonos solos.
El llamado a volver a Dios durante la Cuaresma —a prepararse, ayunar y arrepentirse— es doble. Por un lado, es una manera de recordarnos a nosotros mismos que sentirnos avergonzados, agobiados, excluidos o "separados" no es parte del plan de Dios para nosotros. Por otro lado, también nos abre a reconocer las muchas maneras en que nosotros, la iglesia, hemos fallado en ser la presencia amorosa, acogedora y afirmativa que Dios nos llama a ser en el mundo. El ministerio de Christ the King Deaf Church y DeafCAN! no es un ministerio especializado y localizado; es el ministerio al cual Dios llama a todo el pueblo de Dios —acabar, no solo con el hambre física, sino también con el hambre emocional, mental y espiritual de la cual anhelamos la liberación.
PREGUNTAS DE REFLEXIÓN
¿Cómo moldea o remodela el Salmo 37 su comprensión del pecado?
Piense en un momento en el que experimentó que alguien lo(a) estigmatizaba o estereotipaba. ¿Cómo lo(a) hizo sentir esto?
¿Cómo orienta o puede orientar su fe sus encuentros con personas (incluso desconocidos) que están experimentando hambre y falta de vivienda?
Considere su propio contexto. ¿Cómo proporciona su congregación, escuela o lugar de trabajo un ambiente acogedor para personas de diversas capacidades? ¿Qué podría estar haciendo mejor, y qué pasos de acción podría dar hacia ese fin entre este momento y la Pascua de Resurrección?