Contributed by Dennis Sepper, Tacoma, WA
Warm-up Question
What do you think happens after a person dies?  What do you think heaven will be like?
Zombies Everywhere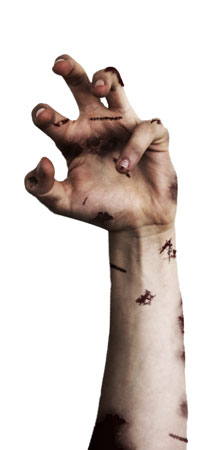 It seems these days you cannot walk six feet without running into a zombie!  The Walking Dead set a record recently for the largest viewing audience watching a season opening television show (and it was the fourth season).  The Internet Movie Database lists some 53 (yes…53!) movies released or about to be released in 2013 alone that have zombies as characters in the movie.  The list goes from World War Z (which got the most hype because of Brad Pitt) to, I am not making this up, A Zombie Love Song.  Finally, at the university where I work the student body just participated in Zombie Zumba (It seems even the undead need to keep fit).
It appears there is a cycle when the popularity of witches, vampires, werewolves and zombies rise and fall and now it is the zombies turn to be most popular.  This is true, not just in the United States, but all around the world.  Professor Sarah Lauro of Clemson University has studied Zombie Walks (basically a flash mob, but the participants dress as zombies).  Dr. Lauro has documented zombie walks in 20 countries, the largest drawing over 4,000 participants.  Dr. Lauro believes that when times are unsure and people feel more powerless about their lives for the future, zombies gain popularity.
Zombies represent death and our fears.  They are the great leveler as all people are plagued with the undead.  And we root for the movie or TV hero who has the courage, strength and wisdom to take care of the zombies as they symbolically take care of our fears and our fear of death.
Discussion Questions
So where do you stand on zombies?  Are you a fan?  Why or why not?
Why do you think zombies are so popular these days?  Do you think they symbolize our fear of things?  Why or why not?
Scripture Texts (NRSV) for Sunday, XXXXXX (SEASON)
(Text links are to Oremus Bible Browser. Oremus Bible Browser is not affiliated with or supported by the Evangelical Lutheran Church in America. You can find the calendar of readings for Year C at Lectionary Readings.)
For lectionary humor and insight, check the weekly comic Agnus Day.
Gospel Reflection
At the beginning of this week's text, we are told that the Sadducees who do not believe in the resurrection come to Jesus with a hypothetical question.  They are not people seeking knowledge from Rabbi Jesus, they are trying to make Jesus and the belief in the resurrection look foolish.  To understand their trick question we need to know a little bit about first century society.  There was an ancient Levite law that is described in verses 28.  This may sound funny to us today but it was a way that the community took care of widows who faced a very bad future if they had no family to take of them.  The Sadducees offer up the crazy scenario we read about in verses 29-33 where one women ends up the bride of seven brothers.  The Sadducees want to know whose wife she will be in the resurrection.
Jesus doesn't take the bait.  Instead Jesus points out that in the resurrection all things will be made new and the legal structures that hold our society together will not be needed.  We will all be so close and held together in the love of God and Jesus that marriage as we know it will not be necessary.  So, says Jesus, there is no sense to the question that the Sadducees pose.
Jesus then goes on to say that even Moses spoke of the resurrection when Moses stated that God is the God of Abraham, Isaac and Jacob…he didn't say that God was the God of Abraham, Isaac and Jacob.  The implication of the present tense instead of the past tense is that Abraham, Isaac and Jacob are still living and dwell in the presence of God.
For us as Christians today, we proclaim our faith in the resurrection based on the life, death and resurrection of Jesus.  We base that faith, that trust on the words of Jesus (for example: "I am the resurrection and the life."  John 11:25 and "because I live, you also will live."  John 14:19) and on the testimony of those like Paul who experienced the resurrected Jesus in their lives.  We hold tight to the promise that we will be reunited with our loved ones and those who have gone before us.
Two things come of that faith in the resurrection of Jesus and the promise of our own resurrection.  First, we need not fear death for to us it is not an end but as one of the funeral prayers puts it "the gate to eternal life".  We are free then to live a life of service to God and to our neighbor.  In that way the resurrection is not just some future hope, it is at work in our lives and in our families and in our communities this very day.
Second, in the resurrection our relationships do change and we are all reconciled to God and to each other.  For those of us who have families where there has been strife and division (sometimes family members do not even speak to one another) there is the hope and promise that those broken relationship will be reconciled and healed in the resurrection and we shall all sit before the throne of God and Jesus as one family.
As for those zombies we see everywhere…we know they do not really exist, but we can continue to enjoy being scared while watching the TV shows or movies or we can join others in the video game world fighting the zombies off.  But we do so knowing that in the end Jesus has won the victory over death, sin and evil.
Discussion Questions
What are some of the common images we associate with heaven?  Where do they come from? What are those images and descriptions trying to say about the Christian understanding of the afterlife?
What difference does it make in how you live your daily life that you believe in the Resurrection?  How would you live differently if you were absolutely convinced that there is no heaven, no afterlife?
Activity Suggestion
Materials needed:
Balloons for all participants (balloons strong enough to be drawn upon).
Sharpies to draw on the balloons.
Straight pins for all participants.
Pass out balloons to all participants and let them blow up the balloons.  Instruct the participants to turn their balloon into a zombie by decorating it.  When all have finished, form a circle and pray the closing prayer below.  Then all together at the count of three, have the participants burst the balloons with their pin.  Explain that the balloons represent our fears and through the grace of God and the resurrection of Jesus our fears are burst and we can freely serve God and neighbor.
Closing Prayer
All Sovereign and Loving God, you love your creation and all peoples in it.  Give us such a strong confidence in your mercy and care that we may not fear but serve you and our neighbor with joyful and grateful hearts.  You promise that through the life, death and resurrection of Jesus we are in your divine embrace today and for all eternity.  Help us to trust in this promise every day of our lives and proclaim that promise in word and deed.  In your most holy name we pray.  Amen.