Contributed by Stephanie Opsal,  West Des Moines, IA
Warm-up Question
What do you think it would be like to be a celebrity?
A Perfect Life?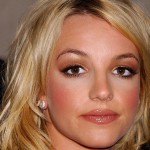 Britney Spears is one of many booming pop stars who started high but experienced troubles later on.  Her fame began when she was a blonde, teenage pop singer, reaching the top of the U. S.  pop music charts by age 17.  Her music played a key role in reviving the "teen pop" icon in the late 1990s.  She has sold over 85 million albums.
Yet her shining appearance is not evidence of a perfect life.  She has lived through two divorces, little privacy, mental breakdowns, rehabilitation centers, and losing custody of her kids.  A recent article describes how she shaved her head in a public salon for attention or due to emotional disturbance.
A song I remember from her second major album, Oops!.. I Did It Again, featured a song called "Lucky".  The lyrics of the song describe the struggles of life for all people, even a stylish Hollywood star named Lucky:
"And they say..
She's so lucky, she's a star.
But she cry cry cries in her lonely heart, thinking
If there's nothing missing in my life
Then why do these tears come at night?"
By the look of it, Lucky has everything, but something is still missing in her life.  Even the most famous people experience everyday struggles like you and me, and sometimes immensely greater problems as well.  Many embarrassing details of Britney's personal life are open to the public, but no other celebrity's life is perfect either, even if you can't always see behind the dazzling star image.
Discussion Questions
Who's your favorite celebrity?  Why?
Did you ever want to be famous?  Why?  Do you think that life would be easy?  Describe the perks and drawbacks you think would be associated with a celebrity's life.
If you had the choice right now to be a famous person or an everyday person, which life would you choose?
Scripture Texts (NRSV) for Sunday, June 13, 2010, (Third Sunday of Pentecost)
(Text links are to Oremus Bible Browser. Oremus Bible Browser is not affiliated with or supported by the Evangelical Lutheran Church in America. You can find the calendar of readings for Year C at Lectionary Readings.)
For lectionary humor and insight, check the weekly comic Agnus Day.
Gospel Reflection
Simon the Pharisee, whom Jesus visits in this week's gospel reading, is a very law-abiding, righteous man who thinks highly of himself.  He feels very dignified before his guest, Jesus.  In contrast, the woman labeled "a sinner" kneels behind Jesus her Lord and weeps.  She gives him all that she can offer, pouring out costly perfume onto his feet and humbling herself completely.  What causes the difference in the responses of the Pharisee and the woman to Jesus?
The woman recognizes the reality of her sins and her true need for forgiveness.  She yearns for the grace and peace that only Jesus can offer.  The Pharisee, on the other hand, thinks he is following the Law perfectly and, thus, has no need for any forgiveness, let alone from this man Jesus who associates with sinners. 
So Jesus tells Simon a parable about two debtors, one owing 50 denarii and another owing 500 denarii.  Which one, Jesus asks Simon, will be more grateful when the creditor forgives both debts?  Simon gives what seems to be the obvious answer, "the one with the larger debt."  But Simon's great problem is that he is blind to his debt; he is not grateful because he does not think he owes anything.  He takes God's forgiveness for granted.  He does not see that his pride is as serious a sin as anything this weeping woman has done.
Both Simon and the woman are in need of God's forgiveness. The difference is that she knows her need and receives Jesus' forgiveness, while the Pharisee, in his arrogant blindness, treats Jesus discourteously (he does not kiss him, wash his feet, or anoint his head with oil).  Simon receives little because he asks for little—and therefore shows little love in return.  The woman, acknowledging her need, receives the forgiveness she longs for. 
Jesus shows us that we are all in need of God's forgiveness.  The Law helps us realize how much we sin, even when we're being "good" like the Pharisee; it calls us to admit our need for grace.  Without Jesus' perfect death for all sin and His resurrection from the dead, we would die forever. 
Sometimes we take this amazing gift for granted.  Because we hear about Jesus all the time, we incorrectly think that we would be "good enough" to make it into heaven on our own.  Like the Pharisee, we may look down on others who seem to be spectacularly sinful people.  In actuality, everyone is a sinner.  Britney Spears, a thief, your family members, a pastor, the president, you, and I are all sinners.  Our good actions are not enough to counteract our sinful mistakes in life.  In Britney Spears' song, Lucky's success doesn't fulfill her; she is missing Jesus and His forgiveness in her life.  Like this humble woman, let us rejoice every day and give thanks to Jesus with all that we are.  Jesus forgives our every mistake.  By His sacrifice, he reunites us with a loving God.  What an awesome gift!
Discussion Questions
Why do you think forgiveness and love go together?
Try to see yourself from the perspective of both the Pharisee and the woman.  Describe a situation where you thought your actions were fine only to discover you had been blind to a failing.  Describe another time when you admitted your sin to God and accepted His forgiveness.
Do you agree with the message of Jesus' parable?  Does one forgiven a greater debt always feel greater gratitude?
Consider the ideas of "law" and "grace".  Which one is harder for you to accept?  Some persons struggle more with noticing and admitting their  sin, thinking they have no need of forgiveness because, compared to many, they are pretty good.  Others are so burdened by guilt that they can not really accept forgiveness offered by God's grace.   Where is your greatest challenge?
Activity Suggestions
Write a song or poem about something you learned from today's gospel reading.  It can be directly about the story or more about a moral lesson, like the song "Lucky".  If you want, your group could work together and perform the song.  If you prefer, you can draw a picture highlighting an aspect of the story.
At the end of our gospel reading in the first three verses of Luke chapter 8, some forgiven sinners accompany Jesus and His disciples as they go out to share the good news of Jesus' forgiveness.  Tell at least one person this week why Jesus' forgiveness is important to your life.
Closing Prayer
Lord and Savior Jesus Christ, we praise you for your gift of forgiveness.  Help us to more deeply understand and appreciate this eternal gift you gave to all your people.  We thank you for the example of this weeping woman; may we give our lives to you as well.  We pray for all who struggle but place their hope in something less than you, O God.  Help them to see their sin and their need for the grace given through the saving sacrifice of Jesus Christ our Lord, in whose name we pray.   Amen.