Contributed by Rod G. Boriack
Chicago, IL
Warm-up Question: Do you ever think about the world coming to an end? How do you envision it happening?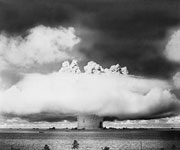 The end is near — again — run! The movie "2012" is getting ready to open in theaters everywhere in November.
"2012" is based on the pop-theory that the end of the world is going to be on December 21, 2012. The story follows an academic researcher leading a group of people in a fight to counteract the apocalyptic events that were predicted by the ancient Mayan calendar and other historical documents, astronomy, biblical and scientific data.
There's plenty of action, mysterious and ancient messages, destruction, earthquakes, tsunamis, narrow escapes, explosions, and more! The characters even out-run, out-drive, and out-fly the massive collapse of the entire West Coast. Yipes!
"2012" joins a long line of end of times movies:
"Independence Day" (1996)
"The Day After Tomorrow" (2002)
"The Fifth Element" (1997)
"Terminator 2" (1991)
"Men in Black II" (2002)
"Deep Impact" (1998)
"The Day the Earth Stood Still" (1951 & 2008)
"War of the Worlds" (1953 & 2005)
"Left Behind: The Movie" (2001)
"End of Days" (1991)
and on, and on, and on.
If it's got you worried or wondering, remember, it's just Hollywood smothering us in computer generated imagery (CGI) special effects and appealing to the worst of our inner fears and imagination.
Discussion Questions
Do you like these end of times kind of movies, or the ones that show the survivors of a world disaster or collapse? What draws you to them? Or, what do you find uninteresting about them?
What do you think of the predictions and theories of when and how the world will end? What do you think of the people who make them? (Like Nostradamus' predictions, the Left Behind novels, people who interpret numbers and symbols, astrologers, self-proclaimed prophets, religious or cult leaders, etc.)
Scripture Texts (NRSV) for Sunday, November 15, 2009.
(Text links are to oremus Bible Browser. Oremus Bible Browser is not affiliated with or supported by the Evangelical Lutheran Church in America. You can find the calendar of readings for Year B at Lectionary Readings.)
For lectionary humor and insight, check the weekly comic Agnus Day.
Gospel Reflection
Talking about the end of the world is nothing new. We fear it, hope it doesn't happen, can't wait for it to happen, pray that we'll survive it somehow, want to the know the signs of it approaching, and are sometimes shocked or depressed by the thought of it. We want the details.
(Oh yeah, and we probably want to be able to out-run any explosions, tidal waves, or earthquakes that may happen. Like in the movies.)
The end of the world, and what follows, was a hot topic in Jesus' time, too. A lot of people thought it was going to happen any day (that was 2,000 years ago). They wanted to know if what they were experiencing in life — war, persecution, famines, earthquakes, sickness, political problems… sound familiar? — were signs that the end of the world was near.
There were plenty of people who claimed to know how and when it was going to happen. And, as throughout history, plenty of people believed and followed them: "…they will lead many astray." Here in the book of Mark, Jesus reminds his disciples not to be drawn in by such con artists or people stirring up fear and panic in the name of God.
So, what are we to do? Act like nothing is going to happen? Forget about the present and become obsessed with the end? Run?
Jesus has another idea: actively wait. Don't ignore the life we have right now — it's a gift entrusted to us. Don't run away and ignore everything. Instead, challenge each other to actions and relationships of love, compassion, and justice. Get together and encourage each other. Never let go of hope. We have been given life and set free by God's love and forgiveness to live it fully…
"Let us hold fast to the confession of our hope without wavering, for he who has promised is faithful. And let us consider how to provoke one another to love and good deeds, not neglecting to meet together, as is the habit of some, but encouraging one another, and all the more as you see the Day approaching." (Hebrews 10:23-25)
Discussion Questions
Imagine Jesus is sitting here with us in the room. We're talking about all the great stuff going on in life right now and all the cool stuff we're going to do, and Jesus interrupts: "You know, it's all going to come to an end someday. It's all going to be gone. I don't know when, but it's all going to end." What's your first gut reaction to his comments? Then what questions pop into your head that you want to ask Jesus?
What's your interpretation of what's meant by "actively waiting"? When you read the Bible and reflect on God's word, what things does God seem to want us to be busy with in life? What things does God want us to be concerned about (other than the end)?
Where do you find hope when things seem dark, pointless, or overwhelming? What hope do you find in God's word and promises?
Activity Suggestion
No better time than right now.
Pass out paper and something to write with. Ask each person to write down as many things as they can that they want, hope, or need to do, accomplish, or say before they die. Give the group 3 minutes or so to make their lists.
Gather back together or in small groups. Share your list of "must do" things. Give each person encouragement to actually do something that they have mentioned; encouragement to work on it right now.
If participants permit, post all of the lists on the wall and leave them up for a few weeks. Refer back to them now and then, and see if anything is happening. Give gentle encouragement and offer prayer.
Closing Prayer
God, make me brave for life: oh, braver than this.
Let me straighten after pain, as a tree straightens after the rain,
Shining and lovely again.
God, make me brave for life; much braver than this.
As the blown grass lifts, let me rise
From sorrow with quiet eyes,
Knowing your way is wise.
God, make me brave, life brings
Such blinding things.
Help me to keep my sight;
Help me to see clearly
That in darkness, you are light.
Amen.
(author unknown)